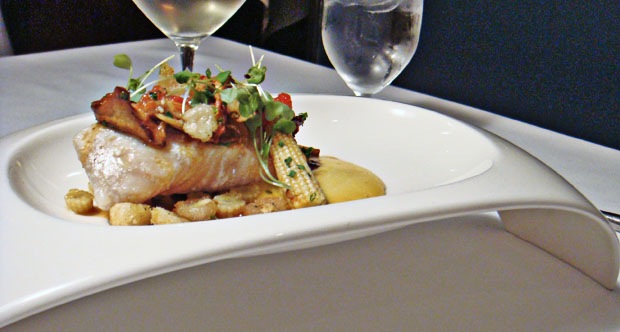 Last month, I fell off the eating healthy wagon at Rick Moonen's restaurant, RM Seafood (Upstairs) in Las Vegas. My husband, Paul, and I dined there while I was attending BlogWorld Expo at the Mandalay Bay Resort & Casino. I chose the restaurant because I love how its mission statement is close to the way I try to eat whenever possible – local, organic and sustainable:
At RM Seafood, we are committed to use organically grown, sustainable produce and sustainably caught seafood. We have made a public commitment to solely purchase sustainable wines by June 2008 and 95 percent of the menu proteins come from sustainably raised or caught seafood. 
Chef Rick Moonen
You may recognize Chef Rick as a finalist from season two of Top Chef Masters. Paul and I rooted for him during the show – and had the chance to tell him so when he stopped by our table. Not only was I thrilled to meet him, but pleasantly surprised to see him working, thinking that he'd be too busy with other projects to do so.
Chef Rick was very nice when I asked permission to take photographs not only of the two of us, but of his food. He told me that quite a few bloggers stop in at RM Seafood and he's happy to oblige our (obsessive) need to document our meals.
Paul and I were sitting in a little alcove with its own lighting system, so I was able to turn up the lights when the food arrived to take pictures, and then dim them so we weren't bothering the other diners too much. (Or so I hoped.) I only had my Sony Cybershot with me (I hate traveling with my DSLR) but managed to get a few good shots of our meal, which you can see in the slideshow below.
While I was busy snapping away, Chef Rick came by and completely shut off the light! He teased us saying, "Hey this is Vegas! You're supposed to have a romantic meal with the lights down." I told him to turn the lights back up. Rick said, "Boy, she's pretty demanding," to Paul. Then I told him I need to take pictures so I could blog about the meal – and write it off. Rick laughed and gave me a big high five.
A culinary night to remember
The food at RM Seafood (Upstairs) was exquisite! It was one of the most memorable dining experiences I've had in my life. Everything was delicious and beautifully prepared and cooked.
The food was served on simple yet elegant plates of all shapes and sizes. The food had touches of whimsy from the bright yellow egg yolk in the middle of the Ricotta Gnudi to the falafel in the Marinated California Octopus. A lot of time tasting menus run out of steam by dessert. However, the Chocolate Car Bomb with Guinness ice cream, Bailey's Irish Cream, and Guinness beer suds was a piece of art from how it was presented to how it tasted. There were all kinds of extras too from the spread served in little caviar tins to the lemon grass tea (complete with dry ice smoke) served as a non-alcoholic digestif.
I'm not going to kid you, this was an expensive meal. The five course tasting was $95 per person and the wine pairing my husband tried was an additional $55. (I stuck to a fabulous black beer from New Zealand. I can't consume a large quantity of wine and food at the same time without getting a bad tummy.) Some of the dishes, like the Diver Scallop "Anemone," were extra. With a generous tip, the bill was $360 for the two of us. Certainly not something I'd do every day – or every year - but worth every single penny.
If this is beyond your means even for a big Las Vegas style splurge, try RM Seafood downstairs. The downstairs dinner menu and sushi menu are much more affordable, even by Las Vegas standards. Or you could stop by just for dessert and tea. While you're there, purchase a copy of Chef Rick's cookbook, Fish without a Doubt, and ask your waiter to have Chef Rick sign it. (He did just this for a young couple sitting by us.)
The menu for October 16, 2010
Not only was Chef Rick a charmer, but so was his staff from the sommelier to the waitstaff. We had questions on everything from the wines to the flatware and they were happy to get us the answer. The manager was also kind enough to email me the menu and wine pairing, too, which I'll share with you below. The items that are bolded are the ones we tried.
First choice of:
Marinated California Octopus
Sweet Peppers, Black Tomato, Falafel
Wine pairing: Sherry, Manzanilla, Hidalgo, La Gitana, Jerez MV
"Cheese Steak"
Prime Beef Tartare, Nontraditional Garnish
Wine pairing: Riesling, Domaine Zind-Humbrecht, Alsace, France 2005
Smoked Sturgeon and Heirloom Potato
Potato Cheese Blintz, Lemon Crème, Chive
Wine pairing: Gruner Veltliner 'Lois' Fred Loimer, Austria 2006
Second choice of:
Pumpkin Soup
Pumpkin Seed Streusel, Jonah crab, Ras El Hanout
Wine pairing: Chardonnay, Newton, Red Label, Sonoma/Napa, CA 2008
Ricotta Gnudi
Pork Belly, Parmesan Brodo, Andraki Egg Yolk
Wine pairing: Rully, Vincent Giradin 2006
Hot & Cold Foie Gras a la Japonne
Sea Urchin, Sour Plum, Grilled Scallion
Wine pairing: Riesling, Dr. F. Weins-Prüm, Wehlener Sonnenuhr, Kabinett, Mosel 2007
Third choice of:
Wild Striped Bass
Cauliflower Variations: Pickled, Puree, Caramelized
Wine pairing: Long Meadow Ranch, Rutherford 2008
Vancouver Island Ivory Salmon
Sweet Corn Pudding, Chanterelles, Crispy Hominy
Wine pairing: Rully, Vincent Giradin 2006
Diver Scallop "Anemone"
Abalone, Sunchokes, Lobster Mushroom Risotto
Wine pairing: Australia, Grenache, S.C. Pannell, McLaren Vale 2006
Fourth choice of:
Labelle Farms Duck Breast
Quinoa Pilaf, Celery Root, Purple Kohlrabi
Wine pairing: Pinot Noir, Educated Guess, Carneros 2007
Veal 3x
Veal Cheek, Veal Sweetbreads, Veal Marrow Flan
Wine pairing: Merlot, The Velvet Devil by Charles Smith, WA 2008
Cervena Venison Loin
Brussels Sprouts, Vidalia Onion, Pear Butter
Wine pairing: Vin De Pays, Monpertuis, Counoise 2006
Fifth choice of:
Chocolate Car Bomb
Guinness Ice Cream, Bailey's Irish Cream, Beer Suds
Frozen Strawberry Shortcake Bar
"Nitro Dots", Marinated Strawberries, Spearmint
Tropical Crème Brûlée
Passion Fruit Curd, Marinated Pineapple, Papaya-Aloe