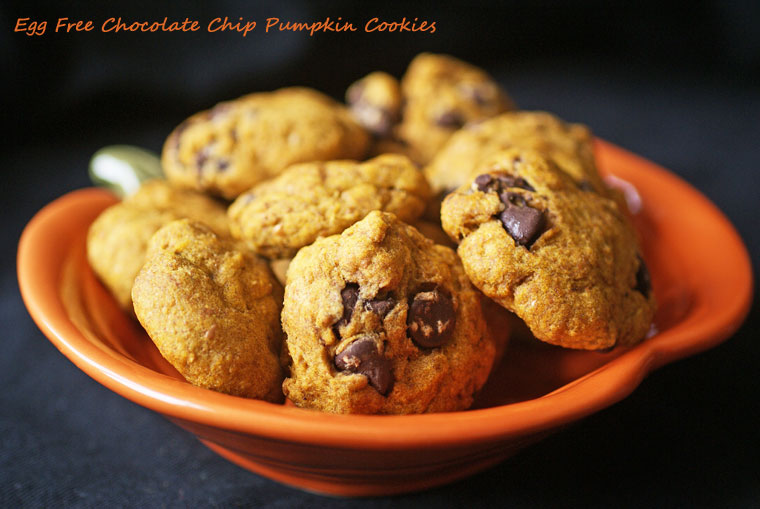 Now that Thanksgiving is over, are you wondering what to do with all that leftover canned pumpkin puree? Well, how about making some pumpkin cookies?
Several years ago a friend made these Egg Free Chocolate Chip Pumpkin Cookies for a play date since my then toddler daughter, Lucie, was eating an egg free diet due to her allergies. Now a second grader, Lucie has outgrown her egg allergy, but has been put on an egg free diet for a few weeks to see if it will help her eczema.
However, I doubt it. She's just an itchy kid from a family of skin scratchers and pickers. So she's put in a request for her favorite pumpkin cookies.
After reviewing the original recipe at Allrecipes.com, I felt I needed to "health it up" as much as possible. So, I substituted stevia for the white sugar. (You can also use monk fruit if you wish.) I also substituted half of the white flour with whole wheat flour, and used organic ingredients whenever possible.
The pumpkin cookies were delicious, and no one noticed that I used stevia instead of sugar or that they were egg free. But remember, pumpkin cookies are a special treat and not a meal.
Also, since the pumpkin cookie dough is egg free, it's perfect for (guilty) snacking or any raw cookie dough recipe you may have.
Finally, this is a perfect way to use up all that leftover canned pumpkin puree after Thanksgiving.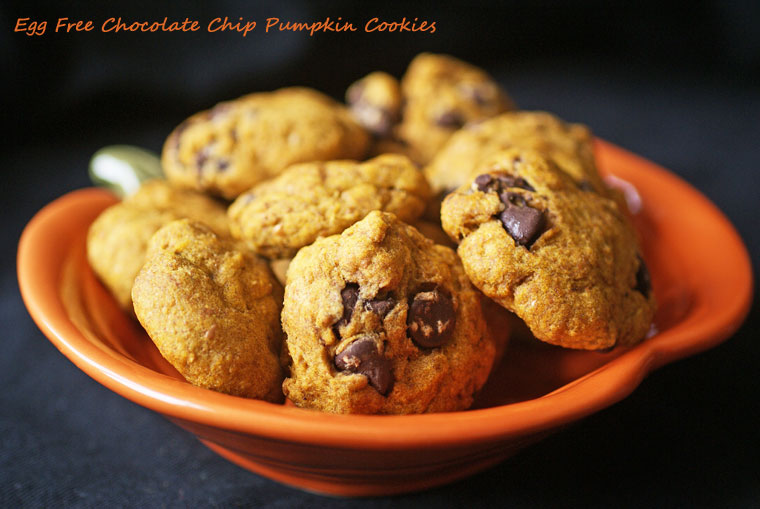 Egg Free Chocolate Chip Pumpkin Cookies
Ingredients
2 cups

stevia (powder not liquid)

1 cup

Spectrum Organic Shortening

1 (15 ounce) can

pumpkin puree (not pumpkin pie mix)

2 teaspoons

vanilla extract

2 cups

all-purpose flour

2 cups

whole wheat flour

2 teaspoons

baking soda

2 teaspoons

ground cinnamon

12 ounces

semisweet chocolate chips
Directions
Preheat oven to 375 degrees F.
Cream the sugar, shortening, pumpkin and vanilla together. Mix until light and well combined. If you're using a mixer, start slowly as the stevia can be powdery – too fast and you'll have a stevia cloud over your head!
Mix the flour, baking soda and ground cinnamon. Stir the flour mixture into the creamed mixture. Mix until combined. Stir in the chocolate chips. (You'll find the cookie batter is very dough like – that's OK.)
Measure out a tablespoon of the cookie dough. Roll into a ball and flatten it into a round disc. Place on an ungreased baking sheet.
Bake at 375 degrees F (190 degrees C) for 12 to 15 minutes or until set. Let cookies cool on a rack.
Cook Time:
12 Hours 15 Minutes
Serving size:

1 cookie

Calories:

69

Calories from Fat:

35

Total Fat:

3.8g

Saturated fat:

1.6g

Unsaturated fat:

0g

Sodium:

33mg

Total Carbohydrates:

8g

Sugar:

2.6g

Fiber:

0.6g

Protein:

1g

Cholesterol:

0mg