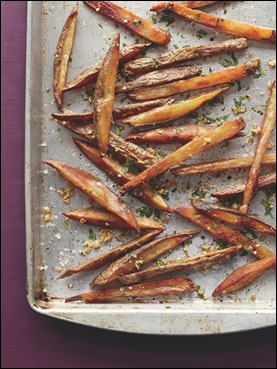 This recipe from the Flat Belly Diet Family Cookbook is perfect for grilling season. While you're marinating the fish, chicken or pork chops, you can prepare and get these fries in the oven. When they're just about done, put your protein on the grill.
For an extra antioxidant boost, try this recipe with sweet potatoes instead of russets.
Salt and Pepper Oven Fries
40 minutes / 4 Servings / MUFA: canola
Ingredients:
1 pound russet potatoes, cut into 3 1/2-inch long by 1/2-inch wide sticks
1/4 cup canola oil
3 garlic cloves, chopped
1/4 teaspoon salt
1/4 teaspoon black pepper
1 tablespoon chopped fresh parsley
Directions:
Preheat the oven to 450°F. Coat a large baking sheet with cooking spray.
Combine the potatoes and 2 tablespoons oil in a large bowl, tossing well to coat.
Arrange potatoes in a single layer on the prepared baking sheet.
Bake in the center of the oven 15 minutes, turn the potatoes and bake 15 minutes longer or until golden brown and crisp. Remove from the oven and transfer to a large bowl.
Meanwhile, heat the remaining 2 tablespoons oil in a small skillet over medium heat. Add the garlic and cook until lightly browned, about 4 minutes.
Pour oil and garlic over the potatoes, and add the salt, pepper, and parsley; toss well. Serve immediately.
Nutritional information per serving:
262 calories
4 g protein
32 g carbs
14 g fat
1 g saturated fat
0 mg cholesterol
150 mg sodium
2 g fiber
Weight Watchers POINTS = 6
More Flat Belly Diet recipes
Disclosure: I received a review copy of the cookbook in order to facilitate this review.