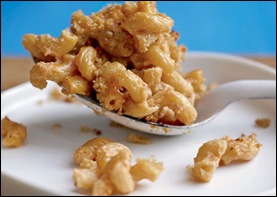 If you have a box of panko bread crumbs in the cupboard, this healthy mac and cheese dish from the Flat Belly Diet Family Cookbook is one way to use them up.
To make this dish even healthier, stir in some steamed or sautéed vegetables like broccoli, asparagus, or diced red and yellow peppers to the pasta before baking.
You can also increase the fiber content by using a pasta like Ronzoni Smart Taste, Dreamfields or Atkins. Atkins and Dreamfields pastas are especially high in both protein and fiber. And as you Weight Watchers people know, the higher the fiber, the lower the POINTS.
Crunchy Crust "Mac and Cheese"
40 minutes + standing time / 4 servings / MUFA:  olive oil
Ingredients:
4 ounces multi-grain macaroni
4 tablespoons olive oil, divided
3 tablespoons Panko bread crumbs
2 tablespoons flour
1/2 teaspoon paprika
1/2 teaspoon salt
1/8 teaspoon black pepper
2 cups fat-free milk
1/2 cup shredded reduced-fat Cheddar cheese
Directions:
Preheat the oven to 350°F. Coat an 8" x 8" baking dish with vegetable spray.
Bring a pot of water to a boil and cook the macaroni according to package directions. Drain, rinse with cold water and drain again. Set aside.
Combine the bread crumbs and 2 teaspoons oil in a small bowl. Stir with a fork to evenly coat the crumbs with oil.
Add the remaining 3 tablespoons + 1 teaspoon oil to a large saucepan. Set over medium-high heat. Whisk in the flour, paprika, salt and pepper until smooth.
Add the milk, whisking constantly. Cook, whisking, for about 5 minutes, or until thickened.
Remove from the heat. Stir in the cheese until it melts. Stir in the macaroni. Pour into the baking dish. Top evenly with the crumbs.
Bake for 15 minutes, or until bubbling and golden. Allow to sit for 10 minutes before serving.
Nutritional information
328 calories
14 g protein
31 g carbs
17 g fat
3.5 g saturated fat
15 mg cholesterol
480 mg sodium
2 g fiber
Weight Watchers POINTS = 8
More Flat Belly Diet recipes
____________
Disclosure: I received a review copy of the cookbook in order to facilitate this review.