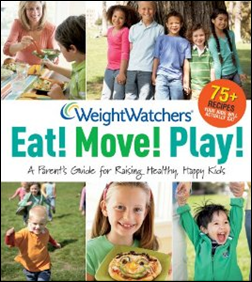 If you're trying to eat better or lose weight, do you find yourself preparing healthy meals for you and letting the kids eat the same old crap? Well Weight Watchers is here to help with their new book, Weight Watchers Eat! Move! Play!: A Parent's Guide for Raising Healthy, Happy Kids.
The book motivates you to become a healthier role model for your children by helping you understand four important elements for a healthy lifestyle:
developing a positive body image
helping kids learn how to enjoy wholesome, nutritious foods
establishing smart eating habits
fostering a love of physical activity
In addition, Weight Watchers Eat! Move! Play!:
presents five simple rules for family fitness
provides quizzes and self-assessments for parents to understand their parenting styles better
explains what a healthy weight is for a child and provides advice on how to talk to your kids and their doctor about healthy weight and nutrition
delivers hundreds of doable tips, ideas, and checklists so parents can implement the best practices for eating healthier and moving more
Best of all for those of you struggling to cook healthy meals for the whole family, the book contains more than 75 kid-friendly recipes that also encourage children to help out in the kitchen with their "Kids Can…" tips. Each recipe also provides nutritional information. However, you'll need to figure out Weight Watchers POINTS on your own.
Hummus Heads
Serves 2 
Prep 10 minutes
Ingredients:
2 romaine lettuce leaves, cut into very thin strips
1/4 cup drained bottled roasted red pepper strips
8 cherry tomatoes, halved
4 pitted black olives, sliced
1 Kirby cucumber, sliced
2 whole-wheat English muffins, split in half and toasted
1/2 cup hummus
Directions:
Place the lettuce, red pepper strips, tomatoes, olives, and cucumber slices
in piles on a plate.
Spread the English muffins with the hummus
Use the vegetables to make funny faces on them: lettuce or pepper strips can be
hair, tomatoes or olives can be eyes, cucumber slices can be ears-use your
imagination, adding any vegetables you like, and have fun!
Nutritional information per serving (2 decorated English muffins halves)
279 Calories, 9g Fat, 7g Sat Fat, 0gTrans Fat, 0 mg Cholesterol, 819 mg Sodium, 42g Carbs, 10g Fiber, 12g Protein, 278 mg Calcium.
Weight Watchers POINTS = 5
"Kids Can…" tips:
In addition to decorating their own sandwiches, kids can use plastic knives to halve the cherry tomatoes and slice the black olives.
Sprinkle on some salba seeds to make "freckles" on the hummus heads.
This Mama's tips:
Other ideas for veggies to use include avocado slices, edamame beans, jicama, peas, and raw asparagus (crunchy!)
You could make a sweet variation with nut butter instead of hummus and apple slices, raisins, nuts, seeds and dried fruit instead of vegetables.