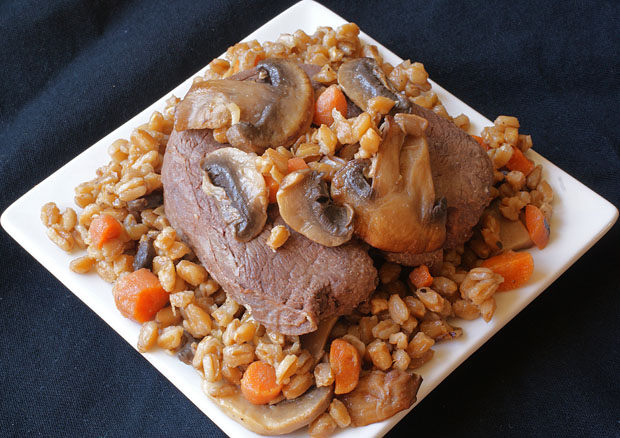 Top Chef Masters begins on April 7. One of the chefs I'll be rooting for is Jody Adams, chef/owner of the famed Rialto Restaurant in Boston, where she uses local New England ingredients to celebrate regional Italian cuisine. Jody will be raising money and awareness for Partners in Health on the show.
Here's one of Jody's signature dishes that uses farro, a healthy and satisfying grain similar to spelt, and traditionally used in Italian cuisine. Nutritionally farro is likened to barley though farro is higher in fat, protein and fiber.
Mushroom Farro
Jody considers this dish as a main course pasta. I like it as a side dish.
Makes 4 servings.
Ingredients:
3 tablespoons extra virgin olive oil
1 medium onion, chopped into ¼-inch dice
1 celery stalk, peeled and chopped into ¼-inch dice
1 small carrot, peeled and chopped into ¼-inch dice
Kosher salt
Freshly ground black pepper
2 cloves garlic, minced
1 pound chopped mushrooms
1 ½ cups farro
5-6 cups chicken stock or water
¼ cup chopped parsley
½ cup freshly grated Parmigiano Reggiano cheese
Directions:
Heat 3 tablespoons olive oil in a large saucepan over medium-high heat.
Add the onions, celery and carrots. Season with salt and pepper. Cook 8 minutes, stirring occasionally, or until tender and lightly browned.
Add the garlic and cook 1 minute. Add the mushrooms and cook 5 minutes.
Add the farro, chicken stock or water and bay leaves. Season with salt and pepper.
Lower the heat to a simmer, cover, and cook until the farro is tender, about 35 minutes, adding more liquid if necessary. It should be quite creamy, like a loose risotto.
Stir in the parsley and cheese. Serve!
Tips:
To reduce calories and fat use a reduced fat chicken broth, a vegetable broth or water.
Substitute a low fat parmesan cheese for the Parmigiano Reggiano cheese or half the amount to cut back on fat and calories.
Farro is available in specialty food stores, Italian food stores and sometimes health-food stores. You can also buy it online from Amazon.
Nutritional facts per serving:
(Numbers are based on using barley instead of farro and chicken stock.)
Calories 445
Calories from Fat 149
Total Fat 16.5g
Saturated Fat 4.1g
Trans Fat 0.0g
Cholesterol 11mg
Sodium 1214mg
Total Carbohydrates 60.5g
Dietary Fiber 14.1g
Sugars 5.3g
Protein 18.4g
Nutrition Grade A from Calorie Count
More about Jody Adams
Outside of the Rialto, Jody is actively involved in organizations that support children's advocacy and hunger relief both domestically and internationally. Besides Partners in Health, she supports Greater Boston Food Bank and Share Our Strength.
In 1997, Jody received the James Beard Foundation award for The Perrier-Jouet Best Chef Award: Northeast.  In 2004 Gourmet named Rialto one of "world's best hotel restaurants." The Boston Globe awarded the renovated Rialto four stars and Esquire Magazine named it one of the best restaurants in the country in 2007.  Most recently, Rialto was awarded a four-star rating from Mobile Travel Guides.