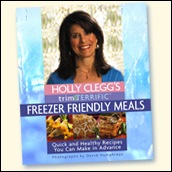 Here's another contender for the sweet potato dish I'll be making this Thanksgiving. This one from Holly Clegg's book Holly Clegg's Trim & Terrific Freezer Friendly Meals
. 
Even though Holly's recipe is healthy overall, I'm still bothered by the amount of sugar she uses in both the casserole and the praline topping. I wonder if it would be possible to omit it completely or substitute it with dark agave nectar in the casserole. Also, the praline topping could be served on the side for those with nut or gluten allergies or who are trying to avoid unnecessary calories.
Makes 8-10 servings
Ingredients:
3 cups cooked mashed sweet potatoes (yams)
1/2 cup sugar
1 large egg
1 large egg white
1 (5-ounce) can evaporated no fat milk
1 teaspoon vanilla extract
Praline Topping (recipe follows)
Instructions:
In mixing bowl, blend together potatoes, sugar, egg, egg white, vanilla. 
Place in 2-quart casserole dish coated with nonstick cooking spray, cover with Praline Topping. 
Bake 45 minutes.
Praline Topping
Ingredients:
1 cup light brown sugar
2/3 cup all-purpose flour
1/2 teaspoon ground cinnamon
6 tablespoons butter, melted
1 teaspoon vanilla extract
1/2 cup chopped pecans, optional
In bowl, mix together brown sugar, flour, cinnamon.
Stir in butter, vanilla, pecans until crumbly.
Nutritional Information
Calories 310
Protein (g) 4
Carbohydrate (g) 57
Fat (g) 8
Calories from Fat (%) 22
Saturated Fat (g) 5
Dietary Fiber (g) 3
Cholesterol (mg) 40
Sodium (mg) 113
Diabetic Exchanges: 4 starch, 1 fat
Weight Watchers POINTS per serving = 6
(To reduce the POINTS, try omitting the praline topping and reducing the portion size.)