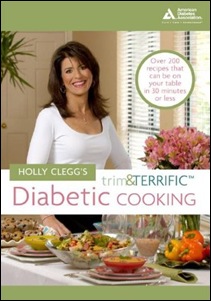 Holly Clegg is the author of several healthy cookbooks
including The New Holly Clegg Trim & Terrific Cookbook
and Eating Well Through Cancer: Easy Recipes & Recommendations During & After Treatment
. (I featured her Marinated Shrimp and Edamame Salad last June.)
What I love about Holly's recipes is that she believes that home cooks should be able to cook food that is good for you, delicious and easy to prepare.
I receive her monthly enewsletter and found the stuffing I'm going to make for my mother-in-law. Since she's gluten free, I'll be using Bob's Red Mill Gluten-Free Cornbread Mix
. Also, since my daughter is allergic to nuts, I'll substitute pine nuts (which are a seed) for the pecans.
From Holly Cleggs Trim & Terrific Diabetic Cooking
Makes 10 servings
Ingredients:
2 tablespoons canola oil
2 cups peeled chopped Louisiana sweet potatoes (yams)
1 cup chopped onion
1 cup sliced celery
1/4 cup chopped fresh parsley
1 teaspoon ground ginger
5 cups crumbled cooked cornbread
1/4 cup chopped pecans, toasted
1/2 cup fat-free low-sodium chicken or vegetable broth
Instructions
Preheat oven 375°F.
In large skillet coated with nonstick cooking spray, heat oil over medium heat. Sauté sweet potatoes, onion, celery 7-10 minutes, or until just tender. Stirring frequently.
Spoon mixture into large mixing bowl. Stir in parsley and ginger. Add cornbread and pecans, toss gently to coat. Add broth to moisten.
Place stuffing in 3-quart casserole dish coated with nonstick cooking spray. Bake, uncovered, 35-45 minutes, or until heated through. Serve.
Nutritional information
serving size = 3/4 cup
Calories 242
Protein (g) 4
Carbohydrate (g) 36
Fat (g) 9
Calories from Fat (%) 79
Saturated Fat (g) 1
Dietary Fiber (g) 3
Sugars (g) 12
Cholesterol (mg) 6
Sodium (mg) 334
Diabetic Exchanges: 2 1/2 starch, 1 1/2 fat
Weight Watchers POINTS per serving = 5
(To reduce the POINTS, try omitting the nuts and reducing the portion size.)