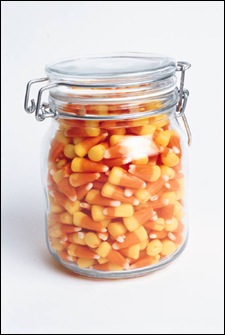 Last year I wrote two posts on keeping yourself gaining weight on Halloween: 5 Things Dieters Can Do with Halloween Candy (Beside Eating It) and 5 ways to trick, treat and have a healthy Halloween.
As a mom, I don't mind giving the kids a little candy as a treat, but want to keep them from OD'ing on sugar during the holiday. The experts at Wellspring, a treatment program for overweight children and teens, have several recommendations for parents this year at Halloween:
Wait to buy your candy.  We tend to eat what's in the pantry. This year, try waiting until Halloween day to buy your candy or at least hide it somewhere until then. Odds are everyone will be snacking a bit less on this year's treats.
Plan your own activity.  Halloween is about having fun, not hoarding stashes of candy. Corn mazes, haunted houses, even planning your own party are activities that take the focus off of sugary treats.
Limit the amount you grab.  It's hard to not take a handful of anything that's free, but limiting your children to only one item at each of your stops is a healthy start.  At the very least, it's polite for the trick-or-treaters after them.
Offer healthy alternatives.  Don't worry about getting toilet-papered, not every house needs to offer candied apples. Gum, hard candy, glow sticks/glow necklaces, and plastic rings are all popular, healthy alternatives to candy with high levels of saturated fat. 
Ration the amount of candy eaten afterwards.  The typical dietary recommendation for candy is a maximum intake of 22 pounds per year for a 12-year-old child, which can often be eaten in a single night during Halloween. Having the occasional treat is good for you, offer one after a healthy meal, exercising, or finishing homework. 
Finally, Penny L. Wilson, RD, LD at Eating for Performance suggests donating your leftover candy. From her enewsletter:
There is a charity called Boatsie's Boxes that collects and sends items to the troops.  Some of the items listed on their Items Needed page include snacks (healthy or otherwise), cookies, crackers, gummy candy, chocolate - any kind, Pringles, Munch & Crunch, Polar Ice Gum, Tootsie Pops, cashews and all nuts, Chocolate Buddy Bars (chocolate can be sent October through April). If you have not purchased your Halloween candy yet, keep these items in mind.  Either way, what is left over can be sent to Boatsie's Boxes an on to the troops!  Here is a link to the shipping information. 

Another option is to call your local homeless shelter and see if they will take candy donations.  You could even arrange for everyone (or a group) in your office to bring in their leftover candy and make a group donation.

What a great way to help out those serving our country or who are less fortunate, and make use of that extra candy. See, Halloween candy can do some good!
How are you keeping healthy this Halloween season? Or do you plan to indulge in some Halloween Candy?