As you may know, I do the occasional recipe roundup for the FoodieView Blog. (My last one was Recipe Roundup: A Berry Wonderful Summer.) Then they turned the heat up a notch in my virtual kitchen and asked me to contribute to the FoodieView Meal Plan of The Week.
My first weekly meal plan attempt is a combination of healthy low calorie, high protein lunches and dinners for summer – mostly salads and sandwiches for lunch, grilled items for dinner, and fresh fruit popsicles for dessert or snacks. Check it out!
Will a weekly meal plan help you lose weight?
It was challenging to create a weekly menu, since it's not how I cook. Since we have a steady supply of venison and fish thanks to my husband, the hunter, I plan meals about what I'm trying to use up in the freezer. I'm also pretty good about keeping healthy food on hand like frozen vegetables, wheat pastas, and organic prewashed lettuce. So in a way, I've already planned to succeed, but maybe I could do better.
My first menu plan had too many ingredients and could have been more economical – mistakes I'll try to correct when my next FoodieView Meal Plan of The Week posts in seven weeks. Still, it was easy to put together, since you can find delicious, healthy, low POINTS recipes on the websites of food brands, food commissions and boards, and magazines. Many of them feature nutritional information along with their recipes so you can figure out your Weight Watchers POINTS, too.
Do you create a weekly menu at home? If not, maybe it's something to try to help you stick to your diet and weight loss plan and goals – and not be tempted with fattening foods.
How to create a weekly menu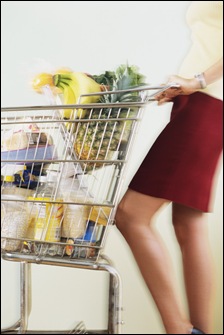 Tackle one meal first: If you're new to menu planning, just try coming up with a weekly plan just for dinner. You can always double recipes for leftovers to have a lunch the next day. If you like ending your meal with a sweet treat, make sure to plan dessert, too, even if it's putting a reminder on your shopping list to pick up a few boxes of Skinny Cow bars.
Pick a theme. Consider the season. You don't want to be slaving over a hot oven in the summer and you should take advantage of the sales on seasonal foods, too. Experiment with new foods or consider going vegetarian one week.
And there's convenience, too. Maybe you want to do a week's worth of slow cooker Crock Pot recipes because you have a crazy schedule coming up. maybe you're having a hankering for soups, so try a week of that (cold soups like gazpacho for summer, and warm, spicy soups like chunky red dal for winter.)
Gather your recipes: Then start going through your cookbooks, your favorite magazine and online for recipes. Try the cooking magazine website, your local paper's website and Weight Watchers online (of course) for healthy recipes. Make sure they have nutritional and proportion information so you can figure out your Weight Watchers POINTS (or calories, protein, fiber, etc. if you're on another weight loss/healthy eating plan).
Get organized: I recommend printing out all your recipes (or photocopying them out of a magazine or cookbook), placing them into sheet protectors, and putting all of them into a three-ring binder. Not only have you created a mini-cookbook for the week, but you protect the recipes from food stains and you create a resource you can go back to later.
Create your shopping list: This is the most time consuming part. If you can, copy and paste the ingredient lists of all your recipes into a master shopping list in a word processing program. You'll start to notice duplicates, like one recipe calling for three tomatoes, another for four. Start combining these. Also, include the ingredients any side dishes you usually prepare, like salads, brown rice or steamed veggies.
Melanie at Dietriffic shares 5 Quick Tips for Successful Menu Planning suggests create a shopping list on your normal route around your local supermarket. I like to hit the produce aisle first, so I list fruits, vegetables and any fresh herbs I need to pick up.
Make sure you have the basics in your pantry before you head to the store, too. Do you need some cider vinegar? How's your supply of soy sauce?
DIY Alternatives: You can always stop by the FoodieView Meal Plan of The Week. There are also paid plans you can try out like Menus for Moms, Relish, and eMeals.
If you use Weight Watchers eTools, try experimenting with the Meal Ideas feature to prepare a weekly menu. You just check the meals you like for breakfast, lunch, dinner and snacks, and add them to your POINTS Tracker. You can also print out a daily or weekly recipe list. However, the program doesn't come with a grocery list, so you'll have to do that on your own.
If you're on another online weight loss/healthy eating plan, see if it will provide you with a weekly menu and grocery list. It's probably part of your online membership and something you're already paying for, so use it!
Do you plan your meals weekly in advance? If so, please share some tips!