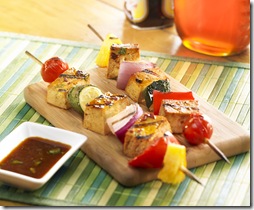 Tofu kabobs? Who said that only meat eaters could enjoy grilled food?
Tofu Kabobs are perfect for when your vegetarian friends come over for a barbeque. (Double check to make sure the Adobo sauce is vegetarian. If not, make a seperate skewer and use teriyaki sauce.) It's also something you meat eaters should try since nutritionally tofu is:
A great source of protein. One half-cup serving (approximately 4 ounces) of raw firm tofu contains 10.1 grams of protein. By comparison, 1/2 cup of milk contains 5.1 grams of protein, one whole egg contains 6 grams, and 4 ounces of ground beef contains about 26 grams.
Low in calories. One half-cup serving of raw firm tofu contains 94 calories. By comparison, 4 ounces of ground beef contains 331 calories, and 1/2 cup of 2% milk has 60 calories.
Low in fat. One half-cup serving of raw firm tofu contains 5 grams of fat, and low fat tofu contains 1.5 grams of fat per serving. 4 oz of beef has 15 grams of fat, while one whole egg contains 5.5 grams of fat.
A good source of calcium. One half-cup serving of firm tofu contains about 227 mg of calcium or nearly 22% of the Recommended Daily Allowance. Check the label since calcium amounts vary by brand.
This recipe comes from those sweet people at the National Honey Board, the ones who sent me a flight of honey to review.
Grilled Tofu Kabobs
Makes 4 servings
Ingredients:
2 (14-ounce) packages extra firm organic tofu
2 cups Chipotle Marinade, see recipe below
3 medium zucchini, cut into 1-inch circles
1 medium red bell pepper, cut into 1-inch chunks
1 medium red onion, cut into 1-inch wedges
12 cherry tomatoes
1 cup pineapple cubes
Directions:
Slice each block of tofu in half horizontally, and, in cross-hatch pattern, make two slices vertically and two slices horizontally for total of 36 tofu cubes.
Place tofu in nonreactive 9 x 13-inch baking dish. Pour marinade over tofu, cover and refrigerate for 1 to 24 hours.
Heat grill or grill pan to medium heat. If using a charcoal grill, set and light fire using coals or mesquite about 30 minutes before cooking time.
Soak bamboo skewers in hot water for 20 minutes.
Alternating ingredients, thread tofu, vegetables and pineapple cubes on skewers.
Place kabobs over hot coals on well-oiled grill rack. Cook about 10 minutes, or until done, turning once and taking care that vegetables don't burn.
Chipotle Marinade
Makes 2 cups
Ingredients:
1 cup vegetable broth
1 clove garlic, minced
1/3 cup honey
1/4 cup tamari soy sauce
1 chipotle in Adobo, minced
1-1/2 Tablespoons Adobo sauce
1-1/2 teaspoons granulated onion powder
1 Tablespoon Dijon mustard
1 Tablespoon fresh chopped cilantro
Directions:
Whisk together broth, garlic, honey, soy sauce, chipotle and adobo sauce in 2-cup liquid measuring cup.
Add onion powder, mustard and cilantro and mix well.
Weight Watchers POINTS = 5
(POINTS are estimated. I figured 4 POINTS for 7 oz. of either regular or low fat tofu. Then half a POINT for the marinade and half a POINT for the pineapple. The vegetables are zero POINTS.)
Tips:
Don't want to go out an buy bamboo skewers? Try a thrift store to buy used – but cheap – metal skewers. That's were I got mine about about 10 cents a skewer. Just wash with soap and water. If they're grimy, use a Mr. Clean Eraser or a Brillo pad.