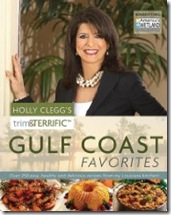 Summer has finally arrived in Colorado, meaning it's hot and the AC and fans are most of the day. In this heat, the last thing I want to do is cook. Actually, I want to lie down next to one of the vents and read books all day. (I'm not good in the heat.) So finding easy to make, healthy salads – and sharing them with you - is my mission this week. 
My first choice comes from Holly Clegg. I'm a big fan of her freezer meal bible, Holly Clegg's Trim & Terrific Freezer Friendly Meals
. She personally sent me a few of her cookbooks, including her latest KIDS COOKING for Mommies
, which encourages parents and children to cook together. Love it, but I wish it had pictures and an index, too.
However, the book that really intrigued me was Holly Clegg's Trim & Terrific Gulf Coast Favorites
. I lust after Cajun and southern cooking – but don't like it's high fat content. (Justin Wilson anyone? Love him! Only he could make pork stuffed pork.) Instead, Holly uses her usual culinary magic to create every day dishes that are healthy and delicious. Each recipe comes with full nutritional info including diabetic exchanges. Trim & Terrific Gulf Coast Favorites also features vegetarian and freezer friendly make-ahead recipes and menus.
Shrimp and edamame are always in my freezer and wasabi paste is always in the fridge, so this salad is first on my list after I get more cherry tomatoes from Costco. The ones I bought last week have magically disappeared. (Burp.)
Marinated Shrimp and Edamamae Salad
Makes 6 (2/3 cup) servings
This salad packs a protein punch – 19 grams! - for the 3 Weight Watchers POINTS per serving.
Ingredients:
1 pound medium peeled shrimp, seasoned, cooked, and coarsely chopped
1 cup shelled edamame, cooked according to directions
1 cup halved cherry tomatoes
1 bunch green onions, chopped
2 tablespoons lime juice
1 tablespoon olive oil
1 teaspoon wasabi paste
1 teaspoon grated fresh ginger or 1/2 teaspoon ground ginger
Directions:
In a medium bowl, combine shrimp, edamame, tomatoes, and green onions.
In a small bowl, whisk together remaining ingredients and toss with shrimp mixture.
Refrigerate until serving.
Nutritional information
Calories 153, Calories from fat 26%, Fat 4 g, Saturated Fat 1 g, Cholesterol 147 mg, Sodium 198 mg, Carbohydrate 8 g, Dietary Fiber 3 g, Sugars 4 g, Protein 19 g
Diabetic exchanges:
1/2 carbohydrate 1 2 1/2 lean meat
Weight Watchers POINTS per serving: 3