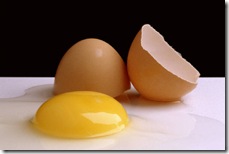 Even though I probably won't want to see let along eat another frittata for a few weeks, I have to say that they're an incredibly easy dish to make.
Assuming you  have the ingredients on hand like eggs, reduced fat cheese, skim milk, and some vegetables, you can whip up a frittata in very little time. Frittatas are great for using up leftover bits of this and that, too.
Tonight's dish is Asparagus, New Potato and Chive Frittata. Here are the substitutions I'm making:
I'll use frozen asparagus since they're cheaper than fresh and already cut up.
I'll use egg whites instead of fat-free egg substitute. I'll probably need 3 to 4 egg whites to make a cup.
If the store doesn't have new potatoes, I'll use red or golden potatoes so I don't have to peel them.
Instead of steaming, I'll put them in the microwave in Glad® SimplyCooking™ Microwave Steaming Bags.
If I can't find chives at the store, I'll use thinly sliced onions.
Check out the Weight Watchers frittata dishes I made earlier this week:
Asparagus, New Potato and Chive Frittata
Serves  4
Ingredients:
1/2 pound uncooked new potatoes, washed and very thinly sliced (about 4 potatoes)
1 pound asparagus, trimmed and cut into 2-inch lengths
2 large eggs
1 cup fat-free egg substitute
1/2 tsp table salt
1/8 tsp black pepper
2 tbsp chives, fresh, chopped
1 spray of cooking spray
Instructions:
Place potatoes in a steamer; steam until almost tender, about 3 minutes.
Add asparagus and steam for 1 minute more; remove vegetables from steamer and set aside.
Preheat broiler.
In a large bowl, whisk together eggs, egg substitute, salt, pepper and chives.
Coat a 10-inch nonstick, ovenproof skillet with cooking spray and set over medium heat.
Add potatoes and asparagus and sauté for 2 minutes; reduce heat to low and stir in eggs.
Cover and cook until eggs are set around edges, about 5 minutes.
Uncover and broil frittata until top is golden brown, about 1 to 2 minutes.
Cut into 4 wedges and serve.
Weight Watchers POINTS per serving: 3
Update
Again, very easy to make but much pricier than the other frittata recipes because of the asparagus. (Couldn't find any in the frozen aisle, either.) This was my husband's favorite because of the combo of asparagus and potatoes.