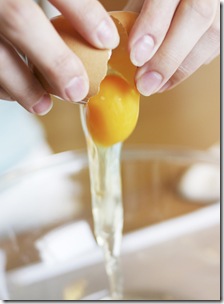 Potato is a classic ingredient in frittatas, so I wanted to try one. I chose a Potato and Pepper Frittata recipe that was featured in two older Weight Watchers cookbooks: Weight Watchers Stir It Up! Super Skillet Cookbook
and Weight Watchers Meals in Minutes: 150 Speedy Recipes Low in Points Values. You can buy both cookbooks used on Amazon.
Since I didn't have time to go to the store today, I'm going to make several substitutions. I'm going to grate potatoes I already have, and use frozen pepper stir fry. Instead of scallions, I will use onions, and will substitute dried parsley for fresh. Also, I don't have reduced-fat cheddar cheese, only a shredded reduced-fat four cheese blend. Even with all these substitutions, it should be a tasty dish.
Also, this is the first night my husband is home to try a frittata dish fresh from the stove top. He's been eating his slices for lunch the day after, and has liked everything I've made so far. Glad to know that leftovers heat up well, too.
Potato and Pepper Frittata
Serves 4
Ingredients:
1 tablespoon canola oil
2 cups (from a 32-ounce  bag) frozen hash- brown potatoes
1 bunch scallions, thinly sliced
1 red bell pepper, seeded and chopped
1/2 teaspoon salt
1/4 cup chopped fresh flat-leaf parsley (or 1 1/2 tablespoons dried)
2 cups fat-free egg substitute (equal to 3 whole eggs and 9 egg whites)
1/2 cup shredded reduced-fat cheddar cheese
1 tablespoon grated Parmesan cheese
1/2 teaspoon coarsely ground black pepper
Directions:
Heat the oil in a medium nonstick skillet over medium heat. Add the potatoes, scallions, bell pepper, and salt; cook, stirring frequently, until the vegetables are tender and golden, 8-10 minutes. Stir in the parsley.
Meanwhile, spray a large nonstick skillet with nonstick spray and set over medium heat. Add the egg substitute and cook until set, 7-8 minutes, lifting the edges frequently with a spatula to let the uncooked
egg flow underneath.
Spoon the potato mixture over the frittata, then sprinkle with the cheddar, Parmesan, and ground pepper. Cover the skillet and cook until the cheeses melt, about 3 minutes.
Nutritional information per serving : 190 Cal, 4 g Fat, 1 g Sat Fat, 0 g Trans
Fat, 1 mg Chol, 653 mg Sod, 26 g Carb, 4 g Fib, 13 g Prot, 98 mg
Weight Watchers POINTS = 3
Notes: For a browned cheese topping, pop the frittata under a hot broiler 2 to 3 minutes. If the handle on your skillet is not flameproof, cover it with heavy-duty foil.
*According to the Egg Beaters website:
4 whole eggs = 1 cup Egg Beaters

1 whole egg = 1/4 cup Egg Beaters
1 egg white = 2 tbsp Egg Beaters
Update – AWESOME!
This was a huge hit with my family, and their favorite so far this week. It was so good that it'll become a regular meal in our household – either for dinner or brunch since we usually have these ingredients in the pantry, fridge and freezer.
I served it with a salad and we had strawberries for dessert. (The kids and their dad had a few squares of Lindt chocolate for dessert, too. My indulgence was a glass of white wine – divine!)
Substitutions
I reduced the salt, which is reflected above, since Weight Watchers recipes use too much salt for my taste.
I used purple and white fingerling potatoes that I already had at home. The purple potatoes added a lot of color to the dish, and they have a richer flavor than normal potatoes.
Instead of the scallions and pepper, I used two cups of frozen pepper strips. The frozen type that I use has red, yellow and green peppers and onions. Much easier to use than cutting up a fresh pepper and the scallions, plus it's more colorful.
I used reduced-fat four cheese blend, and decided not to add the Parmesan since it seemed like overkill.
I used dried parsley instead of fresh and added it immediately along with the salt when I was cooking up the pepper strips, potatoes and onions.
I didn't flip the frittata out of the pan, but took a nylon spatula to cut it right in the pan. Since the peppers, potato and onions are so pretty, so want to serve it face up.
I changed the egg amount from 4 whole eggs and 8 whites to 3 whole and 9 whites (changed above). I measured and it a smidge more than 2 cups.