I had to laugh this morning when I opened up my weekly Weight Watchers e-newsletter and saw a recipe for Spaghetti, Artichoke and Zucchini Frittata. Great minds think alike.
Here's what's on deck for tonight's dinner – Corn and Green Chile Frittata. I'm tempted to substitute a few whole eggs for egg whites, then again at 4 POINTS per slice, I doubt it's worth doing. I hate throwing away egg yolks, even when I toss them in the composter – seems like such a waste.
Corn and Green Chile Frittata
Serves  4
Ingredients:
6 large eggs
1 cup frozen corn kernels, thawed (or canned)
4 1⁄2-ounce can chopped mild green chilies, drained
1⁄4 cup fat-free milk
2 teaspoons chopped fresh thyme or 1⁄2 teaspoon dried thyme
1⁄2 teaspoon salt
1⁄4 teaspoon black pepper
3 dashes hot pepper sauce
12 cherry tomatoes, halved
Directions:
Whisk together the eggs, corn, chilies, milk, thyme, salt, black pepper, and pepper sauce in a large bowl.
Spray a medium nonstick skillet with nonstick spray and set over medium heat.
Add the egg mixture and sprinkle with the tomatoes.
Cover and cook until the eggs are set, about 15 minutes.
Cut the frittata into 4 wedges. Serve hot, warm, or at room temperature.
Nutrition info per serving (1 wedge): 168 Cal, 8 g Fat, 3 g Sat Fat, 0 g Trans Fat, 318 mg Chol, 493 mg Sod, 12 g Carb, 2 g Fib, 12 g Prot, 74 mg Calc.
Weight Watchers POINTS per serving: 4
Notes: If you prefer a little more spice with your eggs, substitute a jalapeño or two—fresh or canned—for the green chilies.
Update: It's a hit!
As my son put it, "Mom this is great. I wish my mouth was bigger so I eat could more."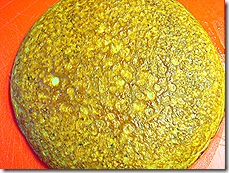 The combination of the corn and the organic cherry tomatoes made the frittata wonderfully sweet. (My daughter disagreed and picked all her tomatoes off. More for me!)
Also, I only had diced jalapeño peppers in the cupboard. Since I don't like my food too spicy, only used 1/2 tablespoon of peppers in the dish.
Keeping the lid on meant I could keep the heat lower so the outside wouldn't get too brown. (The underside looks like something from my son's planet project – craters and all. This meant I had to add a few more minutes to the cooking time. It was also interesting how the thyme floated to the top and the eggs puffed up just as the frittata was done.