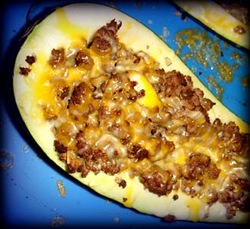 (Check out my recipe for grilled zucchini, too.)
This recipe comes from the article, Taste the Rainbow, from my local newspaper the Daily Times-Call. It's about Miller Farms in Platteville, Colorado, which is a five minute drive from my house. We've gone there on many school field trips.
I haven't had the need to visit Miller Farms this year because our garden is producing some monster summer squash and zucchini. However, I loved the recipe by Dave Paterson, who works at Miller Farms. As he says in the article, "You can stuff [zucchini] with anything. Because it's bland, it will pick up your favorite flavors."
Taking his advice, I changed the recipe to what I had on hand – used more onions and cheddar/jack shredded cheese. I can see using taco seasonings, tomatoes, and covering with Mexican cheese and salsa. Or you can do an Italian version with onions, tomatoes, Italian sausage, and covering with mozzarella cheese and a little tomato sauce.
Yield: 8 servings
Ingredients:
6 8-inch zucchinis
1 pound Italian sausage or hamburger
2 tablespoons onion, chopped
Mozzarella cheese
Seasonings of choice
Directions:
Cook meat with onion and seasonings.
Hollow zucchinis into a boat shape and stuff with the meat mixture.
Bake for 30 minutes at 350 degrees.
Five minutes before pulling the cookie sheet from the oven, top each zucchini boat with cheese.
Serve hot.
You can lower the calories and make this a healthier dish by using lean ground turkey or BOCA ground crumbles. You can also add more vegetables to the stuffing and sprinkle seasoned bread crumbs for flavor instead of the cheese. If you must have cheese, try to find a low fat version. But keep in mind that this is mostly zucchini with a bit of ground meat – fairly healthy and low calorie.
I made a double batch since our ground venison is in two pound packages and we had two gigantic zucchinis. My family loved this and the kids asked for seconds. I'll be making this again, for sure.