As I travel through the grocery store I realize that another eating holiday - St. Patrick's Day - is upon us. Here are five ways to cope when Irish tummies are growling.
1. Beer - If you must have a beer this St. Patrick's Day, choose wisely. Instead of that nasty green Bud Light, treat yourself to a Guinness, Harp, Beemish or Murphy's. The dark, rich stouts have only 3 Weight Watchers POINTS per 12 oz. bottle. Drink slowly and savor the flavor!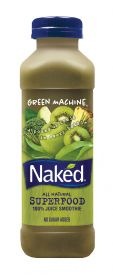 2. Drink your greens. There are so many ways to "tipple the green" besides having an Irish beer. One way to drink your greens is to try Naked Juice's Green Machine juice. (Don't have Naked Juice in your area? Try Ocala Superfood Micronutrient Fruit Juice Drink instead.)
Green Machine has several "superfood" ingredients including spirulina, chlorella, blue green algae, spinach, broccoli, and others. Sounds gross but its apple juice and pineapple juice base gives it a sweet flavor. One cup is 3 POINTS.
I love it and have a glass of it in the morning with my vitamins. Also, I think the superfood goodies have helped keep me healthy this winter, unlike the rest of my family who keep getting sick.
Green tea is another example. According to an article at MSNBC.com,
Green tea contains relatively high amounts of a type of phytochemical called EGCG, proven in laboratory studies to be a powerful antioxidant...studies show EGCG can increase production of enzymes that protect us from cancer-causing substances, decrease levels of a substance key to promoting cancer development, and increase cancer cell self-destruction.
3. Do your corn beef right. If you're cooking for your skinny relatives you can download St. Patrick's Day: Not just for the Irish, a history of the holiday, which includes traditional recipes. But don't worry, Weight Watchers is a great source of low POINTS corned beef recipes: Corned Beef and Cabbage Strudel (4 POINTS per serving) and Corned Beef with Cabbage and Boiled Vegetables (7 POINTS per serving, which you can slim down even further by omitting the potatoes). Click here for more St. Patty's Day Irish Weight Watcher recipes.
But I loved the Denver Post's Asian twist on corned beef - only 2 Weight Watchers POINTS per serving:
Makes 6 servings.
Ingredients:
1 teaspoon canola oil
4 ounces deli sliced corned beef, cut into thin strips (You could use leftover corned beef from your St. Patrick's Day dinner.)
3/4 cup water
1/4 cup cider vinegar
2 tablespoons coarse Dijon- style mustard
1 tablespoon brown sugar
6 cups shredded green cabbage (about 1 pound)
2 cups shredded carrots
Salt and freshly ground black pepper, to taste
Directions:
In a large nonstick skillet with a lid, heat oil over medium- high.
Add the corned beef and saute, stirring often, until lightly browned, about 2 minutes. Add the water, vinegar, mustard and brown sugar. Stir to combine.
Add the cabbage and carrots and reduce heat to medium-low. Cover and simmer, stirring occasionally, until the vegetables are very tender, 15 to 20 minutes. Check the vegetables midway through and add more water if necessary.
Season with salt and pepper before serving.
4. Get your green on and MOVE! March in the St. Patrick's Day parade in your city. Take a Celtic dancing class. Put on some music by your favorite Irish band (U2
or The Dubliners
, anyone?) and rock out. Or enjoy the warmer weather - and the greening parks - by getting outside, riding your bike or taking a walk.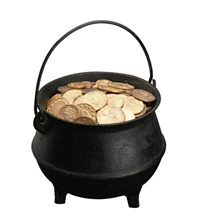 5. Make yourself a weight loss or getting fit personal pot of gold. This marvelous idea comes from Weight Watchers. Write your accomplishments on slips of paper and keep them in a little black pot. When you're suffering from a momentary set back in your weight loss journey, take out the little reminders of past accomplishments. As you're more successful in getting healthy, the amount of "gold" in your pot will grow and inspire you!
Beannachtam na Feile Padraig!
Happy St. Patrick's Day!
For more Five Things/Ways advice articles, click here.