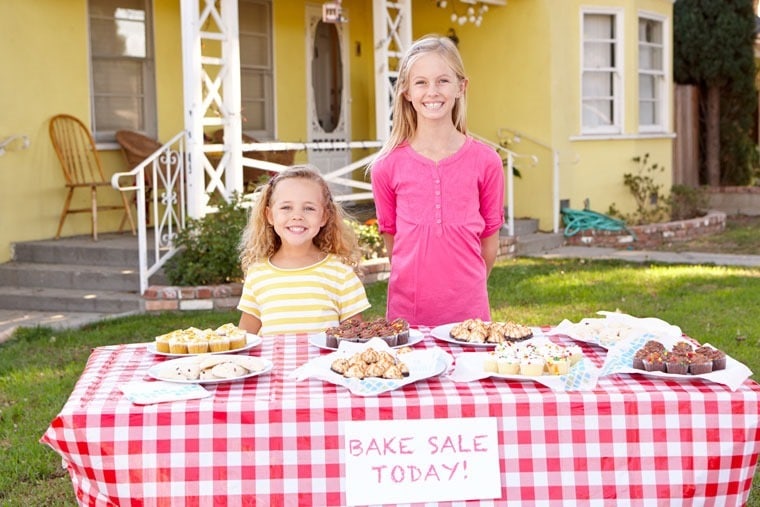 We're barely into October and I've already received my first request for bake sale and cake walk goodies. After making cookies for a playgroup a couple of weeks ago – and eating too many –  I thought I'd come up for some strategies for staying on my weight loss journey.
1. Just say NO! Do you find yourself saying yes every time a committee asks you to bake cookies. Just tell them you're too busy this year to help bake cookies and treats. Tell them a little white lie, "My oven is acting up and I keep burning everything." Or just tell them the truth, "I'm trying to lose weight, and baking cookies is just too tempting."
Feel guilty? Write a check or offer to help in some other way like providing table cloths or making signs.
2. Buy store bought treats. Purchase them on the way to the school so you can get pick them up, drop them off, and avoid all temptation. Yes, it doesn't seem like you're making much effort. However, I know some folks prefer buying store bought goodies at bake sales because they're scared of food poisoning.
Feel guilty? Make a Decorate Your Own Cookies Kit. Buy store bought sugar cookies and include sprinkles and tubes of pre-made frosting. Put them into a basket with a small spatula and wrap in cellophane. Makes a great cake walk or bake sale item.
3. Get grandma to do it. Send the kids over for a baking session with grandma (or dad, older siblings, grandpa, aunts or uncles). Not only will your kids have fun baking with their relatives (a great bonding experience), but you won't be tempted. Plus you'll have a free afternoon to yourself to exercise or go for a massage.
Feel guilty? Buy all the ingredients and give grandma a gift card to her favorite coffee shop or video store as a thank you.
4. But I love to bake! I agree, baking is fun. So if you insist on making you're own treats, try chewing gum or drinking tea while you're baking. Or you can brush your teeth (often) so anything you snack on tastes yucky. Or you can make a treat you are allergic to or don't like, though I've never met a cookie I hated.
Feel tempted? Take a break and look at the situation. Are you hungry? Have a diet safe snack and a big glass of water. Still want that cookie? Decide if it's worth going off your weight loss journey for a cookie.
5. Plan your indulgence. O.K. sometimes the best thing about bake sales is that you can sample the treats. Before baking decide how many cookies you're going to allow yourself to eat. Maybe it's the day you use up all your extra Weight Watcher POINTS. Or put in an extra exercise session before you bake so you've already burned up all those calories.
Feel guilty? Don't because you're planning what you're eating. Make sure not to indulge in just any kind of cookie - make your favorite and put aside your limit for later. Then sit down and enjoy your indulgence with a nice cup of tea or coffee or an ice cold glass of skim milk.
For more Five Things/Ways advice articles, click here.