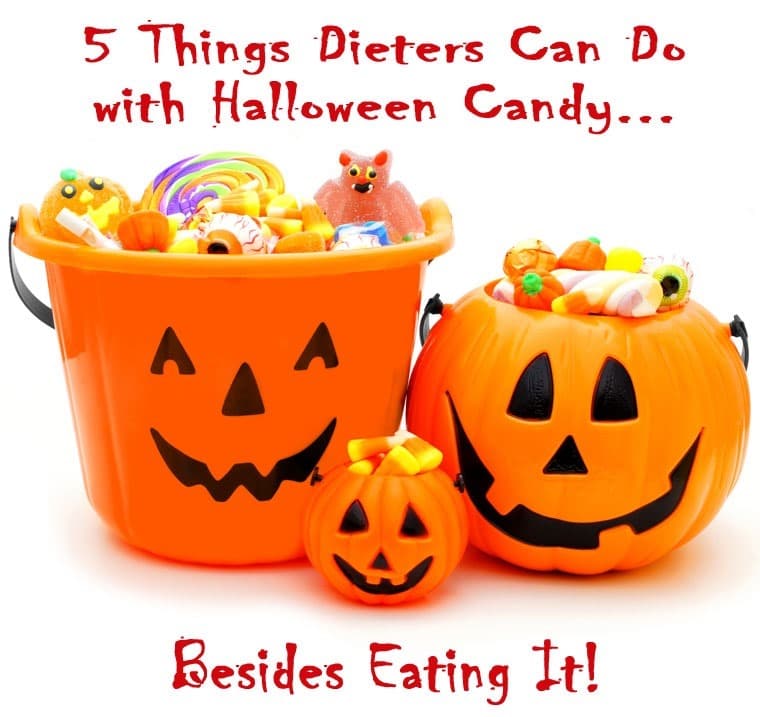 The official start of the holiday eating season - Halloween - arrives this week. It's an especially trying time for those trying to lose weight and eat healthy. Even if you're skinny, you don't need that extra sugar and corn syrup - it's just not good for your health! 
Here are some ideas on what to do with all that Halloween candy before it ends up on your hips.
1. Throw it out. While I have a problem wasting good food, I have no qualms about tossing the cheap candy my kids get trick or treating. Save enough favorites for the kids so they don't get upset that mean ol' you is taking away their hard earn stash. Or be sneaky and throw a few handfuls away every day. The kids won't notice that their candy pile is getting smaller. Remember to hide it under the rest of the trash so your kids won't take it out. (My kids are constantly coming to me and asking, "Why did you throw away this broken toy/drawing/piece of ribbon? It's mine!")
If you're too tempted to slowly get rid of the Halloween candy, go to a friend's or neighbor's and throw the candy out at their house. Or you can ruin the candy by unwrapping it and then covering it in something inedible like hairspray, coffee grounds, talcum powder, or yucky rotting leftovers. Take the trash immediately to your outside bin so you won't have to look at it every time you throw something away.
2. Freeze it. Dole it out a few pieces at a time to the kids. Save it for school parties, birthday bashes, and to decorate gingerbread houses at Christmas. Freezing the candy will prevent you from gorging on the stash without breaking a few teeth.
3. Support our troops. Send the candy to soldiers overseas. Or contact your local military base or VA hospital and ask if you can make vets some goodie bags.
4. Bring it to work. (Or send it with your spouse or friend to their workplace.) The office vultures will take care of it in no time even if they have tons of candy at home.
5. Make crafts with the kids. Besides gingerbread houses, use candy to make crafts that you wouldn't dare eat. Try making a mosaic. Take a piece of sturdy cardboard and cover with colored paper (wrapping paper or aluminum foil will work, too.) Use pieces of hard candy to create a design. You could use licorice, icing or white glue as the grout between the pieces. Cover with a spray shellac to make it completely inedible. The shellac will also prevent your masterpiece from getting eaten by bugs or rotting.
For more Five Things/Ways advice articles, click here.