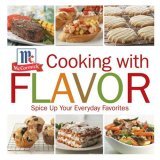 When I received the McCormick Cooking with Flavor: Spice Up Your Everday Favorites cookbook courtesy of Janine Gordon Associates, I thought it was a lovely beginner cookbook full of great pictures and easy recipes. It would be perfect for a newlywed or a college student – anyone starting to cook for themselves or others for the first time. It would make a great present along with a basketful of cooking utensils
and spices
.
I thought that Cooking with Flavor
wouldn't be much help for me on the Extreme Fat Smash Diet. Then I saw the recipe for Classic Hummus on page 26. Hummus often pops up in my daily diet menu, either as a sandwich filling (it's awesome on rye bread) or as a dip with slices of pepper. I hadn't had it in awhile because I couldn't find it at Costco the last time I went.
When I saw this recipe, I could have kicked myself – why buy hummus when you can make it at home? I always have canned chickpeas (garbanzo beans
) in the pantry because I use them to make Weight Watchers taco soup for the kids. They're a great source of protein, too.
Extreme Fat Smash Hummus
Makes 1 1/4 cups
Ingredients:
1 can (15 oz.) chickpeas (garbanzo beans)
1 Tbsp. minced garlic
1 tsp. lemon juice
1 tsp. ground cumin
1/4 tsp. crushed red pepper
1/4 tsp. salt
olive oil
Directions:
Drain chickpeas reserving 1/4 cup of the liquid.
Place chickpeas, minced garlic, lemon juice, ground cumin, crushed red pepper and salt into a food processor. Cover.
Process until smooth, scraping down sides if necessary. Add reserved chickpea liquid and process until smooth.
Drizzle hummus with olive oil. The less oil, the less calories. But you will need to add some to get the right taste and texture. If you're on Weight Watchers, this is a great way to get your daily "heart healthy" oils in.
Store hummus in an airtight container in the fridge for up to 2 days.
Nutritional information according to Calorie King for 1/2 cup of commerically made hummus:
Calories 104
Fat 6 g
Carbs 8.9 g
Fiber 3.8 g
Protein 4.9 g
Weight Watcher POINTS = 2
Click here to see the Extreme Fat Smash Sandwich recipe.
Extreme Fat Smash Hummus Sandwich
Makes 1 serving
Ingredients:
1 Wheat Pita
1/4 cup Alfalfa Sprouts
1/2 cup Hummus
2 Red Tomato Slices Per Serving
Directions:
Split pita bread to open pocket.
Spread hummus into pocket.
Add sliced tomatoes and alfalfa sprouts. Enjoy!
Nutritional Information:
Calories 366
Fat 12.6g
Carbs 53.1g
Fiber 12.1g
Protein 15.8g
Weight Watcher POINTS = 7
The Weight Watchers POINTS seem high to me. You may want to look into getting a low carb pita or substituting a low point bread. Since the veggies are "free," you could get this down to 4 or 5 points.