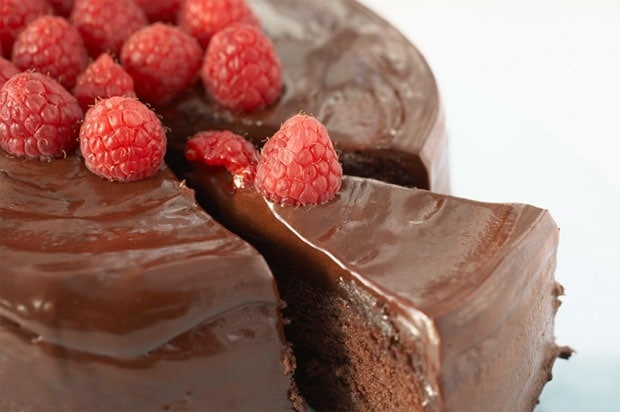 When my friend Suzanne heard that my daughter, Lucie, is allergic to eggs, she sent along this recipe for an eggless chocolate cake. It's named after the mother of an old friend of hers who used to make it.
Since my daughter is also allergic to peanut butter, I'd make a traditional vanilla or chocolate frosting or maybe a chocolate ganache instead, like the picture above.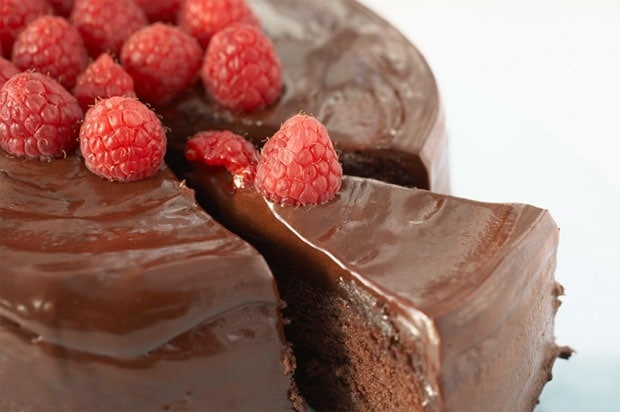 Shirley's Eggless Chocolate Cake with Peanut Butter Icing
Ingredients
For the cake:
3 cups

flour

2 cups

sugar

1 teaspoon

salt

1 teaspoon

baking soda

9 tablespoons

cocoa (not instant)

2 cups

cold water

2 tablespoons

vinegar

3/4 cup

vegetable oil

2 teaspoons

vanilla extract
For the icing:
3 cups

confectioners sugar

1/4 cup

milk (approximately)

3/4 cup

peanut butter
Directions
For the cake:
Mix all ingredients in a large bowl using an electric mixer.
Pour into a greased 9 x 13 baking pan.
Bake at 350 degrees for 30 - 40 minutes.
For the icing:
Mix confectioners sugar and milk - it will be thin.
Stir in peanut butter, which will thicken the icing.
Ice your delicious cake.
Total Time:
1 Hour 30 Minutes
Serving size:

1/6 to 1/8 of recipe