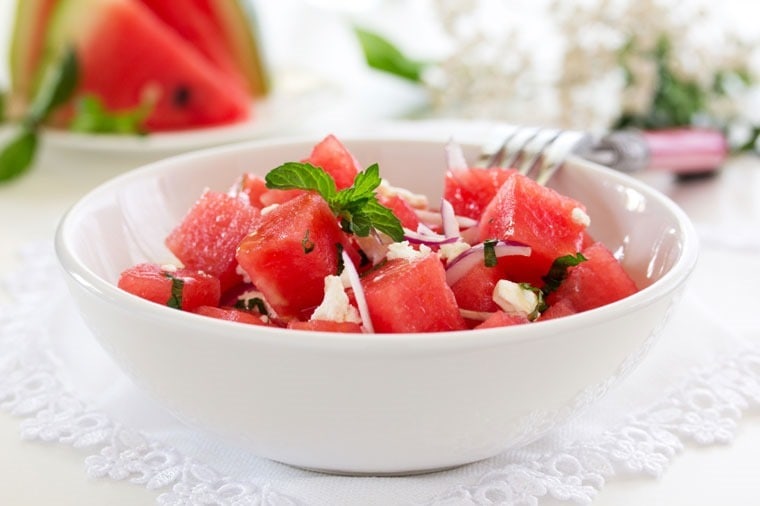 When this watermelon salad recipe originally appeared in the Denver Post, I thought I had to share. As Ray Mark Rinaldi writes,
"This side salad is what we like to call a 'secret weapon' in the land of potlucks. It's the surprise hit of any bring-a-dish event, particularly if the meal is outdoors. The sweet watermelon matches up perfectly with the salty cheese. Slam it together just before leaving the house or bring the ingredients along and toss it all when you get there to keep it crunchiest. Hint: Crumble your own feta to keep the chunks sizeable and do add the red pepper."
Over the years, I've changed up Mark's recipe. I've added chopped mint and red onions. I've omitted the red pepper flakes and added some lemon infused olive oil, a squeeze of lemon juice, and a pinch of sea salt.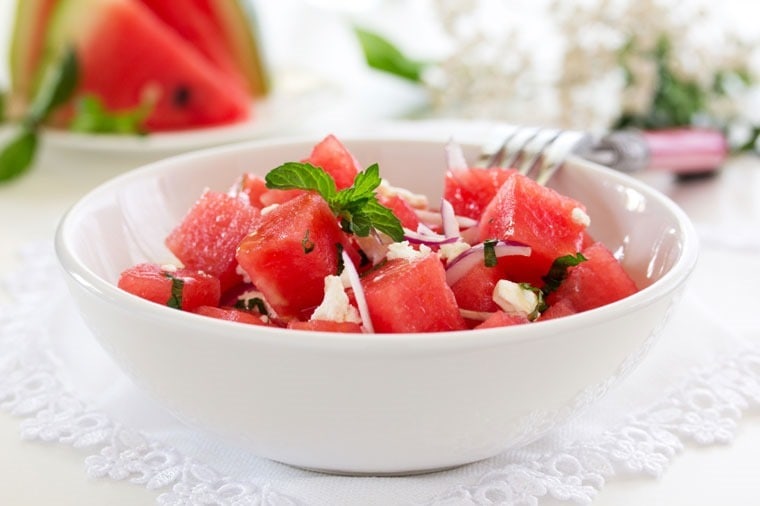 Watermelon with Mint, Lemon and Feta Salad
Inspired by a recipe from the Denver Post.
Ingredients
3 cups

2-inch chunks of seedless watermelon

1 cup

crumbled feta cheese

1/4 cup

chopped red onion

1 tablespoon

lemon infused olive oil

1/2

fresh lemon, juiced

Leaves from 4 springs of mint, chopped

Coarsely ground black pepper to taste

A pinch of sea salt
Directions
In a large serving bowl, combine all the ingredients.
Toss gently. Serve immediately.