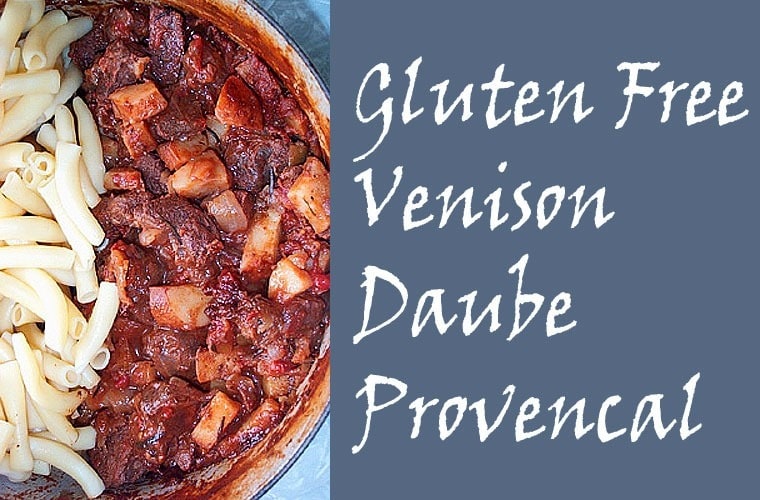 We have a huge supply of venison thank to Big Bad Dad's hunting efforts. I cook it up like beef, but add extra seasoning since the meat can be gamey and more fat and oil as venison is very lean. I decided to make a version of Beef Daube Provencal, which is a classic French braised beef, red wine and vegetable stew recipe. When I made it a couple of weeks ago, I found it very simple to prepare and absolutely delicious.
You can use either beef or venison - use whatever one you like. You can also use regular noodles if you're not gluten free, though I found that the rice noodles went really well with the venison stew.
You can either make it in your slow cooker or a small Dutch oven, like my favorite Le Creuset 3-1/2-Quart Round French Oven [affiliate code]. I have two very old Le Creuset pots – a very old one in yellow and another in classic flame – that I found at thrift stores. Both were in terrific shape and cost me very little. All I had to do was buy new Le Creuset knobs for the lids, which I found at a local gourmet cooking shop. I paid more for the knobs than the pots, go figure!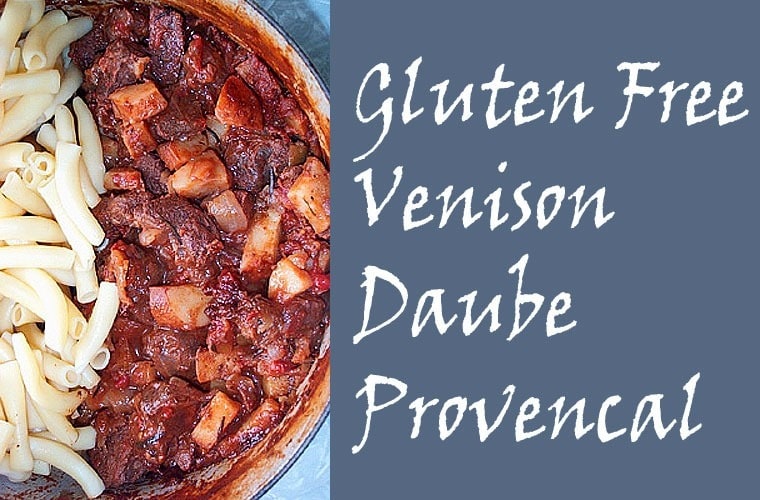 Ingredients
2 teaspoons

olive oil

12

garlic cloves, crushed

1 (2 pound)

venison roast or a boneless beef chuck roast, trimmed and cut into 2-inch cubes

1 1/2 teaspoons

salt, divided

1/2 teaspoon

freshly ground black pepper, divided

1 cup

red wine

2 cups

red potatoes, roughly chopped

1 1/2 cups

chopped onion

1/2 cup

low-sodium beef broth

1 tablespoon

tomato paste

1/2 teaspoon

rosemary

1/2 teaspoon

thyme

pinch

ground cloves

1 (14 1/2 ounces) can

diced tomatoes

1

bay leaf

3 cups

cooked gluten free noodles
Directions
Preheat oven to 300 degrees F.
Heat oil in a Dutch oven over low heat. Add garlic and cook 5 minutes, stirring occasionally.
Remove garlic and set aside.
Increase heat to medium high.
Sprinkle beef with 1/2 teaspoon salt and 1/4 teaspoon pepper and add to pan. Cook 5 minutes, browning meat on all sides.
Remove beef from pan.
Add wine to pan, bring to a boil, and scrape to loosen brown bits.
Add garlic, beef, 1 teaspoon salt, 1/4 teaspoon pepper, red potatoes, onion, beef broth, tomato paste, rosemary, thyme, cloves, tomatoes, and bay leaf. Bring to a boil.
Remove from stove top. Cover and bake in oven for 300 degrees for 2 1/2 hours or until beef is tender.
Discard bay leaf and serve over cooked noodles.
To make in a slow cooker:
Prepare through step 8. Place beef mixture in an electric slow cooker. Cover and cook on HIGH for 5 hours.
Total Time:
3 Hours 20 Minutes
Servings
:
Makes 6 servings
Serving size:

1/4 cup stew and 1/2 cup noodles