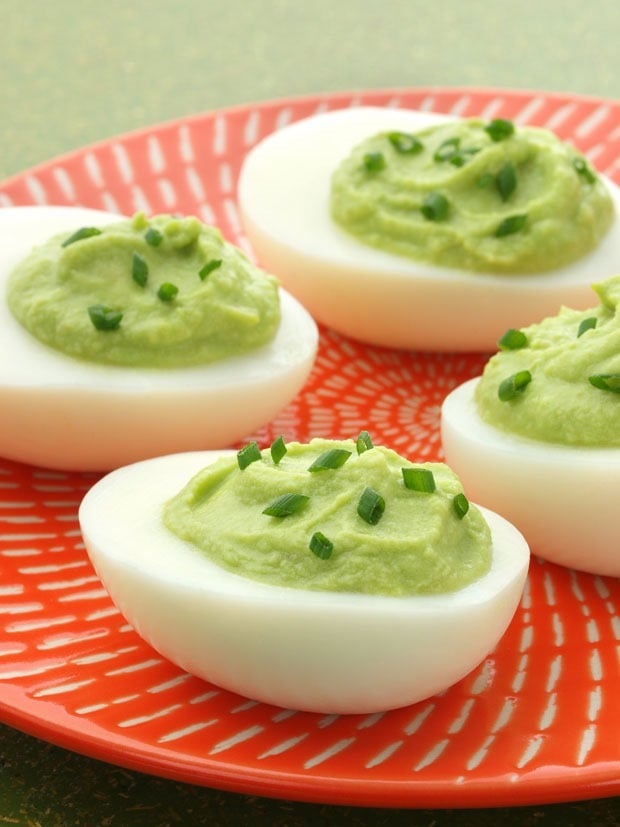 Looking for some green party food for St. Patrick's Day that's also healthy and naturally gluten free? This recipe healths up a party classic – deviled eggs – by substituting avocado and plain yogurt for mayonnaise. You can sprinkle the tops with chives or blend them in for a punchier green, too!
This would also make a terrific healthy snack when the kids are reading Green Eggs and Ham
at school.
Avocado Deviled Eggs
Yield: 12 deviled eggs
Ingredients:
6 hard-cooked eggs, peeled and cut lengthwise
1 fully ripened avocado from Mexico, peeled, pitted and diced
1 tablespoon plain low or no-fat yogurt
2 teaspoon Dijon mustard
1 teaspoon white vinegar
1/2 to1 teaspoon salt
1/2 teaspoon ground black pepper
1 tablespoon minced jalapeño
1 tablespoon finely chopped onion
chopped chives (optional)
Directions:
In a small bowl, place egg yolks; add the avocado and mash until smooth.
Stir in yogurt, mustard, vinegar, salt and pepper, and mix thoroughly.
Stir in jalapeño and onion, then spoon into egg white shells, dividing equally.
Arrange on a serving plate. Cover lightly with plastic wrap and refrigerate for up to 3 hours.
Garnish with chives, if desired.
Photo and recipe used with permission.
__________________
Amazon links are affiliate links. A commission may be earned from a referred sale to their website.