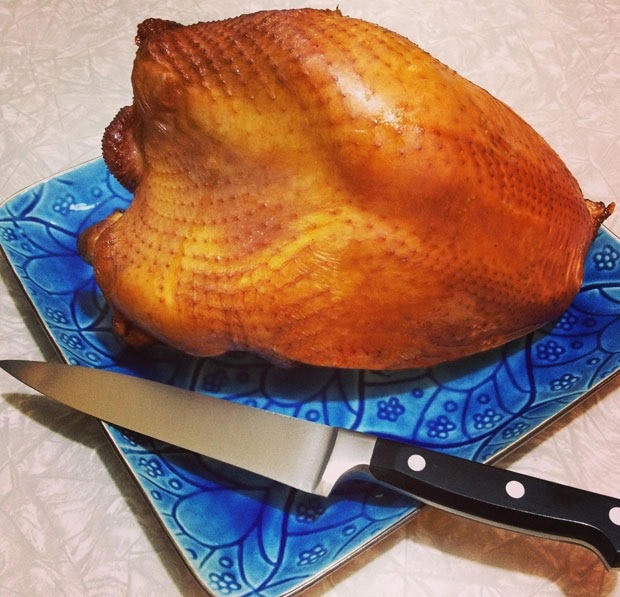 Thanksgiving confession time. Since my kids hate turkey, I was considering forgoing having one this year and just making a ham. However, since the folks at Mizkan and Holland House asked me to prepare a turkey brining recipe, I decided to go ahead and make one using a turkey breast since Paul and I were going to be the only ones eating it. (Lucie eventually decided that she did like it and had some.)
Since this turned out so well, I may forget about making beer can chicken and make brined and smoked turkey breast year round – not just for Thanksgiving and Christmas. The meat was incredibly juicy, moist and tender and incredibly flavorful. If you're making a full turkey, go ahead and add a turkey breast to your Thanksgiving cooking plans so you have plenty of turkey breast meat for sandwiches and leftover dishes like Turkey Paninis or Rigatoni-Turkey Salad.
I used Holland House Sake Cooking Wine, along with Nakano All Natural Rice Vinegar and ginger to give my brine an Asian flare. To learn more about cooking wines, check out my Cooking Wine 101 infographic. Don't forget Holland House cooking wines and vinegars for your Thanksgiving cooking needs this year! Check out their website for money saving coupons and recipes. Follow Holland House on Facebook for Thanksgiving cooking tips and recipes, too!

______________________________________________________________________________________________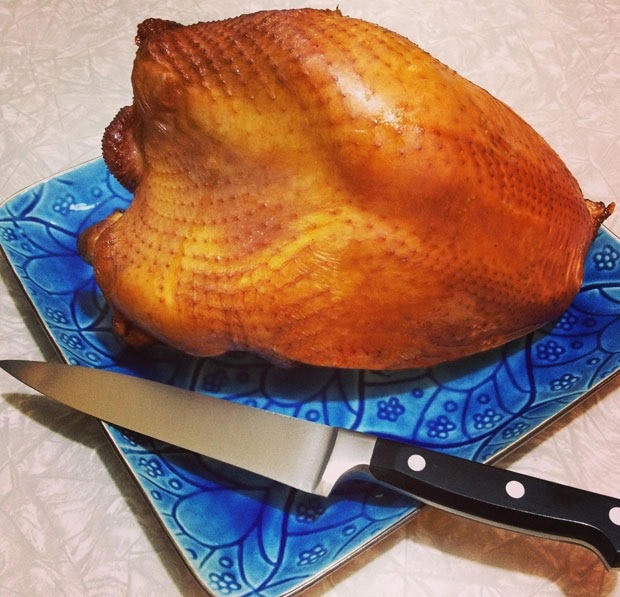 Brined and Smoked Turkey Breast
Inspired by
this recipe
from Southern Living, November 2013 issue
Ingredients
8 cups

apple cider

3/4 cup

Holland House Sake Cooking Wine

1/4 cup

Nakano All Natural Rice Vinegar

1/2 cup

sorghum syrup

3/4 cup

kosher salt

12

fresh sage leaves

2

fresh rosemary sprigs

1 bunch

fresh chives

3

fresh lemon thyme sprigs

2

1-inch pieces of ginger, peeled

4 cups

ice cubes

1 (5-6 pound)

bone-in turkey breast
Directions
Bring cider, Holland House Sake Cooking Wine, and next 8 ingredients to a boil in a large stockpot over medium-high heat. Reduce heat and simmer for 5 minutes until salt and sorghum are dissolved. Remove pot from heat, stir in ice. Cover and place in refrigerator for 1 hour.
Place turkey in brine. (Brine should mostly cover turkey. If it doesn't, find a smaller pot. If the turkey still isn't fully covered, you'll need to turn it over in the brine about half way through the process.) Cover and chill in the refrigerator for 5 to 12 hours. (Do not over brine your turkey or you'll end up with salty meat!)
Prepare your smoker according to manufacturer's directions, bringing internal temperature to 225 degrees F using your favorite type of wood chips.
Remove turkey from brine, and pat dry with paper towels. Place turkey low in smoker and cook for 3 to 3 1/2 hours or until a meat thermometer inserted into thickest portion registers 165 to 170 degrees F.
Remove turkey, cover loosely with aluminum foil, and let stand 10 to 15 minutes before slicing.
Prep Time:
5 Hours 20 Minutes
Total Time:
8 Hours 20 Minutes
Servings
:
Makes 8 to 10 servings
Serving size:

3/4 to 1/2 pound of turkey meat