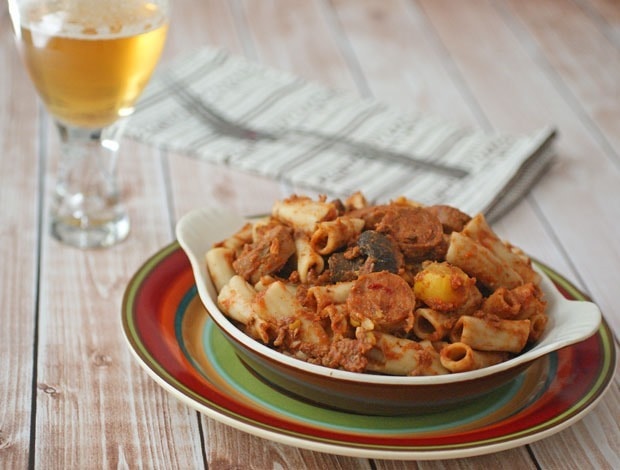 As I explained in last month's Secret Recipe Club post for Spaghetti with Spicy Cauliflower Sauce, making pasta is a bit of an ordeal at my house since I only have two proper burners on my stovetop. So when I saw Robin from Robin Restored's post on Crockpot Spaghetti, I thought, "This is the recipe I have to make for this month's Secret Recipe Club challenge!"
Robin explains that Crockpot Spaghetti is her mom's go-to recipe for family parties and people complain if she doesn't make it. Robin's version is sure to please, but I wanted to health it up a bit and make it gluten free. So here's how I changed it:
I used the leanest ground beef I could find instead of ground chuck. Buy the leanest you can find at your local store. If you read labels, you'll notice that it has less fat than ground turkey. Feel free to use ground venison or buffalo, too. If you can find and afford organic or "natural" (grass fed with no antibiotics used) beef or buffalo, go for it!
I used fresh ingredients like onions and garlic instead of powders and fresh mushrooms instead of canned.
Instead of pepperoni slices, I decided to try it with chicken Italian sausage from Trader Joe's. Their sausage is precooked, so I was able to cut it into chunks before placing it in the slow cooker. If the sausage you use isn't precooked and you're worried about it falling apart during cooking, place it whole into the crock. Then slice it up before serving.
I used V8 instead of plain tomato juice since we had a bottle in the pantry. Any veggie and tomato juice blend will do!
I also added some additional veggies – two yellow squashes. You could also use zucchini, eggplant or cauliflower. Slow cooking practically dissolved the squash and mushrooms, so their presence remained hidden from picky people in my family who claim not to like vegetables. (That's my daughter, Lucie, who only eats carrots and cauliflower these days.)
Finally, since I'm a Community Leader at Udi's Gluten Free, I'm always interested in making gluten free recipes, especially for the slow cooker. So I used brown rice penne pasta, and my family never noticed! Feel free to use whole wheat pasta instead if you don't eat gluten free.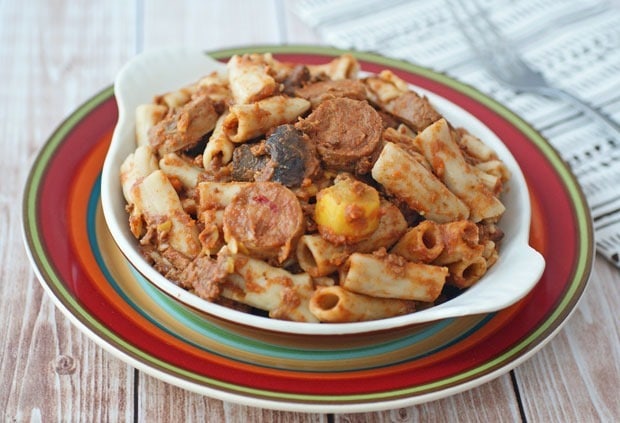 All in all, good reviews from the family and super easy and quick to make. The leftovers heat up well in the microwave without the pasta getting too mushy.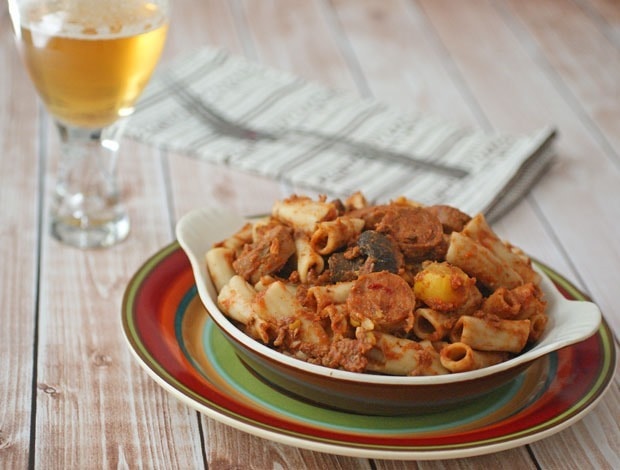 Healthy Slow Cooker Pasta
Ingredients
1 pound

lean ground beef

1

large onion, diced

1 teaspoon

garlic, minced

1 1/2 teaspoons

salt

1/2 teaspoon

mustard powder

1/2 teaspoon

pepper

1/2 teaspoon

dried oregano (or 1 1/2 fresh oregano, minced)

1 (15 ounces) can

tomato sauce

4 ounces

mushrooms (cut large mushrooms into halves or quarters)

3 1/2 cups

V8 juice

1 package

Italian flavored chicken sausage, sliced into bite sized chunks

2

yellow squash, cut into a large dice

1 (16 ounce) package

brown rice penne pasta
Directions
Over medium heat, place ground beef, onion and garlic into a large skillet. Cook until meat has browned. Drain well.
Place browned meat into a large (6 to 8 quart) slow cooker.
Add all remaining ingredients, except pasta. Stir well.
Cover and cook on low 6-8 hours or high for 3 1/2 hours.
Add pasta and cook for an additional 30 minutes or until pasta is done.
Turn off slow cooker. Serve and enjoy!
Cook Time:
8 Hours 30 Minutes
Servings
:
Serves 8 with lots of leftovers
Serving size:

1/8 of recipe
More from the Secret Recipe Club!
Want to join the Secret Recipe Club? You can sign up here.