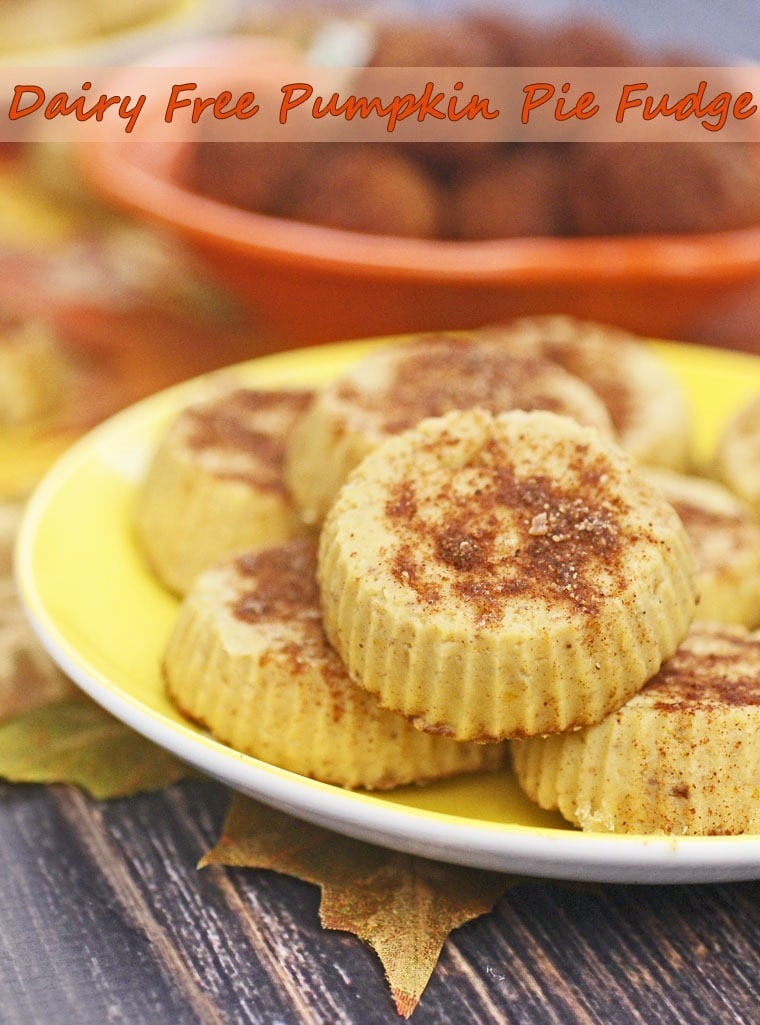 I love this time of year because I can indulge in all things pumpkin flavored. Unfortunately, so much of it from pumpkin pie to Starbuck's pumpkin lattes are milked based. Sure I can order my lattes with soy milk and make my pumpkin pies with tofu, but it's hard to find a dairy free version of one of my favorite desserts – pumpkin pie fudge.
I love fudge, but it's usually made with sweetened condensed milk, which gives me a horrible tummy ache. (That's why I can't have key lime pie and made my Key Lime Mousse with tofu.) Instead of sweetened condensed milk, I used coconut butter. (That's BUTTER not coconut milk or cream.) You can find coconut butter in the healthy food section of your grocery store next to the nut butters.
I also wanted to make this a reduced sugar fudge. Now that we're approaching Halloween, our kids are going to be eating sugar and candy all the time. My husband already came home with a couple of bags of Heath Bars from CVS just the other day. Luckily, they're not my favorite so I wasn't tempted!
So I sweetened the Dairy Free Pumpkin Pie Fudge with Monk Fruit In The Raw, one of my favorite no calorie sweeteners. I also used monk fruit in the cinnamon sugar that decorated the Dairy Free Pumpkin Pie Fudge with and rolled the fudge balls in. Monk fruit is wonderful to cook with like in my recipe for reduced sugar Ginger & Spice Fig Jam.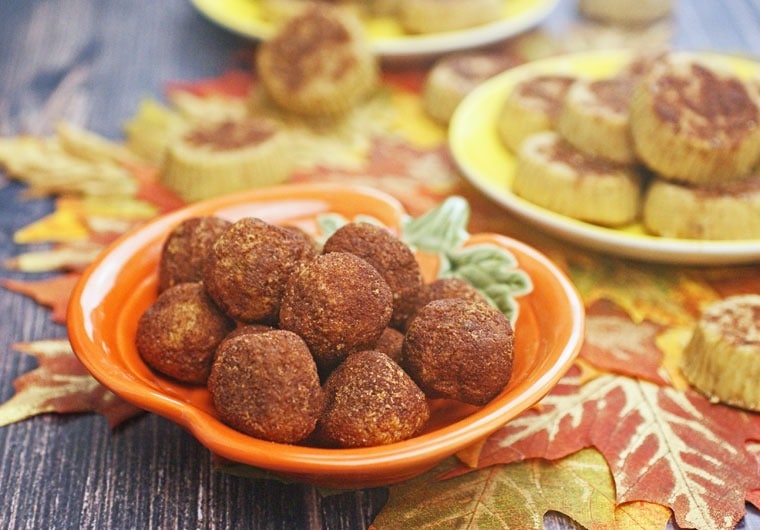 In addition, the Dairy Free Pumpkin Pie Fudge has to have a sugary syrup of some kind or the fudge would would be too dry and fall apart. I used sorghum syrup, which is very popular in the South (I first tried sorghum at Dollywood in Tennessee). It's now being used by home brewers as well as commercial brewers to make gluten free beer, too! If you are interested in using sorghum syrup, you can find it at beer brewing stores or online.
You could use honey, agave nectar, or real maple syrup instead and adjust the monk fruit to taste, since I've found that all of these syrups are sweeter than sorghum. Sorghum has a mild sweetness that reminds  me of brown rice syrup.
Results wise, the Dairy Free Pumpkin Pie Fudge was subtle and not super sweet – just like pumpkin pie! I think I preferred the fudge balls because they had more cinnamon sugar, which really complimented the fudge. While you're cooking up a batch, feel free to add more spices and monk fruit to suit your personal taste.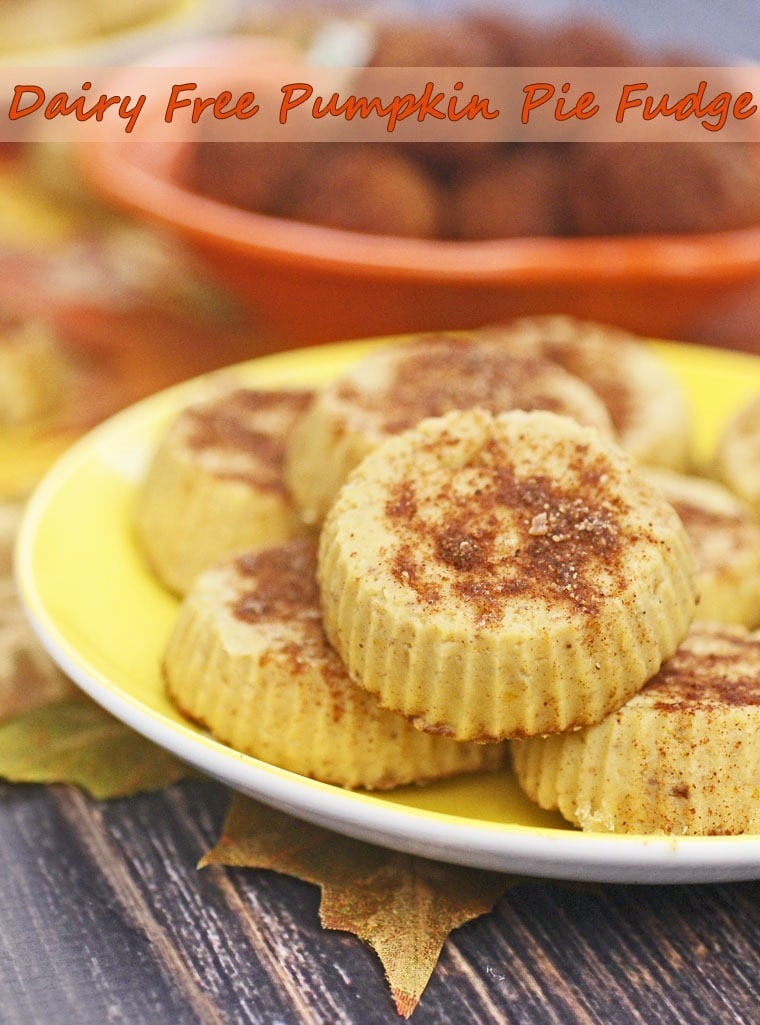 Ingredients
For fudge:
2 cups

coconut butter

1 (15 ounce) can

pumpkin puree

2/3 cup

sorghum syrup

1 teaspoon

pure vanilla

1 teaspoon

ground cinnamon

1/2 teaspoon

ground nutmeg

1/2 teaspoon

ground ginger

1/4 teaspoon

ground allspice

1/4 teaspoon

ground cloves

1/4 teaspoon

salt

4 tablespoons

Monk Fruit In The Raw
For cinnamon sugar:
1/4 cup

Monk Fruit In The Raw

2 tablespoons

ground cinnamon
Directions
For fudge:
In a medium saucepan on low heat, warm coconut butter until melted.
Place heat on lowest setting. Fold in pumpkin puree, sorghum, spices, salt and monk fruit until thoroughly combined.
Remove from heat.
For cinnamon sugar:
Combine monk fruit and ground cinnamon and place in a pie plate for rolling.
To make Dairy Free Pumpkin Pie Fudge Balls:
Using a small cookie scoop, measure out 2 teaspoons of fudge batter.
Dump fudge on to plate of cinnamon sugar and roll around until covered.
Pick up ball and roll on palm of your hand until you have a nicely shaped ball. (Note: if fudge batter is too sticky to handle, you may want to place it in the refrigerator to firm up a bit.)
Place fudge balls on a dish or tray, slightly apart, and put in the refrigerator to harden up for a few hours. Store balls in a covered container in the refrigerator.
To make Dairy Free Pumpkin Pie Fudge Mini Pies:
Using a small cookie scoop, place 2 scoops into a silicon baking cup.
Holding the baking cup in the palm of your non-dominant hand, press fudge down with your fingers until flat.
Then press at the outer sides of the baking cup, so the sides of fudge are now straight up and not touching the insides of the baking cup. That way when you flip the cup over on to a tray, the mini pies will fall right out.
Sprinkle the top of the fudge mini pies with cinnamon sugar.
Flip the mini pie on to a tray or plate. Sprinkle the bottom with more cinnamon.
Place mini pies slightly apart on a tray or plate and place in the refrigerator to harden up for a few hours. Store fudge in a covered container in the refrigerator until it's time to eat.
Total Time:
1 Hour 10 Minutes
Servings
:
Makes approximately 38 mini pies or 76 fudge balls
Serving size:

1 mini pie or 2 fudge balls
Win a KitchenAid Mixer!
My fellow bloggers and I are giving away a KitchenAid Artisan Series 5-Quart Mixer valued at $350!!! Already have one? The holidays are just around the corner, so why not win it for a friend or relative?
The giveaway goes from October 1st to October 30th. Enter below!
a Rafflecopter giveaway
Our Sponsors:
Disclaimer: KitchenAid is not affiliated with this giveaway or its sponsors. Prize is being provided by sponsors mentioned above. Please see my official rules for This Mama Cooks! giveaways and contests.