This post brought to you by Comfort Zone® products. All opinions are 100% mine.
Our new dog Nellie has been with us for almost a month now.There's been lots of trial and error on our part to determine what makes her comfortable and what causes problems. For example, Nellie likes being with someone at all times and hates being left alone. She also likes having a blanket or pillow to rest on, but doesn't mind the carpet too much. (It's the wood floors and tiling that she doesn't like resting on.) She loves to run, will play ball on occasion, but isn't into chewing toys. Nellie's learned to be comfortable with the kids and my husband, but prefers hanging out with me, especially when she's tired or overwhelmed.
It reminds me of when my kids where babies and I had to figure out what soothed them and how to avoid things that upset them. For example, my kids like variety and a change in routine as they get bored easily. However, many kids prefer the comfort of having an established routine. The same goes with pets. Some dogs and cats get stressed when there are changes in the daily routine or new people in the house. You may have experienced this during the past holiday season. Was your dog freaking out at the party you threw? Did your dog have an accident when grandma was visiting? Or maybe you traveled with your pet, and noticed they were stressed out from the new surroundings.
Changes in routine can cause pets to misbehave. However, using Comfort Zone® products could help. Comfort Zone® products help reduce stress-related behavior in dogs by mimicking their natural pheromones that help them feel calm and comfortable in their environment. They're 95% effective at reducing scratching and also help reduce excessive chewing and barking.
Comfort Zone(R) with D.A.P.(R) (Dog Appeasing Pheromone) products helps control destructive digging, chewing and house soiling, too. It can also help manage stress-related behavior in dogs caused by thunderstorms, loud noises like fireworks, adjusting to a new environment, transitions, being left alone or traveling. If you have a new puppy, Comfort Zone® products can assist with nighttime whining during their transition from the shelter/breeder to a new home as well.
You can learn more about Comfort Zone® products by visiting petcomfortzone.com or their Facebook page. Don't forget to look for the $10 off coupon! You can purchase Comfort Zone® with D.A.P.® products at pet specialty stores including PetSmart and Petco, independent pet stores, and online.
Note: it's recommended to allow 90 days to see the full effect in your cat or dog. Follow the instructions in the product insert for detailed usage. Also, if your dog is experiencing a medical issue, consult with your veterinarian before using Comfort Zone® with D.A.P.® products.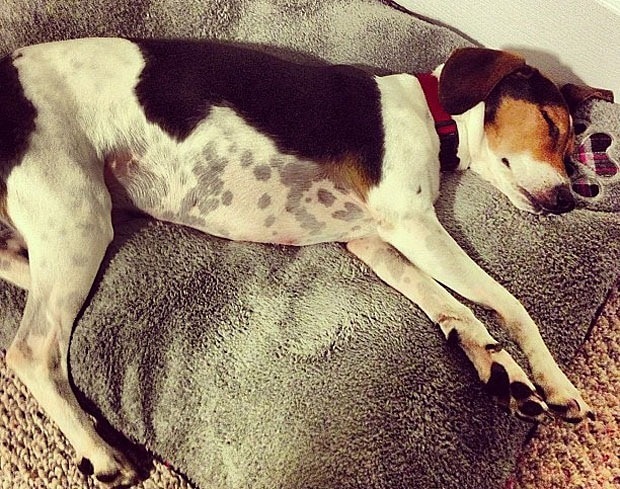 Nearly three weeks ago we adopted a two-year-old beagle mix from a rescue shelter in Atlanta, the Urban Pet Project. This sweet little dog's name is Nellie Bly. She's smart, sweet, mellow, barely barks and is lighting fast at the dog park. We couldn't have found a better dog suited for our family.
It's been an interesting few weeks learning how to take care of a dog, from taking her to the vet to cleaning up a few accidents in the house. She's the first dog I've ever had the privilege of owning and I hadn't a clue about taking care of her. Luckily I got great advice from my vet and his staff and my husband, Paul, had dogs when he was growing up and has a background in animal psychology and training.
Since I'm home with her all day, she bonded to me instantly and follows me everywhere. It's been a bit more work getting her to bond with the kids and Paul, but we're working on it and trying to read her clues about being tired, overwhelmed, anxious (she hates when we leave) or needing to take a potty break. I never thought I'd find a being that needed more attention from me than my kids, but luckily just hanging out on a pillow in my office is good enough for her.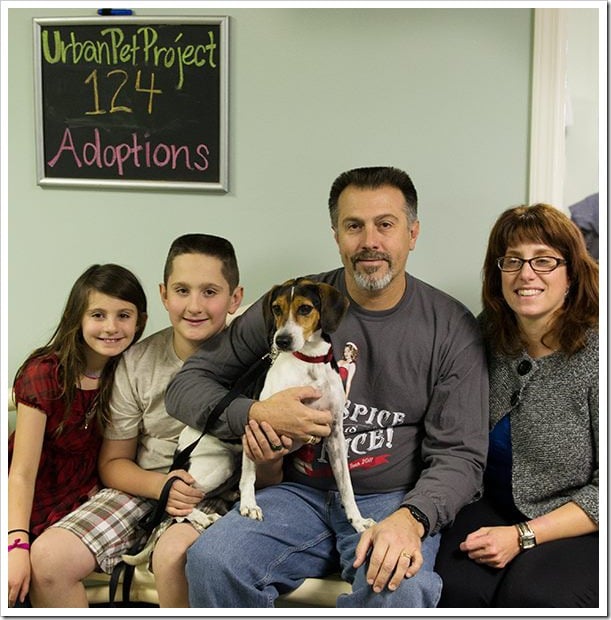 Keeping your pet healthy this holiday season
Going forward, I'll be sharing dog product reviews, the occasional dog treat recipe, and pet health and safety tips like these from the Animal Behavior College, the largest animal career vocational school in North America. The holiday season is a time for pet owners to be aware of holiday safety precautions for the animals they love.
Festive Food. While we enjoy delicious holiday foods, it's important to remember that what's good for us can possibly be harmful for our pets. A piece of turkey or chicken can cause more harm than good. Poultry skin is greasy and fatty for dogs and might cause diarrhea or an upset stomach. In some instances, particularly with older dogs, this can even cause or exacerbate Pancreatitis. Poultry bones can splinter and cause stomach and intestinal issues, which may even require surgery in some cases. Raw or undercooked poultry can contain salmonella, which is as toxic for dogs as it is for you. Plus, often one treat leads to a second and a fifth, and then before you know it your pet is on the road to obesity.
Did you know that chocolate can be dangerous for most animals and especially for dogs? It can cause seizures, convulsions or even death. If you suspect your dog has eaten a sizeable amount of chocolate, immediately contact your veterinarian.
Don't know what to do with that fruit cake you received for Christmas? Don't give it to your pet! Peaches and plums contain pits which if ingested can cause intestinal blockage. The pits also contain trace amounts of cyanide which needless to say is toxic to pets and to us. Raisins can also cause kidney problems in dogs
Mushrooms, onions, chives, grapes, walnuts, and macadamia nuts are also on the forbidden list as is nutmeg which can actually be quite deadly.
Christmas specifics: Mistletoe and holly are poisonous to animals and make sure they are placed well out of reach. If ingested they can cause diarrhea and nausea.
Dogs and cats that chew inappropriate items need to be managed during the holidays. These pets should be taught to like a crate or exercise pen where they can go for alone time and be safe when you can't watch them because you're busy with holiday guests, etc. Both should be large enough for the pet to stretch out and be comfortable and not used for punishment. Proper play and chew toys as well as pet treats should be included in the crate and it's important to make this a positive experience for the pet. Teaching your pets to focus on proper toys makes them far less likely to get into holiday mischief.
Live and artificial Christmas trees can also be a risk to pets and should not be eaten by dogs and cats. The water at the base of live trees is sometimes treated with a solution that keeps the tree alive longer and should not be ingested. It's best to block the tree from the pet which especially with cats, is easier said than done. Make sure ornaments are well secured directly to the tree and are hung on the top part of the tree and not low enough for a kitten or puppy to reach up and grab. Avoid playing with or teasing the cat or dog with any ornaments including the tinsel type that cats often find irresistible.
Make sure any wiring is placed out of reach when possible and coated with pipe or at the very least tape. Extension cords used to light the tree or other objects should be the kind that shut off automatically if they are damaged. All wires and cords can be sprayed with a bitter tasting solution like Bitter Apple. This and other brands can be purchased at your pet store or on-line.
These simple, important tips can make the holidays a magical time for everyone, including your furry friends.