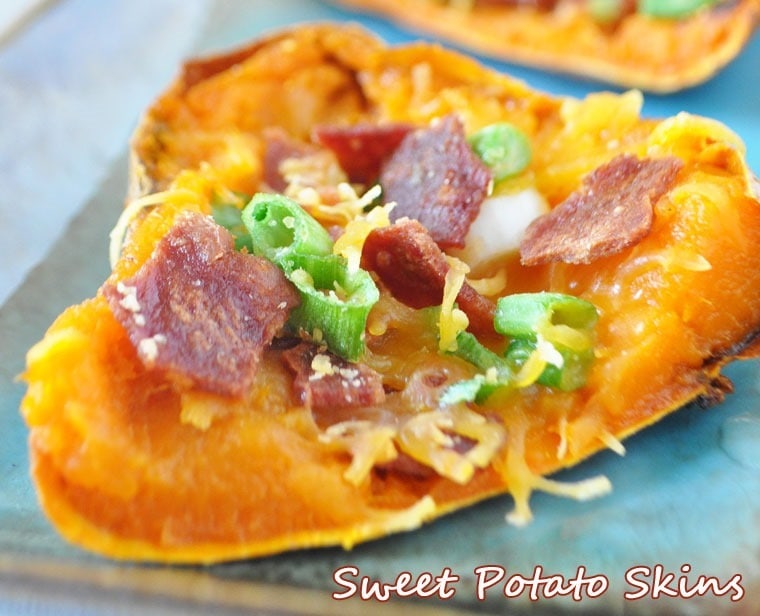 With the Big Game coming up, I'm sure you're searching for just the right recipes. You know, ones that are crowd pleasers, but won't require too many extra trips to the gym. That's why this recipe for Sweet Potato Skins is sure to be a winner! These look so good that if I were you, I'd make up several batches to have for Game Day healthy snacking in case you're expecting a big crowd.
Holly shares some wisdom below on diabetic diets and cooking. If you have someone in your family with diabetes, I'm sure it'll be of interest.
You can find more of Holly's trim& TERRIFIC® recipes at hollyclegg.com and The Healthy Cooking Blog. And check out Holly's trim & TERRIFIC™ cookbooks on Amazon, too!
Diabetic Deliciousness!
Ever wondered what is the best diabetes diet? You may feel as though you have to give up your favorite dishes all together, but not so! There's no need to completely change your meals, just how you prepare them. With a few simple adjustments, anyone, even those with diabetes, can enjoy delicious food anytime.
With over 8% of the American population having diabetes, it's important to understand that there's no magical diabetes diet. Portion control, moderate sugar, and low fat are not just guidelines for diabetics to keep in mind, but for everyone's health, as it really is the healthiest way to eat. And with KITCHEN 101: Secrets to Cooking Confidence, I've included mainstream diabetic-friendly recipes with a "D" on each recipe that meets the American Diabetic Association guidelines to help better understand the relationship with healthier eating and diabetes—anyone can do it!
Sweet Potato Skins with only four ingredients is the perfect appetizer as they are nutritious, delicious, even diabetic-friendly. This savory pick-up will soon be your go-to appetizer, perfect for the Big Game around the corner, and boasts rich nutrition such as fiber, vitamin A and C. With the extra potato pulp, make mashed sweet potatoes by mixing in skim milk, sour cream, salt and pepper and maybe a dash of cinnamon.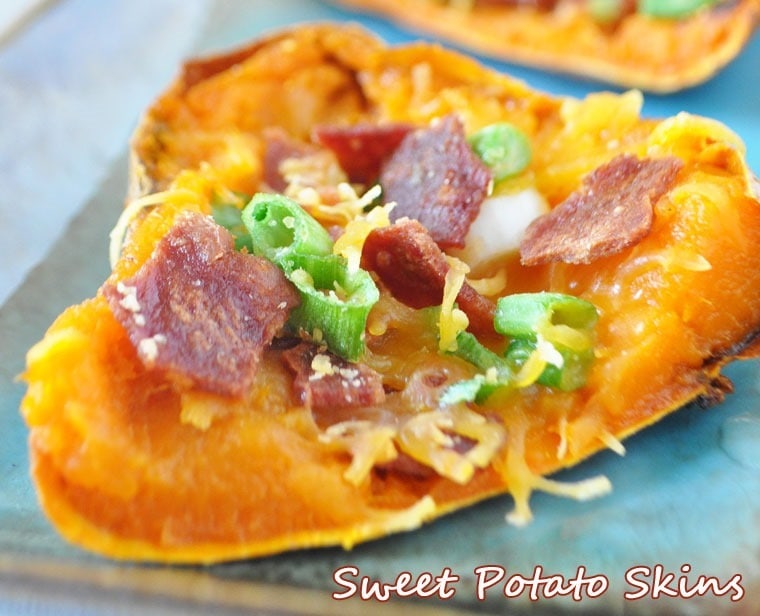 Sweet Potato Skins
KITCHEN 101: Secrets to Cooking Confidence – This all-American favorite gets a deliciously healthy spin with fiber-rich sweet potatoes and healthier ingredients ideal for any appetizer or snack.
Ingredients
6

medium Louisiana yams (sweet potatoes)

4

slices turkey bacon, cooked and crumbled

1/2 cup

chopped green onions

2/3 cup

reduced-fat shredded Cheddar cheese
Directions
Wash potatoes well, and dry thoroughly. Microwave on high 8-10 minutes depending on size (or in 425 degrees F oven, bake for 50-60 minutes).
When potatoes are cool enough to handle, cut in half lengthwise. Then scoop out pulp, leaving a 1/4-inch shell (save pulp for another use). Cut potato skins in half width-wise.
Place potato skins on baking sheet lined with foil. Coat skins with nonstick cooking spray.
Bake at 475 degrees F for 5-7 minutes. Turn and coat skins on other side with nonstick cooking spray. Bake until crisp, 3-5 minutes more.
In small bowl, mix together bacon, green onions, and cheese. Sprinkle mixture inside skins. Bake 2 minutes longer or until cheese is melted.
Servings
:
Makes 12 potato skins
Serving size:

1 potato skin

Calories:

79

Calories from Fat:

20 (25%)

Total Fat:

2g

Saturated fat:

1g

Unsaturated fat:

1g

Sodium:

155mg

Total Carbohydrates:

11g

Sugar:

2g

Fiber:

4g

Protein:

2g

Cholesterol:

7mg
Dietary Exchanges: 1 starch, 1/2 lean meat
Recipe and photo used with permission of author.