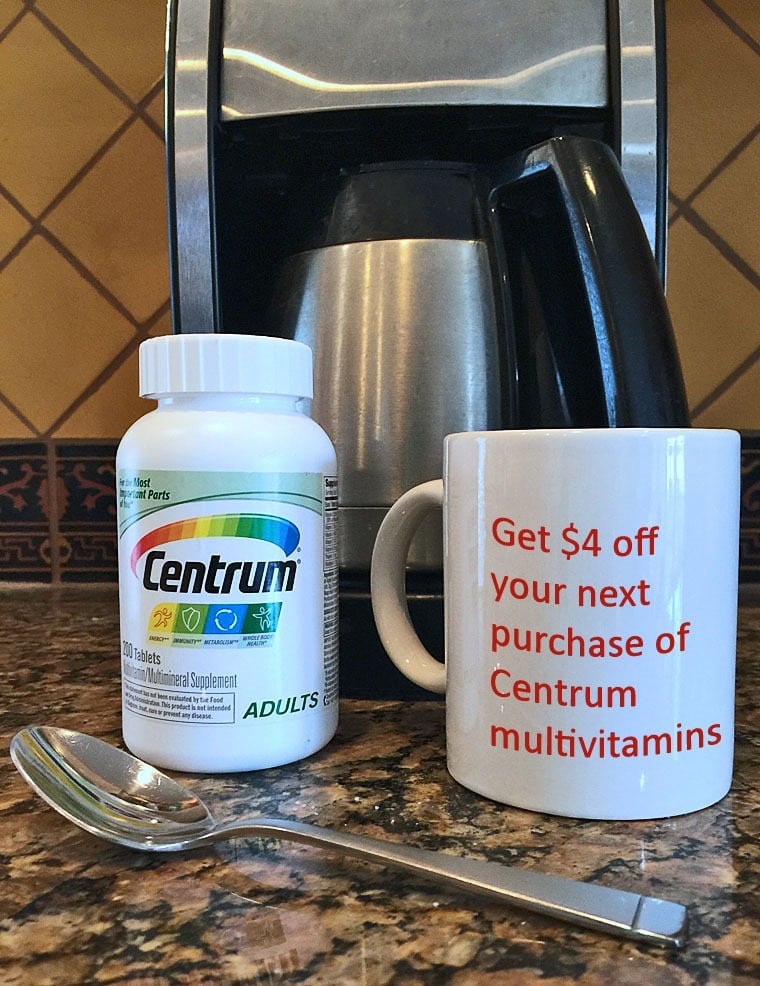 I am participating in a sponsored campaign hosted by Centrum®. I received compensation for this post. While all opinions stated are my own, I make no claims about Centrum® as a product or its effectiveness.
Did you make one of those "gotta get healthy and fit" resolutions for the new year? Maybe you decided to eat more vegetables or drink more water. Did you sign up for a yoga class? Or possibly you promised yourself that you'd walk for at least 30 minutes a day? Well, did you know that only 8% of Americans successfully achieve their New Year's resolutions? Disheartening, isn't it?!
One of the easiest get healthy goals I've found is taking a daily vitamin. Most people don't get the all the vitamins and minerals they need from their diet, especially essential nutrients like Vitamins A, C, D, and E, and the minerals calcium and magnesium.  Instead, the easiest way to cover your nutritional bases is to take a quality multivitamin like Centrum® every day.
To remind myself to do so, I put out the bottle next to the coffee pot every evening after I clean up the kitchen after dinner. That way I'm reminded to take my multivitamin in the morning.
To make it even easier for you to complete just one healthy goal this year, click on this link for a $4 coupon off your next purchase. It'll take you to the Centrum® website to find the Centrum® that's right for you.
Why you should take a multivitamin
A complete multivitamin like Centrum® delivers a combination of key vitamins and minerals to help fill the gaps in your diet to help ensure you get the recommended daily amount of key vitamins and minerals.  To better understand why these dietary gaps exist, Prevention and Centrum® conducted a national survey to assess how Americans perceive key vitamins and minerals.
Results from the Prevention and Centrum® survey revealed there's a significant knowledge gap regarding the importance and benefits of key vitamins and minerals like Magnesium, Vitamin E and Vitamin A which may contribute to the dietary gaps that exist. For example:
58% "not sure" where they can find Magnesium, only 8% aware it's important for energy. 
53% "not sure" where they can find Vitamin E, only 12% aware it's important for heart health. 
50% "not sure" where they can find Vitamin A, only 10% are aware it helps with immune system.
Calcium, Vitamin D and Vitamin C top the list of nutrients Americans feel are absolutely needed, while Iron, Calcium and Vitamin D top the list of vitamins and minerals Americans are most concerned they may be lacking, among the 48% who are concerned at all.
Even if they are concerned their current eating habits are not delivering key vitamins and minerals, Americans don't appear to be changing their eating habits to increase the amount of vitamins and minerals in their diet.
60% of Americans have not changed their diet in the past year to increase the amount of vitamins and minerals they get.
74% agree it's a lot easier to eat unhealthy.
I know from personal experience that it's impossible to know what nutritional deficiencies you may have without getting a blood test. Even if you go for an annual physical, your doctor may not be checking all your levels unless you request it! So get a jump on your healthy New Year's goals and take a multivitamin like Centrum®, especially when you have a $4 coupon off your next purchase!