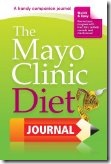 As part of my Mayo Clinic Diet book and journal giveaway, I'm offering another excerpt from the book on learning how to identify potential roadblocks and develop strategies to help you with your weight-loss program.
The giveaway ends TONIGHT! Go here to enter.
Behavior obstacle – I'm a late-night snacker.

Avoid eating late at night because loading up on calories right before bed only intensifies the challenge of not overeating. There's less chance for you to be active and burn off those calories until next morning. It's better to eat during the day so that your body has plenty of time to digest the food before you go to bed.
Strategies – Here are suggestions if you often find yourself battling the late-night munchies:
Make sure you eat three good meals during the day, including a good breakfast. This will help reduce the urge to snack late at night, simply because you won't be so hungry.
Don't keep snack foods around the house that may tempt you. If you get late-night munchies, eat fruits, vegetables or other healthy snacks.
Find something else to keep you busy in the hours before bedtime, such as listening to music or exercising. Your snacking may be more of a mindless habit than actual hunger.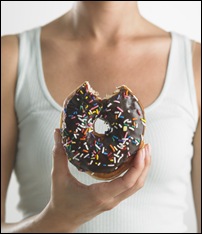 Behavior obstacle – When I lapse from my eating plan, it's hard for me to get back on track.
Lapses happen. Many times a minor slip — a busy day when you couldn't find the time to eat right or get exercise — leads to more slips. That doesn't mean, though, that you've failed and all is lost. Instead of beating yourself up over a lapse, accept that you're going to experience bumps along the way and put the incident behind you. Everyone has lapses. Think back to the initial steps you took when you first began your weight program and put them to use again to help you get back on track.
Strategies – Here are suggestions to prevent a lapse from turning into a full-blown collapse:
Convince yourself that lapses happen and that every day is a fresh opportunity to start over again.
Guilt from the initial lapse often leads to more lapses. Being prepared for them and having a plan to deal with them is important to your success.
Keep your response simple. Focus on the things that you know you can do and stick with them. Gradually add more healthy changes until you're back on track.
Open up an old food record and follow it. Use those meals like a menu to help get you back to a healthy eating routine.
____________________________
Full disclosure: I received a book from FSB Associates to do the review and giveaway.
All links to Amazon.com are affiliate links. A commission may be earned from a referred sale to their website.
The above is an excerpt from the book The Mayo Clinic Diet: Eat well. Enjoy life. Lose weight., by the weight-loss experts at Mayo Clinic and Donald Hensrud, M.D., M.P.H. The above excerpt is a digitally scanned reproduction of text from print. Although this excerpt has been proofread, occasional errors may appear due to the scanning process. Please refer to the finished book for accuracy.
Reprinted from The Mayo Clinic Diet, © 2010 Mayo Foundation for Medical Education and Research. Published by Good Books (www.GoodBooks.com). Used by permission. All rights reserved.