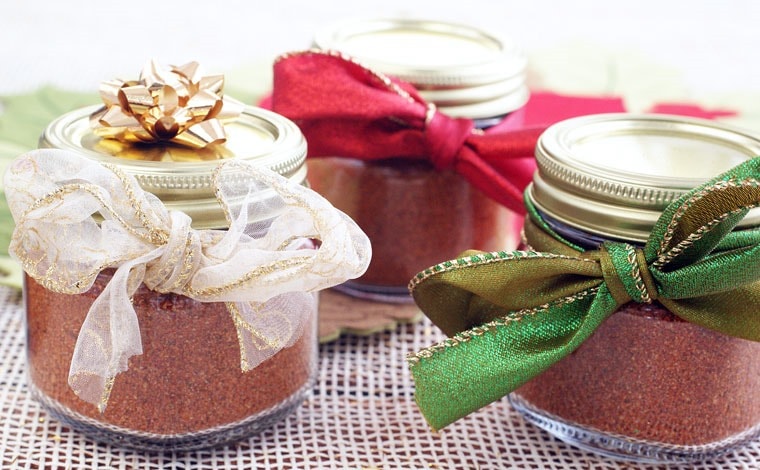 With just a few days left before Christmas, here are three reasons why Homemade Taco Seasoning is a great last minute gift idea.
1. Homemade Taco Seasoning is naturally gluten free and dairy free
Store bought taco seasoning is full of dairy, wheat, and not-so-great additives. Instead, this Homemade Taco Seasoning recipe is naturally dairy free and gluten free. Your friends with allergies will love being able to have ready made taco seasoning again!
2. You don't have to worry about someone's special diet with Homemade Taco Seasoning
You may be thinking a few batches of cookies are perfect last minute homemade gifts. However, with so many people having food sensitivities and allergies and watching their carbs and weight, a better solution is making jars of Homemade Taco Seasoning. (Everyone loves Taco Night, right?) Even your vegetarian friends can enjoy it on their tofu crumbles!
3. People love homemade gifts
You may already have gift cards or a check for your baby sitter, hair stylist, dog walker, neighbor, trainer, masseuse, etc. Adding a little homemade gift makes those appreciated but rather impersonal gifts a little more special.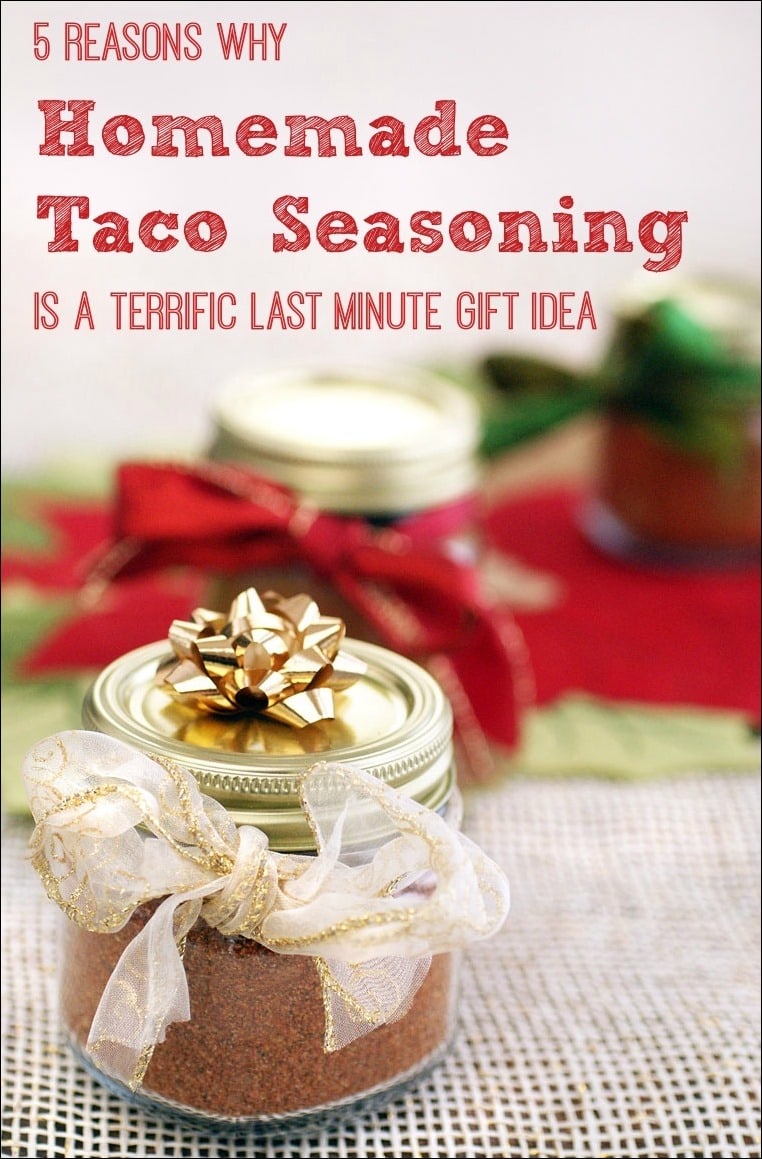 4. Making Homemade Taco Seasoning is affordable
You can make a big batch of Homemade Taco Seasoning rather inexpensively by buying big canisters of spices at your favorite warehouse store. Or try the Hispanic aisle at Walmart. The Badia brand is excellent and very affordable, too.
If you're like me, you probably have empty canning jars laying around from other projects. For my Homemade Taco Seasoning presents, I used half pint (1 cup) Mason jars. I used leftover ribbon in my gift wrapping drawer and attached some measuring spoons from the dollar store to one jar.
Including a recipe card would be a cute touch. Check out my Pin Board of Wrapping Ideas for Edible Gifts for some Pinterest gift wrapping inspiration!
5. Making Homemade Taco Seasoning is quick and easy
You can quickly make a batch of Homemade Taco Seasoning, put the seasoning in the jars (a Ball Collapsible Funnel makes it even easier), and decorate the jars with ribbons, labels, recipe cards, etc. Now that the kids are out of school, they can help measure spices, cut and tie ribbon, and so on.
This Mama's Tips for making Homemade Taco Seasoning
My recipe for Homemade Taco Seasoning is based on several I found in cookbooks and online.. You can customize a batch of this Homemade Taco Season to your personal tastes. You may prefer yours spicier or with more garlic or onion. If you like a smoky flavor, substitute smoked paprika for regular (sweet) paprika. If there are several people on your gift list who need to avoid salt, you could make a low or no salt version.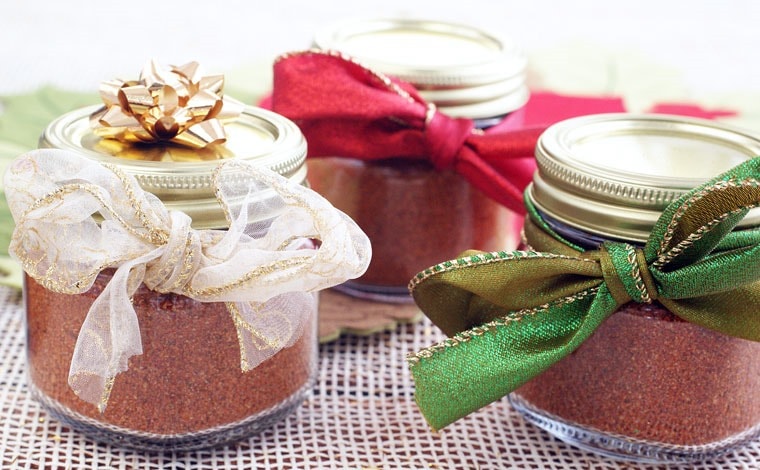 Homemade Taco Seasoning
For cooking, use 3 tablespoons of taco seasoning for 1 pound of ground meat. Then add 1/2 to 3/4 cup of water. Thicken with 1 teaspoon cornstarch if desired.
Ingredients
2 1/4 cup

chili powder

3/4 cup

dried oregano

3/4 cup

ground cumin

1/3 cup + 1 tablespoon

garlic powder

1/3 cup + 1 tablespoon

onion powder

1/3 cup + 1 tablespoon

paprika

1/3 cup + 1 tablespoon

sea salt

1/3 cup + 1 tablespoon

ground black pepper

1 tablespoon + 1 teaspoon

red pepper flakes
Directions
Combine all ingredients in a large bowl. Stir until thoroughly combined and there are no lumps or clumping.
Store in an airtight container.
Serving size:

3 tablespoons per pound of ground meat