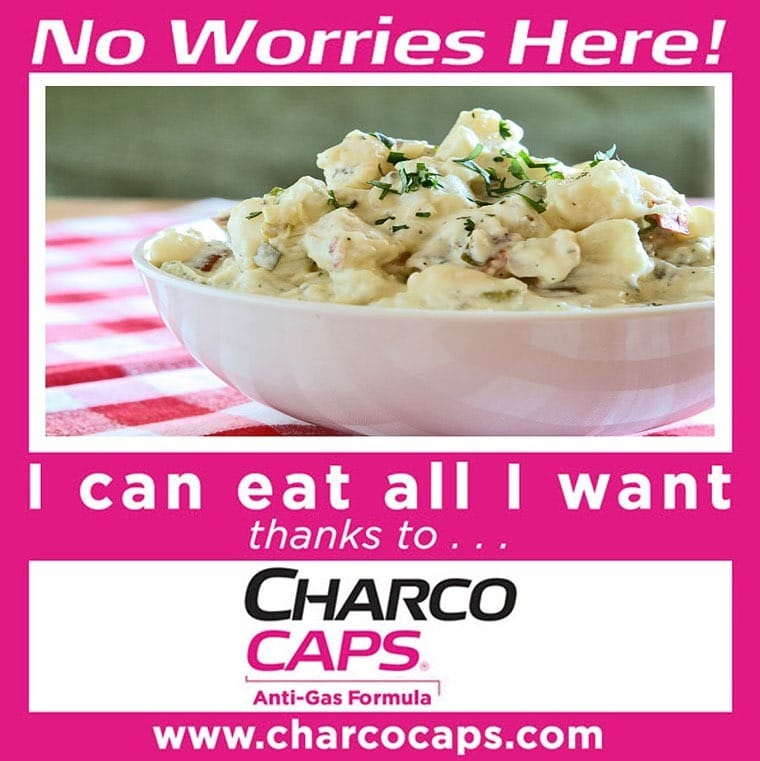 When I go to parties or barbecues at other people's homes, I make sure to bring a dish I can eat because I know with my food sensitivities, I may get in trouble. There's nothing worse than being faced with foods I can't eat (but love) like macaroni salad, potato salad, key lime pie, brownies, ice cream and most of the other yummy things people bring to cookouts.
Usually, I'm good about sitting there with nothing but a Diet Coke and an overcooked chicken breast, if there's nothing else for me to eat. But sometimes I cave, overindulge, and face the consequences – tummy bloat and nasty gas. (Sorry to get TMI on you, but if I have gas, I'm usually doubled over in pain, too.)
Luckily, there's a terrific product on the market that I've heard about from some gluten free friends – CharcoCaps® Anti-Gas Formula. They swear by activated charcoal as a way to deal with the effects of getting accidentally "glutenized" and dealing with the tummy issues afterwards. However, anyone who has gas and bloating from favorite foods can use CharcoCaps® Anti-Gas Formula, too! (Remember, I'm not a doctor, so please don't take this as medical advice!)
The benefits of CharcoCaps® and activated charcoal
CharcoCaps® Anti-Gas Formula is a unique, safe, naturally gentle dietary supplement that adsorbs and eliminates intestinal gas and bloating through the use of an active ingredient called activated charcoal. CharcoCaps® Anti-Gas Formula allows you to eat your favorite foods without worry of gas and bloating.
Activated charcoal is a natural, safe ingredient widely used in hospitals today as an emergency antidote for accidental poisoning, such as overdoses. (However, CharcoCaps® is not a treatment for accidental poisoning!) That's because activated charcoal's unique properties can help prevent adsorption of poisons (meaning stuff that makes your tummy upset or unhappy) by the stomach and small intestines.
If you are taking other medication, make sure to wait a minimum of two hours before and/or after taking a dose of other medications/vitamins before using CharcoCaps® due to CharcoCaps® adsorption qualities. For time-released medication, speak with your doctor or pharmacist.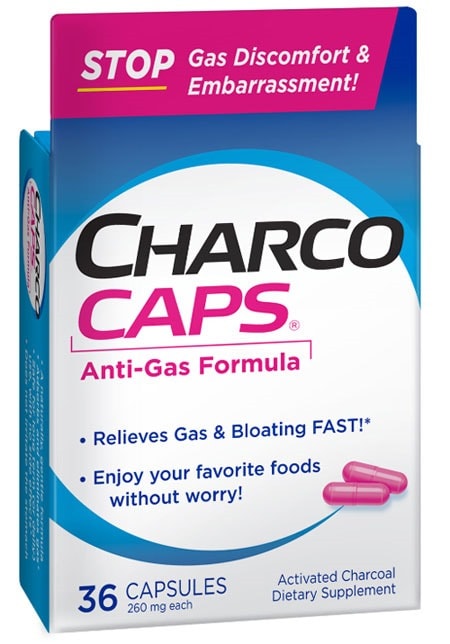 CharcoCaps® Anti-Gas Formula is available in a 36-count blister-pack and a 100-count bottle. The product can be found in the antacid/anti-gas section of Walmart, CVS, Walgreens, and other major U.S. retailers for a suggested retail price of $9.49 (U.S.) for the 36-count blister pack. To find where CharcoCaps® are sold, use their store locator. CharcoCaps® is gluten, dairy, and sugar-free.
I'm so happy I found this product as I thought I'd have to order activated charcoal online or go to the health food store. From now on, I'll be traveling with CharcoCaps® Anti-Gas Formula, too, as that's when I tend to over indulge – and don't have time to deal with gas and bloating. For more information about CharcoCaps® visit charcocaps.com.
CharcoCaps® No Worries BBQ Giveaway
Check out the CharcoCaps® No Worries BBQ Giveaway on Facebook! CharcoCaps® is giving away a new outdoor grill, grilling accessories, and a 36-count carton of CharcoCaps® to two randomly selected people who answer the mandatory questions correctly. Winners will be announced around 12:30 pm EST on Thursday, August 7 and 21, 2014. Total prize package value is $360. The giveaway runs from July 24 to August 21, 2014. Winner will be announced on the CharcoCaps® Facebook page and via email. You can learn more at Facebook.com/CharcoCaps.
What would you eat if you didn't have to worry about embarrassing gas?
For all the latest information on CharcoCaps®, LIKE us on Facebook: Facebook.com/CharcoCaps visit charcocaps.com.
This is a product-provided, sponsored conversation that contains affiliate links. I received a 36-count carton of CharcoCaps® Anti-Gas Formula dietary supplement. All opinions, text and experiences are my own.