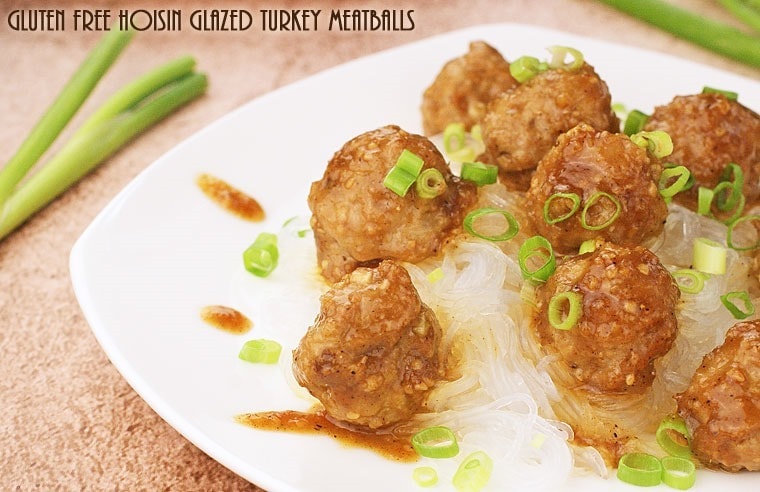 This month's Secret Recipe Club assignment was to post a recipe from Join Us, Pull Up a Chair. (Isn't that a great name for a blog?) It was really hard to decide what to pick! I finally settled on Hoisin Glazed Meatballs. These caught my eye because I love hoisin sauce, and wanted to make a gluten free version since most store bought hoisin sauces contain wheat.
How to make gluten free hoisin sauce
You can't believe how incredibly easy it is to make your own gluten free hoisin sauce! The recipe below is adapted from Gwyneth Paltrow's cookbook, It's All Good, which I found at One Hungry Mama's blog. Surprisingly I already had all the ingredients in my kitchen, from Chinese 5-spice, to the red miso paste and brown rice vinegar.
You can find red miso paste at Asian markets and health food stores. Trader Joe's now carries a mild yellow miso paste, which you could probably use instead, though it will affect the color. You can also use regular rice vinegar instead of brown rice vinegar, but the brown rice vinegar contributes to getting a more authentic color as well.
I used agave nectar, but you can use maple or sorghum syrup instead. Dark local honey from the farmer's market would also be a delicious option.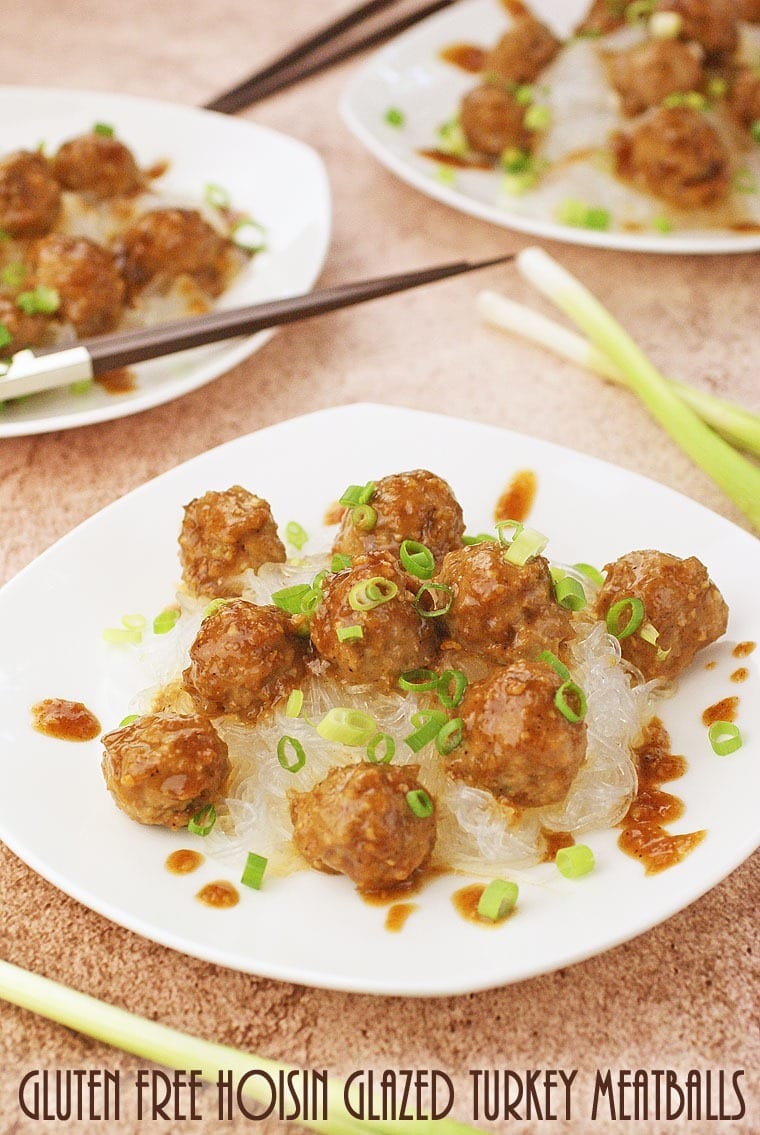 Heather originally adapted her recipe from one she found at Healthy Seasonal Recipes. I made a few changes as well, like doubling it since I believe in lots of leftovers. (Or you can freeze half for another time.) Also, I agreed with Heather that the original recipe needed more hoisin sauce. However, I didn't feel the need for adding cilantro and lime juice to it as the hoisin sauce was just about perfect. (Plus, many people don't like cilantro.)
I served my Gluten Free Hoisin Glazed Turkey Meatballs on Chinese vermicelli cellophane noodles, which are naturally gluten free since they're made from mung beans. You can serve the meatballs on any type of thin gluten free noodle, rice, or even quinoa. Serve the meatballs with a side of stir fry veggies for a complete meal.
Hoisin Glazed Turkey Meatballs also make a terrific gluten free party appetizer, too! Serve the hoisin meatballs with toothpicks and some extra hoisin dipping sauce on the side. Or put four or five meatballs on skewers for easier serving!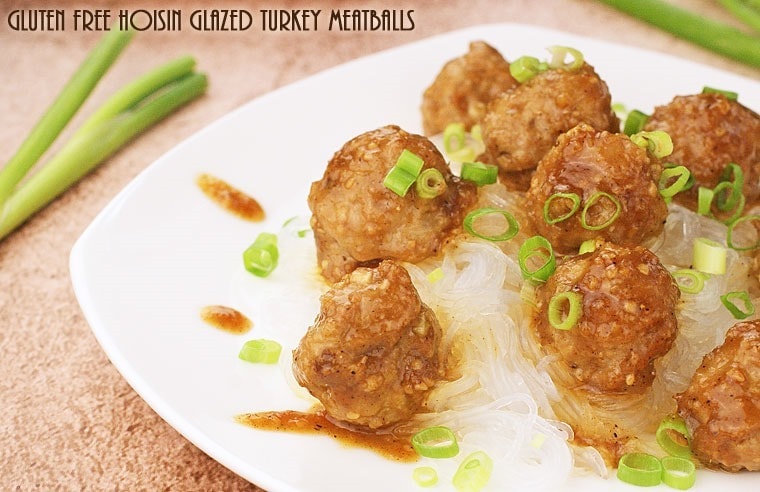 Gluten Free Hoisin Glazed Turkey Meatballs
Ingredients
For the Gluten Free Turkey Meatballs:
4 tablespoons

gluten free soy sauce or tamari sauce

2 tablespoons

toasted sesame oil

4 teaspoons

fresh ginger, grated

1 teaspoon

crushed red pepper

2 teaspoons

stevia, Swerve Sweetener or Monkfruit in the Raw

2 tablespoons

rice starch or cornstarch

8

scallions (green onions) 4 minced plus 4 more, thinly sliced for a garnish

1 (8 ounce) can

drained, finely chopped water chestnuts

2 pounds

lean ground turkey

Cooking spray

1 cup

gluten free hoisin sauce (see below)
For the Gluten Free Hoisin Sauce:
1 tablespoon

grapeseed oil

1

large garlic clove, minced

1/2 teaspoon

Chinese five-spice powder

1/2 cup

red miso paste, preferably organic

1/2 cup

agave nectar

2 tablespoons

brown rice vinegar
Directions
For the Gluten Free Turkey Meatballs:
Preheat oven to 400 degrees. Line 2 to 3 baking sheets with parchment paper and set aside.
In a large bowl, combine the tamari soy sauce, sesame oil, grated ginger, red pepper flakes, and sugar substitute. Stir in rice starch or cornstarch until smooth.
Stir in the 4 minced scallions and chopped water chestnuts, then add the ground turkey. Mix until all ingredients are thoroughly combined.
Using a tablespoon sized ice cream scoop, drop the turkey mixture in rounded tablespoons onto the prepared baking sheet.
Lightly coat the meatballs with cooking spray and transfer to the oven.
Bake until the meatballs are completely cooked through, approximately 15-20 minutes until they start to turn gold and brown on the edges.
While the meatballs are cooking, make the hoisin sauce.
Add the cooked hot meatballs to the hoisin sauce. (You may need to do this in batches.) Gently stir to coat.
Serve meatballs over gluten free noodles or rice. Sprinkle the remaining sliced scallions over the top.
For the Gluten Free Hoisin Sauce:
In a medium saucepan, heat the oil over medium heat. Add the garlic and Chinese five-spice powder. Stir and cook for 15-20 seconds, until fragrant.
Add the remaining ingredients. Stir miso paste until it dissolves and the sauce is smooth.
Turn heat up to medium high. Stirring constantly, bring to a slow boil, and cook for 3 to 4 minutes until the hoisin sauce has thickened. Remove from heat.
Servings
:
Serves 8. Makes approximately 70 meatballs and 1 cup of gluten free hoisin sauce
Serving size:

8-9 meatballs per person
More from the Secret Recipe Club!
Want to join the Secret Recipe Club? You can sign up here.