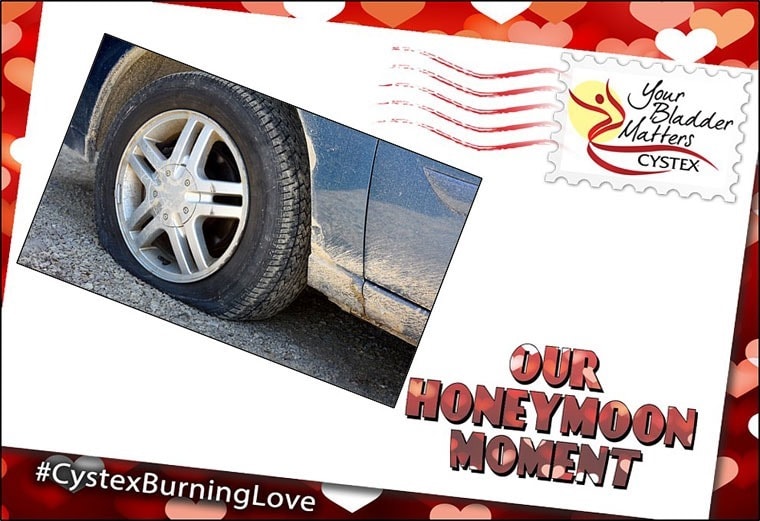 Have you guessed about the image above yet? Well, on our honeymoon to Yellowstone, we spent most of the week driving around the park with a slowly leaking tire. While they have gas stations and air pumps in Yellowstone, there were no auto repair shops. So we couldn't get our flat fixed until we drove to Montana. Luckily, that was the worse thing that happened to us to our honeymoon. It could have been much more terrible like coming down with a UTI (a urinary track infection) during our stay when we were miles away from an urgent care doctor or a drug store.
Why you need to know about Cystex and UTIs
UTIs are horrible! I've had a few UTI experiences in my life and I never want to go through one again. I came down with a UTI when I was in college, visiting my parents. My dad had to call his urologist to order me a prescription (it was late at night). And my mom had to go to the store and get me cranberry juice and my meds. I was in too much pain to be embarrassed, let me tell you!
So you don't have to go through that lovely scenario,  I thought I'd share about Cystex® PLUS Tablets and Cystex® Liquid Cranberry Complex.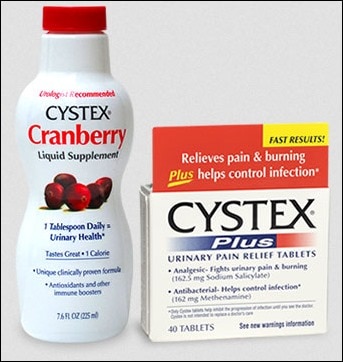 Cystex® PLUS Urinary Pain Relief Tablets are an over-the-counter (OTC) medication designed to help ease the pain and discomfort of UTIs. They contain an antibacterial agent, methenamine, that helps contain the progression of the infection while easing the pain and discomfort of a UTI. This is especially important if you can't get an appointment with your doctor right away. (Like when you're traveling on vacation!) Cystex® PLUS Urinary Pain Relief Tablets also contain an analgesic to help numb the pain and burning sensation.
For women interested in boosting bladder health or who are at risk for reoccurring UTIs, taking one daily tablespoon of Cystex® Liquid Cranberry Complex can help decrease the frequency of infection. (Note that Cystex® PLUS Urinary Pain Relief Tablets and Cystex® Liquid Cranberry Complex are not meant to cure a urinary tract infection or to replace a doctor's care. They just help make waiting to see your doctor or get a prescription a little more tolerable.)
Cystex® products are available in mass market retailers nationwide including Walmart, Rite Aid, Duane Reade. Cystex®  products are also sold online. To find out where to buy Cystex® products, visit their Where to Buy page.
The facts about UTIs
Did you know that?
1 in 5 women will contract a UTI in their lifetime and 20% of women with UTIs develop reoccurring infections.
UTIs are the second most common type of infection in the body, accounting for 8.1 million visits to health care providers each year.
Approximately 80% of premenopausal women with a UTI have had sex within 24 hours of contracting the UTI.
Women having sex for the first time or who have intense frequent sex after a period of abstinence are at risk for honeymoon cystitis.
For more information on UTIs, go to How do I prevent UTIs? You can also watch the Cystex® Burning Love music video to learn more about the connection between sex and UTIs.
Enter the Cystex® Romantic Night In Giveaway
Cystex® is running a Romantic Night In Giveaway from 7/24 to 8/21/14 on their Facebook page. One winner (three winners total) will be randomly chosen and announced on the Cystex Facebook page around 12:30 pm EST on Thursday, August 7, 14, and 21 and will receive a gift certificate for a "Romance Dining Dinner for Two" gift card from GourmetStation.com, one $150 Victoria's Secret gift card, one box of Cystex® PLUS Urinary Pain Relief Tablets and one bottle of Cystex® Liquid Cranberry Complex. Enter at facebook.com/Cystex.
For more information about Cystex® and to learn more about burning love visit www.cystex.com
This is a sponsored conversation written by me on behalf of Cystex®. The opinions and text are all mine.