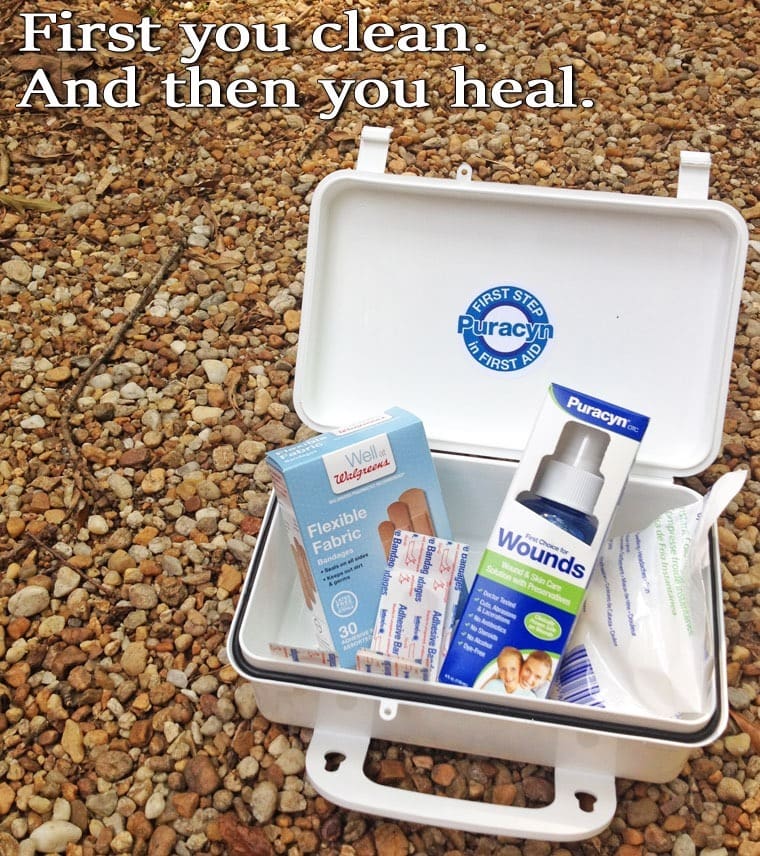 It's been a busy summer for us! We've been running around to various camps, over to the golf course and to the club pool, over to friends' homes, and even a few trips out of state. When we've been home, it's been non-stop with neighborhood parties and the kids having friends over to play or have sleepovers.
Along the way, Lucie and Nathan have picked up the usual collection of "owies" such as sores from constantly scratching bug bites, scrapes from who knows where, and the time that Nathan came back from the lake retreat looking like a bag of pork rinds. (So much for reminding him to use lots of sunscreen.)
That's why I have a big collection of first aid supplies throughout the house, my car, and even my purse such as aloe vera gel, adhesive bandages, ice packs, ankle wraps, ibuprophen, cotton swabs, antibiotic cream, and so on. One product I recently added to my on-the-go first aid collection is Puracyn® OTC Wound & Skin Care, which is available in the first aid aisle at Meijer, Rite Aid, Walgreens and other retailers nationwide in 4-ounce bottles for a suggested retail price of $14.99.
The benefits of using Puracyn® OTC Wound & Skin Care
Puracyn® OTC Wound & Skin Care is a unique solution of electrochemically treated saline for cleaning and healing wounds, including cuts, abrasions, irritations and lacerations. It's great for when you're at the park or beach or anytime you're away from a clean or easily accessible source of fresh water to clean a wound. You just spray it on the cut or scrap, apply a bandage, and you're all set. It's not greasy, too.
Sure there are water fountains at the park, but try to get your 11-year-old's knee in one. (Like you'd even consider it. Not exactly proper – or easy!) Plus, don't you feel a little icky trying to clean a scrape in a not-so-clean public restroom?  Or maybe you're hiking and only have water from the bottle you've been drinking out of – not exactly sterile.
Puracyn® OTC Wound & Skin Care won't burn or irritate the skin, so your younger child won't be scared when you're trying to clean their "ouchies." That's because Puracyn® mimics compounds naturally produced by the body, making it an ideal aid in wound cleaning and healing.
And if you're coming back from the beach or pool and don't have ability to shower off any owies before you leave, you may want to give them a spritz and reapply any bandages that have fallen off. I don't know if your kids get itchy after swimming in the pool, but mine do. And it's a rush to get them home and in the bath before they start itching those darn bug bites and cuts and making them 12 times worse and possibly infected!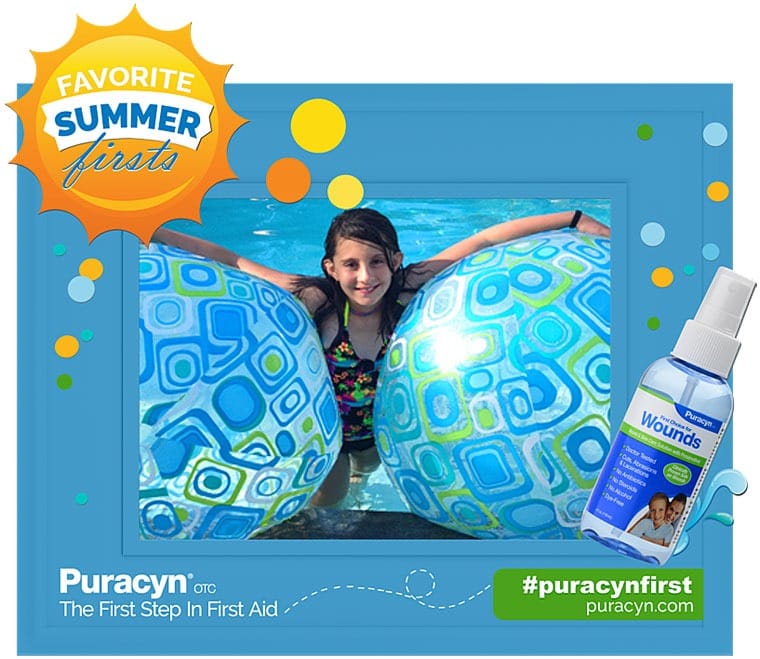 This is a product-provided, sponsored conversation that contains affiliate links. I received one 4 oz. spray bottle of Puracyn® OTC Wound & Skin Care and a branded first aid kit. All opinions, text and experiences are my own.