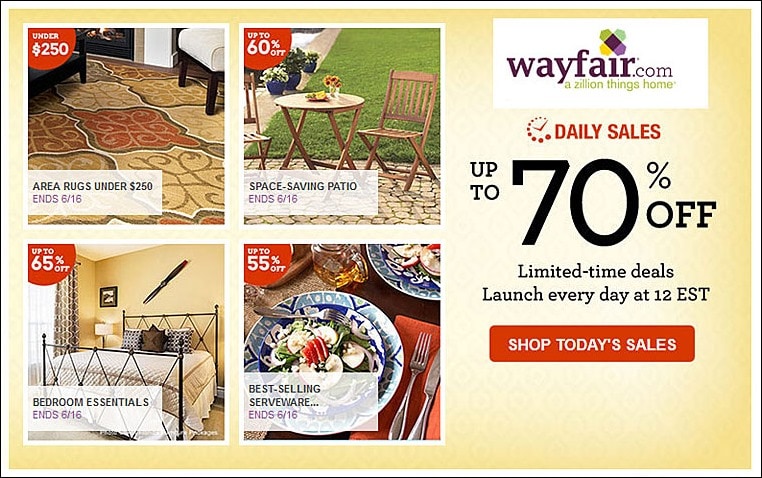 We try to throw at least one big summer party for the neighborhood and my husband's coworkers. We did so a few weeks ago and I had a buy a few things, including new cushions and an outdoor patio box to store them in. After searching around town as well as my favorite online sites, I came across Wayfair.com after seeing one of their TV commercials.
They had a better selection on patio cushions and better prices than any other site. I was pleased with the quality of my purchases and with all the emails they sent out about my shipment and when I should receive it.
Not only did I find some awesome things for my party, but I loved that when I signed up for their Daily Sales emails, I got 15% off my first purchase. I also got a code for 10% off my next purchase on my invoice, too. I quickly became Wayfair's #1 Fan and was thrilled when they asked me to work with them.
The joys of shopping at Wayfair.com
If you sign up for Wayfair Rewards, you earn 3% back on every purchase! The more you shop, the more you earn. Membership in Rewards Basic is free and automatic. Reward dollars can be applied toward any future purchase, and there are no product restrictions.
I've also gotten credit for writing reviews on some of my purchases. And if you shop with FatWallet.com, you can also earn 3% back on your Wayfair.com purchases as long as you shop through the FatWallet site.
Since my patio purchases, I've gone on to buy kitchenware, items for our bathrooms, and serveware. So, it's not hard for me to go over the $49 required for free shipping. (For purchases under $49, a $4.99 flat rate applies.)
Shopping Wayfair.com Daily Sales
Wayfair's Daily Sales emails are where you're going to find your best deals. They're totally addictive, but I try to use them proactively for holiday shopping and stocking up on items we'll need in the future, like for our annual Super Bowl party. Here's what I recently purchased: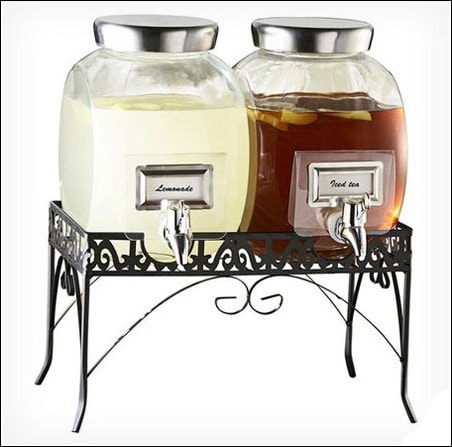 This Williamsburg 3 Piece Glass Beverage Dispenser normally list price at $100, but was selling at $34.99 – 66% (normally sells for 60% off).
This would be really cute to serve lemonade or iced tea as shown or sangria or mojitos!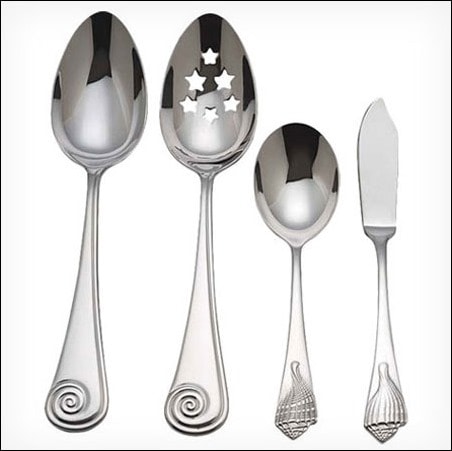 I cannot tell you how many times people bring a dish or a something spreadable, and forget to bring spoons and knives! So I stock up on hostess sets so they have something nice to serve their dishes with instead of a plastic fork.
Isn't this Reed & Barton 4 Piece Hostess Serving Set gorgeous? Wayfair.com also carries the complete Reed & Barton line of flatware, too! List price is $40 and it was selling for $32.23 – 20% off (normally sells for 14% off).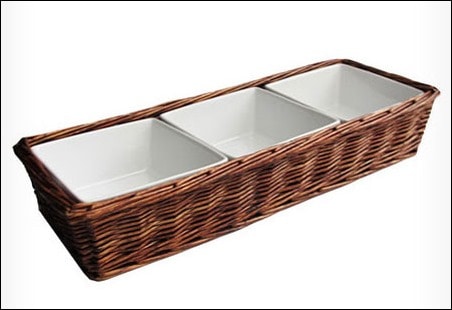 Finally,  I purchased this  American Atelier Willow Three Section Serving Tray because I love its practicality. You can use the bowls separately since they're removable. Or use them together as a serving tray for salsas, pickles, dips, or side salads.
List price was $51 and sold at $39.99 (22% off ) when it's normally 19% off.
Sign up for Wayfair Daily Sales Today below!
Sign up for Wayfair Daily Sales Emails