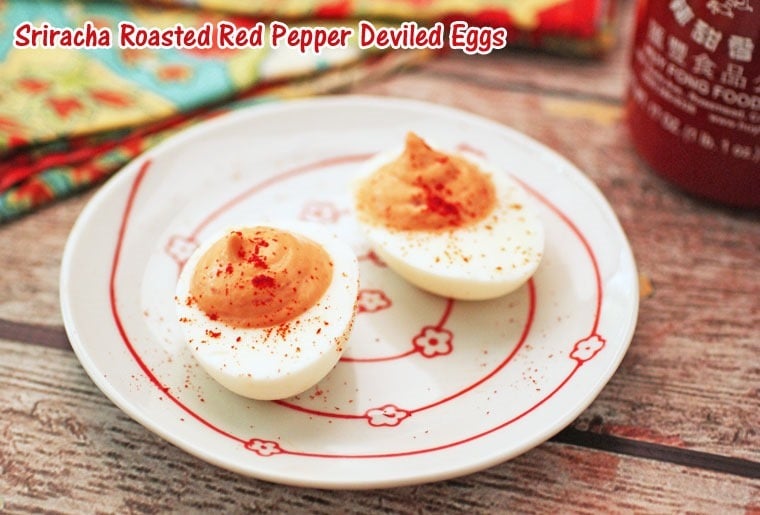 We had a friend, Barry, back in Denver who was famous for his red hot deviled eggs. I'm not sure what he used in them, maybe Tabasco sauce, but they were SPICY HOT! My son, Nathan, who is a fan of Tabasco sauce, loved Barry's deviled eggs. At one of the last parties we attended in Colorado, he ate at least 10 deviled eggs – one for each year he was on this planet.
The next day when I picked him up at Y-Camp, his camp counselor, a lovely young college-aged woman, begged me never ever to let Nathan eat that many deviled eggs again. You see, the eggs had given Nathan gas, which he shared with all the other campers numerous times throughout the day. My daughter, Lucie said it was especially horrible during the tornado drill, when they had to evacuate into the bathrooms. She was smart and made sure not to evacuate to the boys' bathroom, though some of the other campers weren't so lucky. From that day forward, Nathan is only allowed four deviled eggs at a time.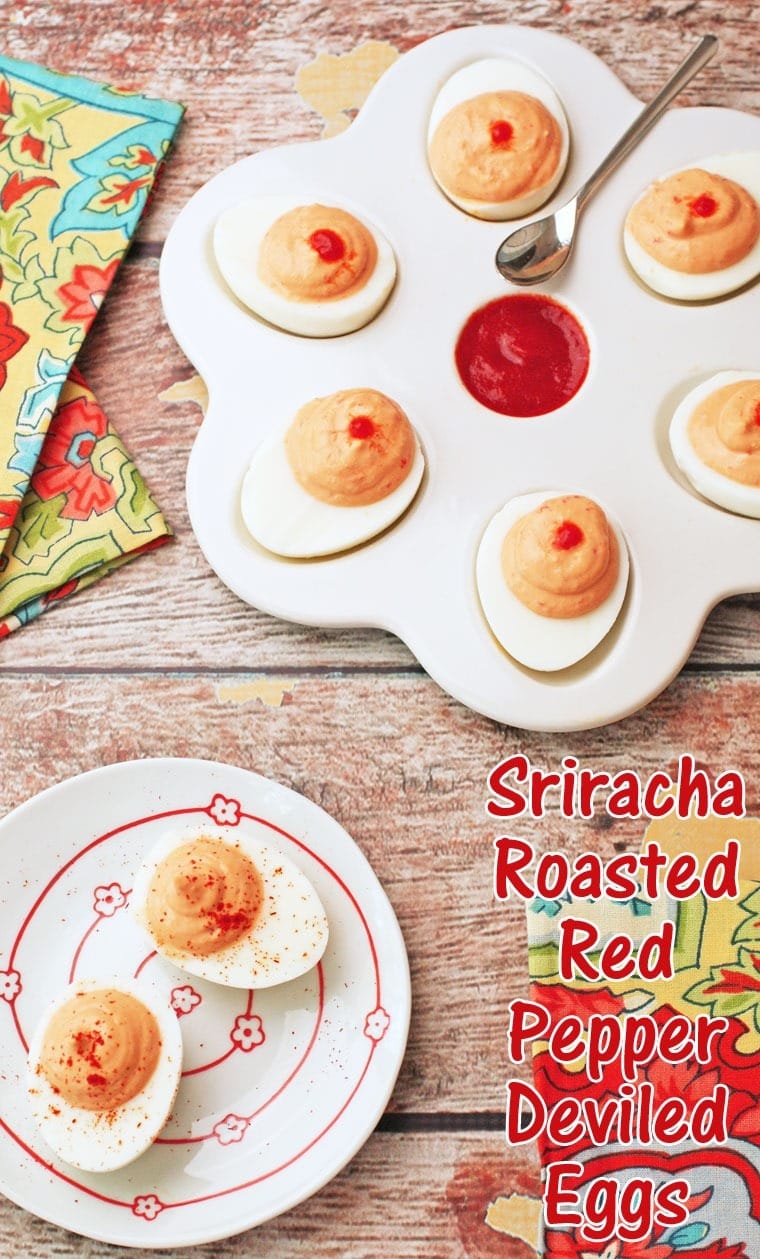 Inspiration for Sriracha Roasted Red Pepper Deviled Eggs
It seemed a no brainer to make Sriracha Roasted Red Pepper Deviled Eggs, but I wanted to added something a little different. My husband recently attended the Masters golf tournament in Augusta, Georgia and as a joke, brought me back a pimento cheese sandwich. Inspired by the pimentos, I thought roasted red peppers would be a fun combination with the sriracha deviled eggs – and a similar color scheme!
You can make your own roasted red peppers, but I find that using ones from a jar makes this deviled egg recipe super easy. Use the leftover roasted red peppers in salads, on pasta, or diced and mixed into stir fries, rice or quinoa.
I've made this recipe rather mild. Feel free to add more sriracha sauce if you like. For the garnish, you can add more heat by sprinkling on smoked paprika or if you're really adventurous, ground chipotle pepper. Serve sriracha on the side, too!
For a foolproof way to hard boil your eggs, read my egg hard boiling method here.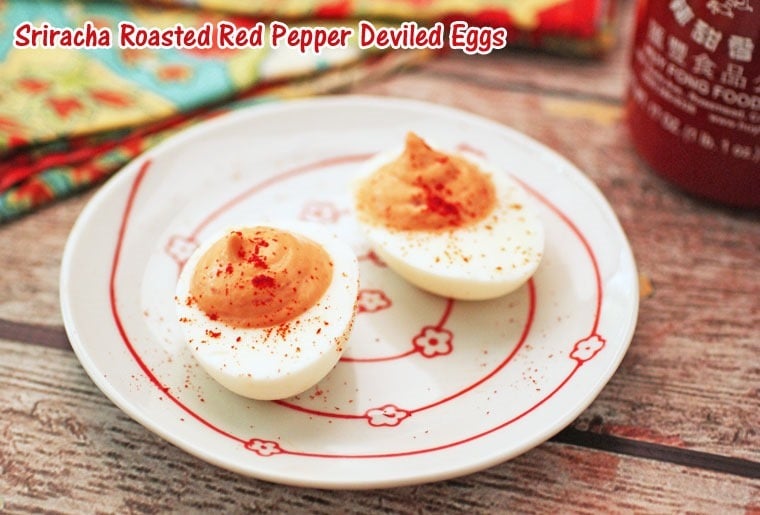 Sriracha Roasted Red Pepper Deviled Eggs
Ingredients
6

hard boiled eggs, cut in half with egg yolks removed and set aside

1/4 cup

roughly chopped fire roasted red peppers

1/3 cup

light mayonnaise

1/2 teaspoon

Nakano Red Pepper Seasoned Rice Vinegar

1/2 teaspoon

sriracha sauce (or more to taste)

Pinch salt

Smoked paprika or ground chipotle pepper to garnish (optional)
Directions
Combine egg yolks, fire roasted red peppers, light mayonnaise, rice vinegar, sriracha sauce, and salt in a mini-food processor or blender. Pulse until well blended and creamy.
Place egg mixture into a piping bag. Pipe egg mixture into egg white halves. Garnish with optional spice. Serve immediately.
Servings
:
12 deviled eggs
Serving size:

1 deviled egg