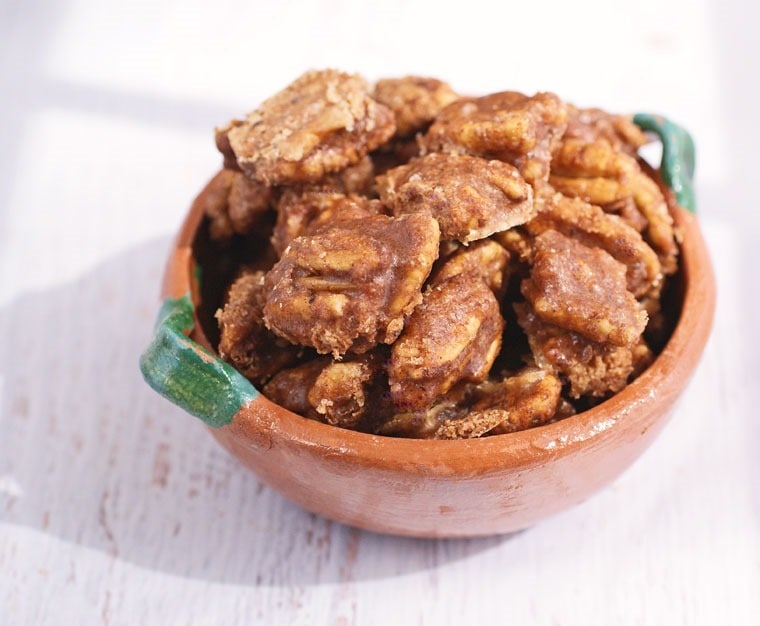 I was so excited to have been partnered with The Bitchin' Kitchin' as this month's Secret Recipe Club assignment. I'm a big admirer of Ellie's as I love her writing style and her recipes are to die for. She lives in Hoboken, NJ but is originally from the Bahamas and likes sharing Bahamian dishes on her blog like this one for Bahamian Fire Engine that is on my to do list to cook.
However, I decided instead to make her Candied Pecans. Now this is something that you can make during the Christmas holidays as a gift or to use in baking. However, I was going through the freezer the other day and found a gallon freezer bag filled with pecans that my husband's old landlord, Tommy, had given us. He has a huge pecan tree on his property – along with a fig tree and a huge gardens – and when he's not working on his properties around town with his son, he spends most of his time canning, pickling or making jam. Last time we visited him his wife gave us jars of canned and picked vegetables and big bags of pecans. Visiting Tommy's better than going to the farmer's market!
I've kept the pecans in the freezer and have been using them in dishes like Bourbon & Chocolate Pecan Pie, but I wasn't going to wait around until Thanksgiving to use up the rest. So Ellie's recipe was serendipitous!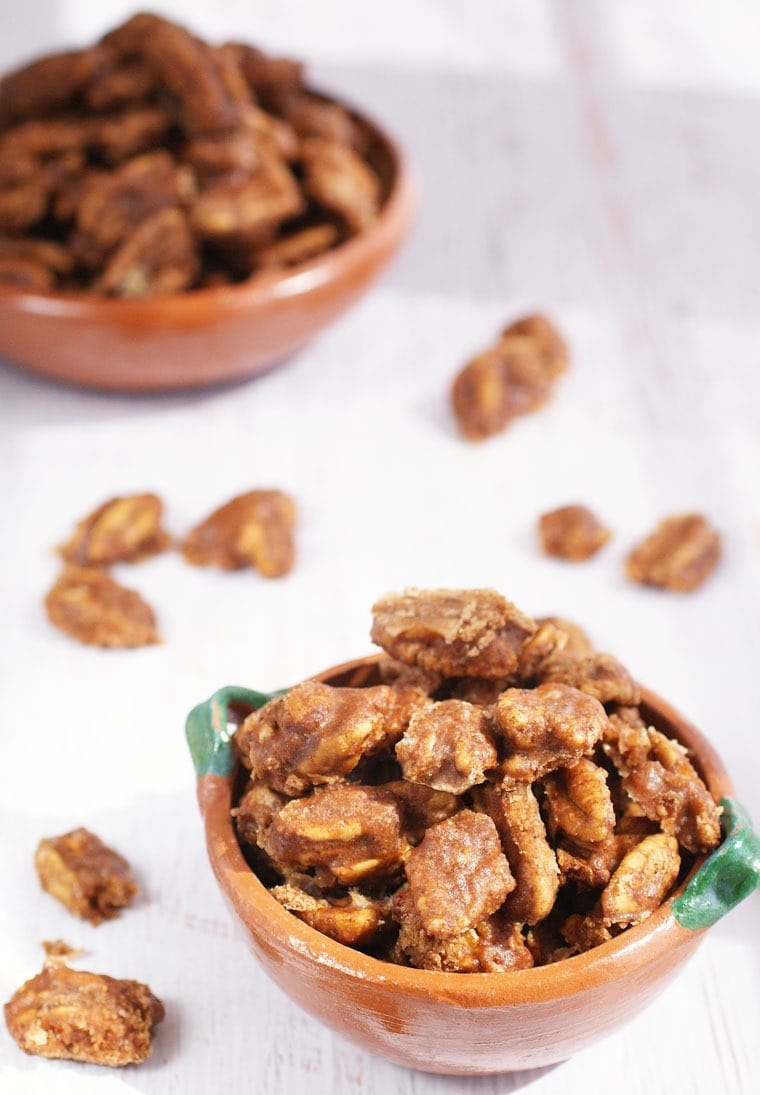 Sugar Free Candied Pecans three ways
Ellie's Candied Pecan recipe is based on one from Joy The Baker. Both use ground cayenne pepper to give the candied pecans a little kick. I decided to change things up by using ground chipotle chile pepper instead. Then I got inspired to change up the flavors a bit by using ginger in one batch and pumpkin pie spice in another instead of the chile pepper. I also doubled the recipe because I had a lot of pecans to use up – 9 cups in all!
I used liquid egg whites because I find those easier to measure accurately, and you're not wondering what to do with the extra yolks afterwards. Also, if you're experimenting with spices, you can safely taste the batter since the egg whites are pasteurized. Finally, I used Swerve Sweetener [affiliate link] to lower the calories, health up recipe and make it sugar free.
You can used candied pecans in trail mix or chop them up to use in pancakes, waffles, muffins or sprinkled on yogurt. I love them as a snack mixed into popcorn, too! And don't forget sprinkling chopped up candied pecans on more savory dishes like Marsala Whipped Sweet Potatoes. Enjoy!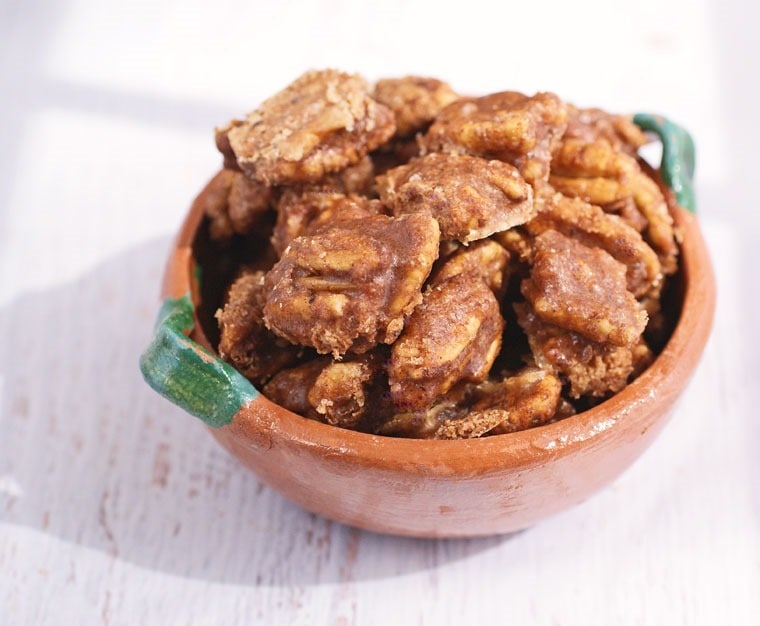 Ingredients
3 tablespoons

pasteurized liquid egg whites

1 cup

granulated Swerve Sweetener

2 teaspoons

ground cinnamon

2 teaspoons

ground nutmeg

1/4 teaspoon

ground chipotle chile pepper (or 1/2 teaspoon ground ginger or pumpkin pie spice)

1 teaspoon

salt

3 cups

raw pecan halves
Directions
Preheat oven to 300 degrees F. Line a large baking sheet with parchment paper. Set aside.
In a medium bowl, whisk egg whites until frothy.
Add Swerve Sweetener, spices and salt. Whisk the mixture until the ingredients are thoroughly combined.
Add the pecans and gently toss to coat with a large spoon or spatula.
Once coated, spoon the pecans onto the parchment paper. Spread pecans evenly over the baking sheet.
Bake for 30 minutes until pecans are toasted a golden brown.
Remove from the oven and allow to cool completely so the Swerve Sweetener hardens.
Remove pecans from the baking sheet and break up clusters into individual pieces, if you wish. If you're not using the candied pecans right away, store in a ziplock baggie or airtight container in the freezer.
Servings
:
Makes 3 cups of candied pecans
More from the Secret Recipe Club!
Want to join the Secret Recipe Club? You can sign up here.