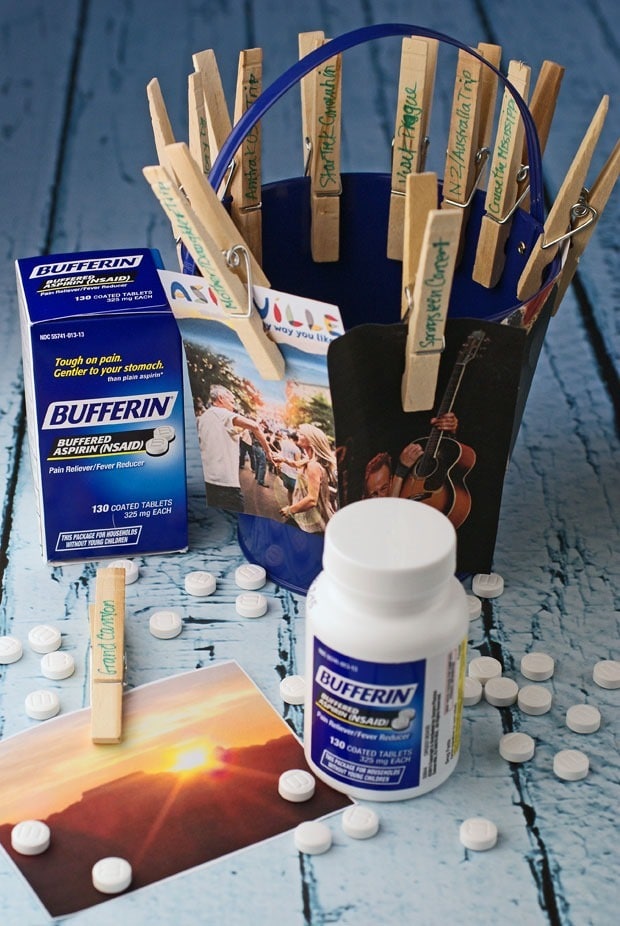 Do you have a bucket list? You know, a list of things you want to see or do before you die? Well, after my brain surgery last year, I got to thinking about my bucket list and the things on it. I've already accomplished a few of the items, like visiting the Grand Canyon, which has been on my bucket list since I was a child.
Some of my bucket lists items are happening this year such as going on a mother/daughter trip to Asheville, North Carolina, taking the kids to a Springsteen concert, and finally starting in on my dream kitchen remodel. Others won't happen anytime soon, such as a trip across the US on Amtrak or a Mark Twain cruise down the Mississippi. Those are trips I want to take with my husband when the kids are grown and we're retired.
I have small bucket list items that are easily accomplished, like going to the Springsteen concert. Other ones could be done in the near future, like going to a Star Trek convention (really!) or doing the kitchen remodel (finally!) Other ones are for the future, like trips to Prague or New Zealand. Some I'd like to do with family, like my mother/daughter trip. And others are just for me, like the archaeology dig.
I'm pretty amazed that I'm accomplishing three bucket list items this year, but since they're all at home or close to it, it's no surprise since healthwise, I'm doing great but still don't feel up to a long distance trip yet.
Travel to your bucket list destinations without worry
A lot of my bucket list items have to do with travel. And the one thing you don't want to do when traveling is suffering from sore legs after walking all over a new city. After all, life's little aches and pains shouldn't get in the way when traveling, so Bufferin is here to help. Did you know that Bufferin:
Is the only non-prescription non-steroidal anti-inflammatory drug (NSAID) that's gentler on your stomach?
Is formulated by combining the pain relief of aspirin with three different buffering agents? All work together to temporarily relieve minor aches and pain while neutralizing stomach acid that can cause stomach discomfort.
Is tough on pain and gentler to your stomach than plain aspirin?
Is available at Walgreen's and Walmart stores nationwide? (Even so, when traveling make sure to pack a bottle of Bufferin in your purse or take on bag! If you forgot it, go to bufferin.com/where-to-buy to find out where you can purchase Bufferin near your bucket list destination.)
And if you get sick while traveling, Bufferin can help keep down fever, too!
Win in the Bufferin Bucket List Facebook sweepstakes!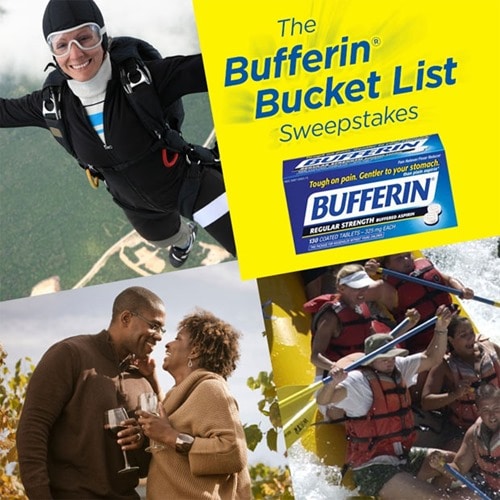 In the Bufferin Bucket List Facebook Sweepstakes, Bufferin is giving away a $1,000 AMEXGift Card and a full-sized bottle of Bufferin to three randomly selected entrants who share their bucket list items! The Bufferin Bucket List Facebook Sweepstakes runs until March 14, 2014. Entry is done via an official entry form, which includes a required field in which the entrants will need to enter their own personal "bucket list" item. Winners will be announced on the Bufferin Facebook page along with their bucket list item(s) on February 28, March 7 and March 14. You can learn more at facebook.com/bufferin.
Get the latest information on Bufferin at www.bufferin.com.
This is a product-provided, sponsored conversation. I received a full-sized bottle of Bufferin® Buffered Aspirin and the craft supplies for my own personal use. All opinions, text and experiences are my own.