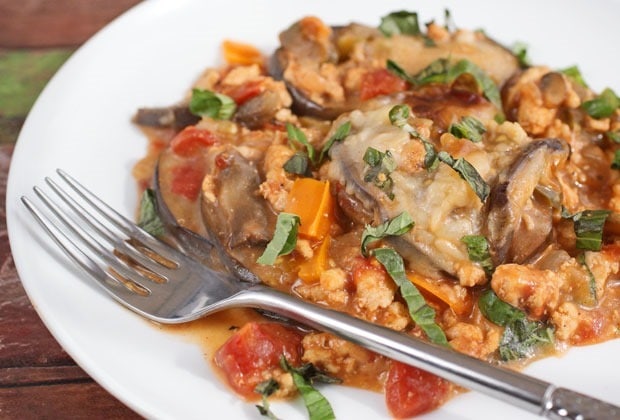 When we visited the Hellas Bakery & Restaurant in Florida in December, Paul and I tried the moussaka. It was part of a huge combination dish that included gyro meat, pastitsio (a type of Greek lasagna), and dolmades (stuffed grape leaves). Moussaka is sort of like a cross between a shepard's pie and eggplant parmesan and delicious. However, I had a feeling the moussaka probably wasn't gluten free, so didn't eat too much of it.
Smart on my part, because a traditional Greek moussaka recipe calls for a layer of béchamel sauce over the layers of ground lamb and sliced eggplants sautéed in olive oil. Béchamel sauce is made from flour, milk and butter – three things I have food sensitivities to. Since it was so tasty, it inspired me to create a healthy moussaka recipe to serve a home.
I guess I'm not the only person who loves moussaka. I recently came across moussaka recipes in the January 2014 issue of Cooking Light and a recent issue of Jaime Oliver's UK-based magazine, which I highly recommend if you don't mind paying $10 for it. Here I thought I was being so unique, and now I find I'm part of a food trend!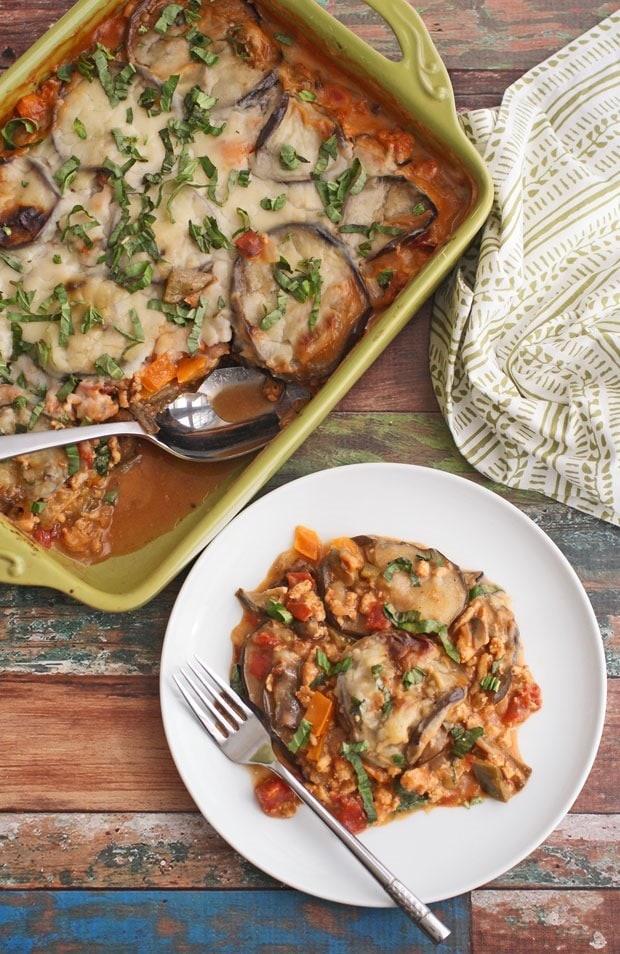 Creating a healthier moussaka
To health up the moussaka, I first changed the meat. Even though I love lamb, it's very greasy. Instead, I used very lean ground turkey combined with lots of chopped vegetables like peppers, tomatoes, mushrooms and onions. If you prefer lean ground beef, you can use that instead. I also cut back on the eggplant since it has to be fried in quite a bit of olive oil.
I also punched up the flavors a bit by using Penzeys Spices Greek Seasonings and fresh basil. If you don't have any Greek Seasonings, use 1 1/2 teaspoon dried oregano and 1 1/2 teaspoon dried basil instead.
I then created a gluten and dairy free version of the béchamel sauce. I loved how the sweetness of the rice milk added a nice flavor to the béchamel sauce. Also, since I did use cheese in the dish, the overall moussaka recipe isn't strictly dairy free. So, if you are dairy free, you can omit the Reggiano-Parmesan or use a vegan substitute.
And a note on buttery spreads. I personally like I Can't Believe It's Not Butter as it's soft and easy to measure right out of the refrigerator. However, it does have a teeny bit of milk in it. If you're vegan or need to be 100% dairy free, use a spread like Earth Balance instead.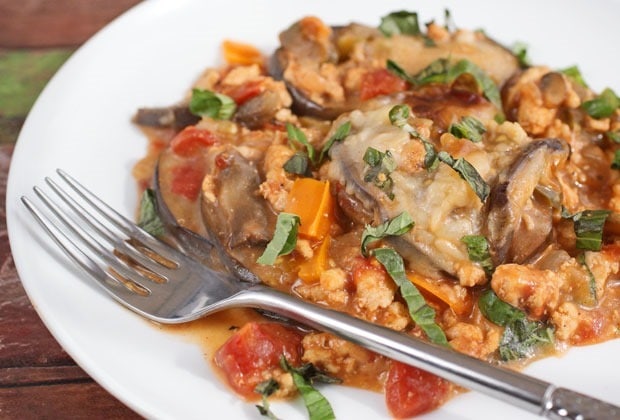 Ingredients
For moussaka:
Olive oil

1

large eggplant, thinly sliced

1

large onion, chopped

1

green pepper, seeded and chopped

1

orange pepper, seeded and chopped

2 cups

sliced crimini mushrooms

1 1/2 pounds

lean ground turkey

3

garlic cloves, minced

3 tablespoons

tomato paste

1 (14.5 ounce) can

fire roasted chopped tomatoes, drained of juice

3 teaspoons

Penzeys Spices Greek Seasonings

3 teaspoons

Worcestershire sauce

2/3 cup

grated Reggiano-Parmesan (optional or use a vegan substitute)

Fresh Basil, chopped for garnish
For gluten free béchamel sauce:
4 cups

rice milk

1/2 cup

buttery spread

1/2 cup

gluten free multipurpose flour

Salt to taste

Ground white pepper to taste
Directions
For moussaka:
Heat a large frying pan over medium high heat adding enough olive oil to cover the bottom of the pan. Place slices of eggplant in the pan and fry each side for 3-4 minutes until golden brown and softened. Remove slices and place on a paper towel covered plate. Cover with more paper towels and set aside. (Repeat with next layer of cooked eggplant.) Cook the rest of the eggplant slices in batches.
Heat a little olive oil in the same frying pan over medium high heat and cook the onions, peppers, and mushrooms for 8-10 minutes until softened. Remove from pan and set aside.
Add the ground turkey to the frying pan and cook, breaking up the meat with your spoon or spatula, until the turkey is browned. Carefully drain any water in the frying pan after turkey is fully cooked.
Add the cooked vegetables to the frying pan. Stir in the garlic cloves, tomato paste, chopped tomatoes, Greek seasonings, and Worcestershire sauce. Mix to combine and cook for 5 minutes.
Remove frying pan from stove and set aside.
Heat oven to 400 degrees F.
Prepare béchamel sauce.
Place half of the meat and vegetable mixture in a 9x13 casserole dish.
Cover with a layer of half of the cooked eggplant.
Cover with the remaining meat mixture, then a layer of the remaining cooked eggplant slices.
If using, sprinkle Reggiano-Parmesan cheese evenly over the last layer.
Then gently pour the béchamel sauce over the entire dish and carefully smooth out with a spatula if needed.
Cook moussaka in the oven for 45 minutes until bubbly and the top begins to brown.
Remove from oven and let rest for 10 minutes.
Sprinkle with chopped basil and serve.
For gluten free béchamel sauce:
Pour rice milk into a saucepan and bring to nearly boiling over medium high heat. Lower temperature, but keep rice milk hot and steamy!
Melt buttery spread in a large skillet over medium heat.
Whisk in the gluten free flour. The melted butter and gluten free flour will form a paste.
Pour in the hot rice milk by the 1/2 cup, whisking constantly until the sauce thickens and bubbles.
Turn off heat and season with salt and white pepper to taste.
Total Time:
2 Hours 20 Minutes
Serving size:

1/6 to 1/8 of recipe