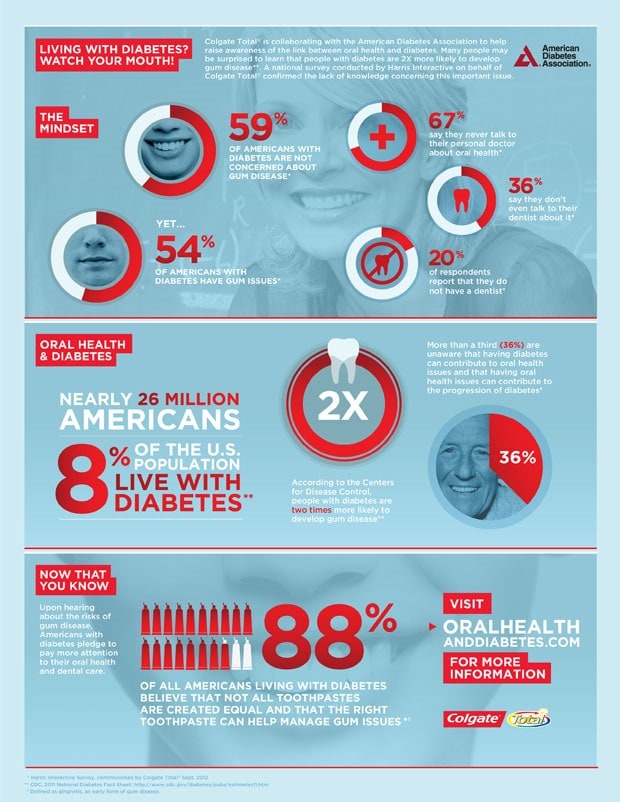 Are you or someone close to you living with diabetes? I'm sure they're good about checking their blood sugar and watching what they eat, but what about their oral health? Did you know that according to the Centers for Disease Control and Prevention, people with diabetes are twice as likely to develop gum disease? If you have diabetes, your body is more susceptible to bacterial infections and less able to fight germs that invade the gums, too.
If so, it's extremely important to see the dentist on a regular basis as well as brushing and flossing regularly. I have several friends with Type I diabetes. Luckily, they're parents, so when they're reminding their kids brush their teeth, it's easy to make sure the whole family is taking care of their dental health. Same with going to the dentist. I go the same time my kids go for their checkups, since it's so easy to get us booked for one long appointment. I hope they do the same.
Helping relatives with diabetes improve their oral health
However, some of us have relatives who aren't managing their diabetes, let alone their oral health, very well. It's very frustrating for the caregivers. My father-in-law was like that. His wife would take him to the VA for his check ups and the doctors and nurses would tell him to do this or that. And he would ignore them – and his wife. When he was hospitalized, he thought he knew better than the doctors and checked himself out. It was no surprise that diabetes led to his death along with cancer.
If you have an older relative with diabetes, you can help out by offering to take them to the dentist when you go, especially if getting around is hard for them. Or maybe they haven't gone and give you an excuse that they haven't found a dentist they like. Offer to make an appointment at your dentist and meet them there. Bribe them with coffee or a snack before their appointment if you have to!
And since it's the holidays, why not sneak in soft toothbrush (good for diabetics), floss, and a fluoride-containing, plaque-fighting toothpaste, like Colgate Total into their stocking? A bottle of Colgate Total Advanced Pro-Shield™ Mouthwash wouldn't be a bad idea either! And this time, it won't be you nagging about them about their dental health, because Santa will take the blame!
If you have a relative who has been newly diagnosed – or maybe who needs some "brushing up" on oral health awareness and diabetes – send them to oralhealthanddiabetes.com. There's lots of terrific information there from leading experts and the American Diabetes Association.
For more info on Colgate products, go to the Colgate Total website. You can also connect with Colgate Total on Facebook and on Twitter.
Disclaimer: I have been compensated by Colgate Total for my participation in this campaign and am part of the Mom It Forward Blogger Network.