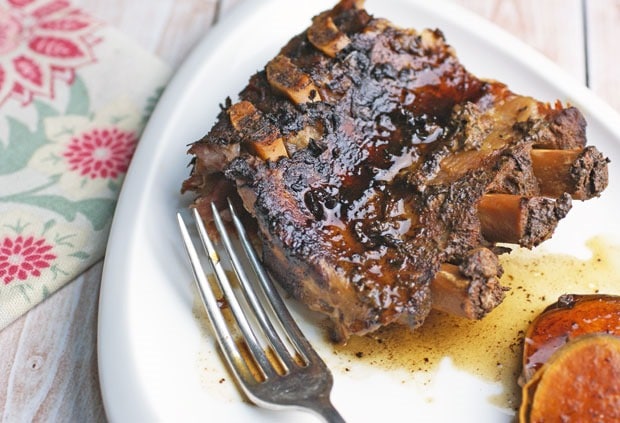 Just because it's fall, it doesn't mean you have to give up summer time grilling favorites like pork ribs. No, that doesn't mean putting on boots and a wool jacket just to get the smoker going. Instead, how about cooking up some pork loin back ribs in the slow cooker? Not only does this mean that you don't have to check the grill or smoker all day long, but you can make this weekend favorite during the week while you're at work! Just make sure you have a six quart slow cooker before attempting this recipe.
Sure making pork ribs in the slow cooker takes a little preparation the night before, but you'll come home to a house that smells amazing. Plus, you'll have a meal on the table less than 30 minutes after arriving home – much faster (let along cheaper and healthier) than hitting your favorite barbecue joint on the way home from work, too. You don't have to worry about missing the smoky flavor either as the smoked paprika in combination with the balsamic vinegar does the trick.
This pork ribs recipe uses two of my favorite Holland House products, Balsamic Vinegar and Marsala Cooking Wine, which are both gluten free. I've also cooked the ribs up with some healthy sweet potatoes, which you can turn into Marsala Sweet Potato Mash if you're in the mood. Or you can serve with a little smear of a buttery spread and a dash of sea salt. However, my favorite way is to slice up the sweet potatoes and pour on some of the Balsamic and Sorghum Drizzling Sauce, since it's not just for the ribs. The Balsamic & Sorghum Slow Cooker Ribs goes great with a side salad and some Wine and Rosemary Quinoa, too!
This dish would also make a terrific party appetizer. Since you can fit two three pound slabs of pork loin ribs in a six quart slow cooker, just double the recipe and omit the sweet potatoes. After about five to six hours, check to see if the ribs are cooked through, but not falling apart done. Cut the ribs apart, and place the ribs back in the slow cooker for an hour or two before the party. Serve the drizzling sauce as a dipping sauce. Your guests will love 'em!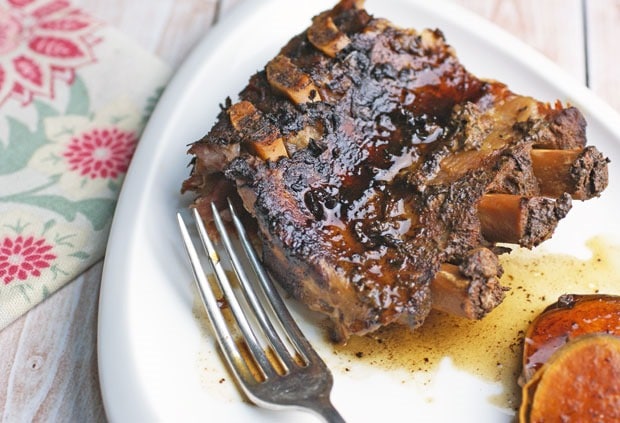 Balsamic & Sorghum Slow Cooker Pork Ribs with Sweet Potatoes
If you're unable to find sorghum, use maple syrup, honey or agave nectar instead. Inspired by
this recipe
at Epicurious.com
Ingredients
1 (3 pound) rack

pork loin back ribs
For the rub
6

large garlic cloves, minced

2 tablespoons

finely chopped lemon thyme

2 tablespoons

sorghum syrup

2 tablespoons

Holland House Balsamic Vinegar

1 teaspoon

ground chipotle chile pepper

1 teaspoon

smoked paprika

2 teaspoons

sea salt

1 teaspoon

pepper
In the slow cooker
1 cup

water

1 cup

Holland House Marsala Cooking Wine

8 small

sweet potatoes, wrapped in aluminum foil
For the drizzling sauce
1/2 cup

"drippings" from slow cooker with fat skimmed off

1/2 cup

water

1/2 cup

Holland House Balsamic Vinegar

1/2 cup

sorghum syrup
Directions
For the pork ribs
To make the rub, combine minced garlic, thyme, sorghum, balsamic vinegar, chile pepper, paprika, salt and pepper.
Rub evenly over the rack of pork ribs.
Place the rack of ribs inside the stoneware crock so the meat side is touching the inside of the crock. Place lid on crock and place in refrigerator to marinate overnight.
In the morning, add water, marsala cooking wine, and wrapped sweet potatoes to crock. Place stoneware crock into slow cooker on low and cook for 8 hours.
For the balsamic and sorghum drizzle sauce
Combine drippings, water, balsamic vinegar and sorghum in a saucepan.
Bring to a broil over medium high heat.
Lower heat to medium low. Simmer until reduced to about 1 cup – 15 to 20 minutes. Stir occasionally.
Serve the Balsamic and Sorghum Drizzle Sauce on the ribs, the sweet potatoes, and anything else that may end up on your plate!
Serving size:

3 to 4 ribs and 2 sweet potatoes per person
Holland House Dutch Oven Giveaway!
As a Mizkan Blogger, I'm giving away a Lodge Enamel 4-Quart Dutch Oven (in blue) and three bottles of Holland House product (approximate retail value $100). Enter below!
a Rafflecopter giveaway