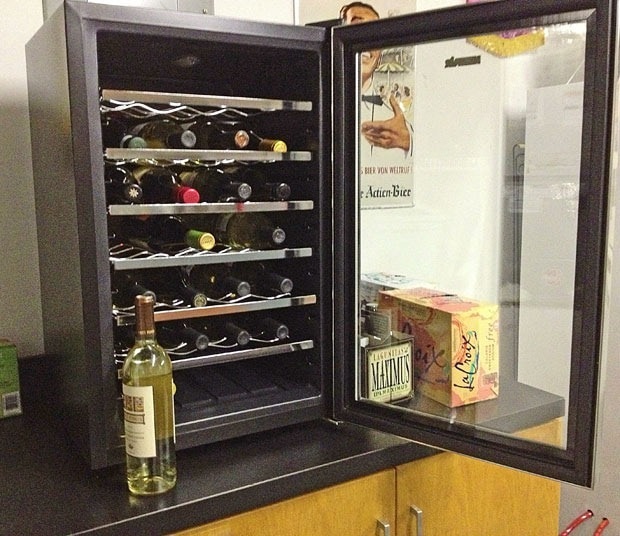 When we were house shopping here in Georgia, I was envious of the homes that had built-in wine coolers in their kitchens. Of course, we ended up buying a 20-year-old home with a very outdated kitchen, so no built-in cooler for me without an extensive remodel.
Until then, we have plenty of space in our home to turn my husband, Paul's Man Cave into "la cave du vin" – the wine cave. It's already the room where we keep the "beer fridge," a refrigerator he's converted to chill two kegs of home brew and dispense the beer from two taps on the outside.
Next to it, Paul set up our NewAir AW-281E - 28 Bottle Thermoelectric Wine Cooler, which we're enjoying quite a bit. Here's why:
Very easy to set up. A large box was delivered by UPS to our garage door. It was easy for Paul to move it inside and unpack it in the Man Cave. He only had to attach the handle, plug it in and adjust the temperature. However, Paul warns that you need to be careful unpacking the cooler as he thought he may have scratched up the digital display panel doing so. (There's no protective plastic covering it.) I didn't think the small scratches were a big deal.
Regular refrigerators keep wine much too cold. Wine should be kept at 50 to 55 degrees F, while food should be kept at 35 degrees. You do the math.
Large amount of storage. You can keep up to 28 bottles in the NewAir AW-281E assuming they'd all fit. Some of my wine bottles were fatter than others, so I had to adjust the shelves accordingly. I ended up losing four bottles worth of space, but then I really don't need to have the cooler filled to the max.
Easy to use. You adjust the digital display panel to your optimum temperature and then never touch it again.
Quiet. The NewAir's compressor-free cooling system means that the cooler is fairly quiet. This isn't an issue for us since our rather noisy heating system and dehumidifier are also in the Man Cave.
Easy access. The six pull-out chrome racks provide easy access to the wine.
Provides protection. If you store your wine cooler near a window, the double-paned door protects wine from UV rays. Not an issue for us since it's kept in a room with no windows.
Attractive. I love the chrome and black design. It's attractive enough to keep in the kitchen, wet bar or dining room.
Interior Lighting. The NewAir AW-281E has an internal LED lighting system that lets you review your collection without the extra heat created by an incandescent light.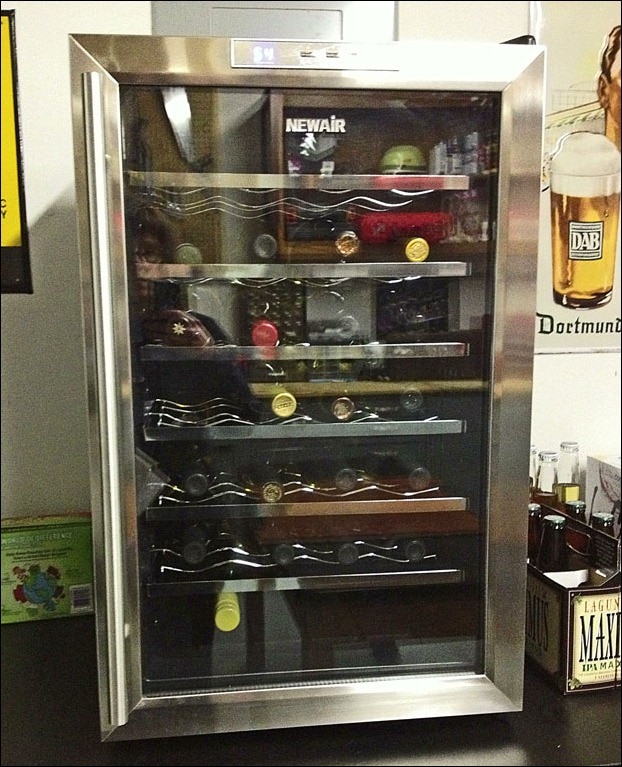 The only minus I could see was that the cooler doesn't have a lock. Many other wine coolers have this feature, so that may be of concern to some. However, it's not an issue for us because the Man Cave can be locked up from partying teenagers who should know better. Ahem.
You can purchase the NewAir AW-281E - 28 Bottle Thermoelectric Wine Cooler in chrome and or the
NewAir AW-280E Classic 28 Bottle Thermoelectric Wine Collector in Black
for around $245 on Amazon.com.
_________________________________
Disclosure: NewAir provided me with a wine cooler to facilitate this review. All opinions and experiences are my own.
Amazon links are affiliate links. A commission may be earned from a referred sale to their website.