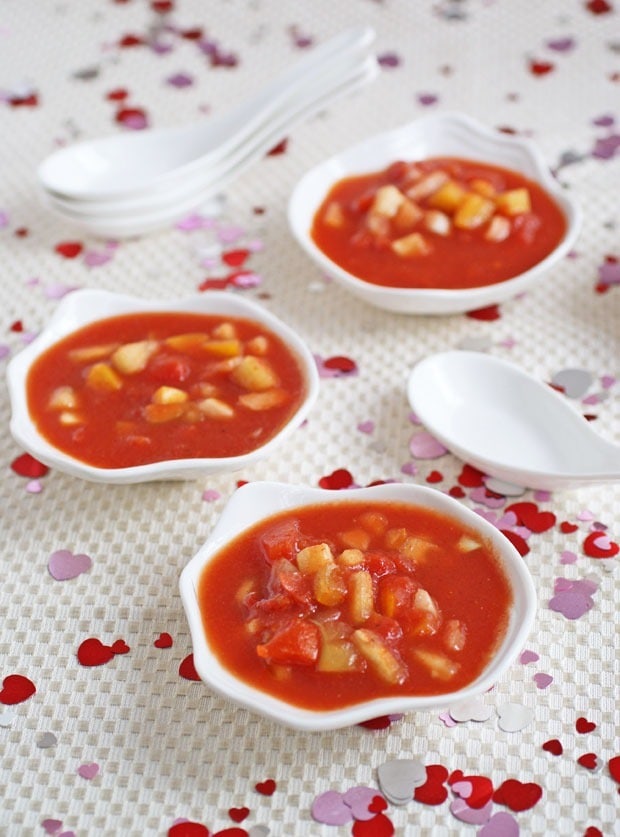 Looking to throw a party to celebrate American Heart Month? (Hey, why not?!) Here's a short video on some of the fun ways you can entertain with and serve Hunt's® Easy Gazpacho:
Also, if you haven't had the chance yet, could you take a minute to fill out a quick survey about tomatoes? Thanks!
Hands On:15 | Total: 15 | Makes: 4 servings (1-1/3 cups each)
Ingredients:
1 can (14.5 ounces each) Hunt's® Petite Diced Tomatoes, undrained

1 can (15 ounces each) Hunt's® Tomato Sauce

1 cup chopped cucumber

3/4 cup chopped yellow bell pepper (3/4 cup = 1 medium pepper)

1/3 cup chopped sweet onion

1/2 cup water

2 tablespoons olive oil

2 tablespoons red wine vinegar

1/4 teaspoon garlic powder

1/8 teaspoon ground red pepper
Directions:
Combine all ingredients in large bowl; stir well.

Serve at room temperature or refrigerate and serve chilled.
Nutritional information
Calories 137

Total Fat 7 g

Saturated Fat 1 g

Cholesterol 0 mg

Sodium 894 mg

Carbohydrate 16 g

Dietary Fiber 4 g

Sugars 7 g

Protein 2 g
Percent Daily Values: Vitamin A 16%; Vitamin C 117%; Calcium 3%; Iron 6% (Percent Daily Values are based on a 2,000 calorie diet.)
Remember, Hunt's diced, whole, stewed, and crushed tomatoes are naturally peeled with steam – FlashSteamed – not with chemicals like some other brands use. Plus, they add no artificial preservatives in the process. So you can feel good about using 100% natural Hunt's tomatoes in your recipes.
_________________________________
Disclosure: I've been compensated by Hunt's for my time and efforts on their behalf. All opinions and experiences are my own.
{

1

comment

}
StumbleUpon
101
Google +1
0
Pin it
11
Retweet
49
Like
6