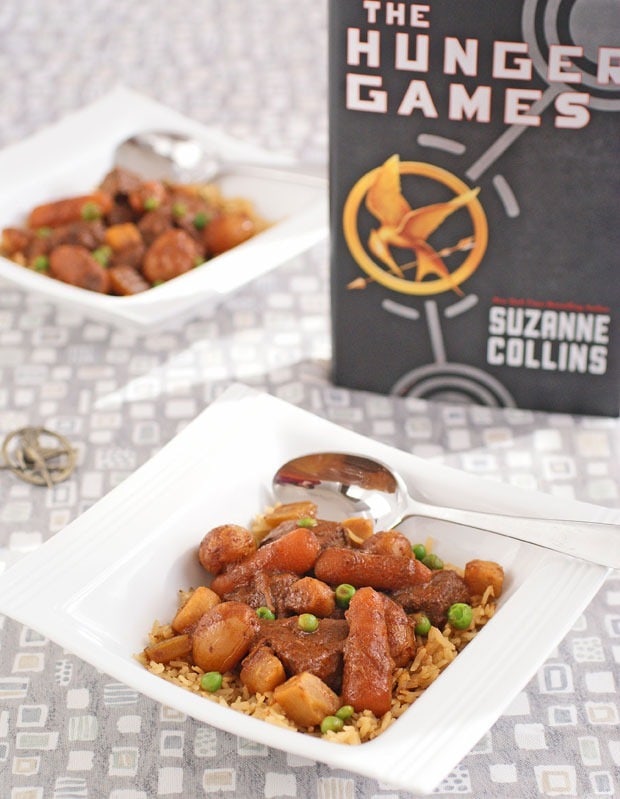 One of my blogging goals for 2013 was to join another online foodie event like Secret Recipe Club. Somehow I stumbled on to Cook the Books. Well, this month, Cook the Books is teaming up with Food 'n Flix to bring us dishes based on both the movie and the book, The Hunger Games. Heather from Girl Chef is hosting the event – see her announcement post. Heather is definitely a blogger after my own heart as she's as passionate about movies and reading as she is about food, since she's part of the team that runs Cook the Books and Food 'n Flix.
Reading The Hunger Games
I had read The Hunger Games Trilogy last spring
in the hopes of getting my kids to read it. (Lucie did and enjoyed it somewhat. Nathan never got past the first book.) Instead, I was the one who got hooked on the series, which wasn't a surprise as it's well written and I'm a sucker for a good dystopian novel.
Rereading the book for this project, I realized how fixated Katniss Everdeen was on food. People who wonder where their next meal will come from – if it comes at all – usually are. However, one of the ways the movie, The Hunger Games
, fell short was that it wasn't fixated on food as much as Katniss's character was. It's a shame, because you never get the feeling that Katniss or any of the kids from the poorer districts were starving. They all looked too healthy!
Cooking The Hunger Games
To help me decide what to make for Cook the Books/Food 'n Flix, I took notes on the various dishes and foods that are mentioned in the book, such as Katniss's favorite lamb stew. But there are other dishes that sounded intriguing such as fish stew with greens, goat cheese, "chicken and chunks of oranges cooked in a creamy sauce laid on a bed of pearly white grain," bread with raisins, tiny green peas and onions, or mushroom soup – and that doesn't even touch on the desserts, such as "pudding the color of honey."
One dish that appeared twice when Katniss was under some stress was described as "hot grain smothered in beef stew" or just hot grain and stew. Being the middle of winter, who wouldn't want to have a bowl of beef stew on rice? I decided to modify Real Simple's Slow Cooker Classic Beef Stew by making it gluten free, adding more root vegetables and peas, and serving it on brown rice.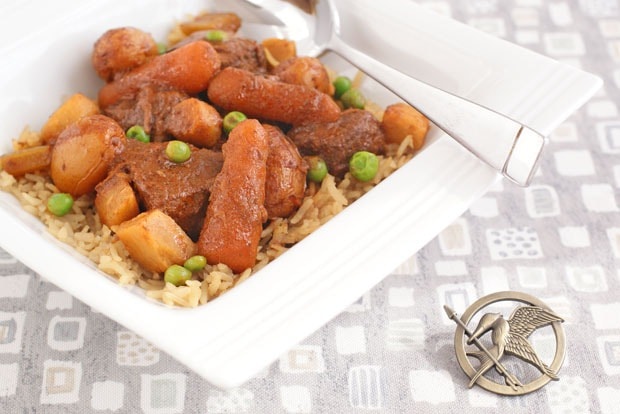 Healthy modification: the original recipe called for dredging the beef chunks in all-purpose flour. I substituted gluten free teff flour, but feel free to use your favorite GF (or non-GF) flour. While the flour thickens the stew, it does add a lot of calories, which is fine if you're Katniss and need some fattening up. If you're watching your calorie intake, here's another way to thicken the stew.
Omit the flour, and season the beef with salt and pepper to taste.
In a large skillet, heat 3 tablespoons of olive oil on medium-high heat. Brown the meat as directed. Follow the rest of the recipe.
About 30 minutes before serving, mix 3 tablespoons corn or rice starch with 3 tablespoons broth from the slow cooker.
Add the mixture to the stew and stir.
Put the lid back on the crock pot and turn up the heat to the High setting.
After 30 minutes, stir and serve stew over rice. 
Also, while I've served this with brown rice (cooked with the leftover beef broth I had on hand) you can use white rice, quinoa, or wild rice. For those who aren't gluten free, try it with couscous or farro.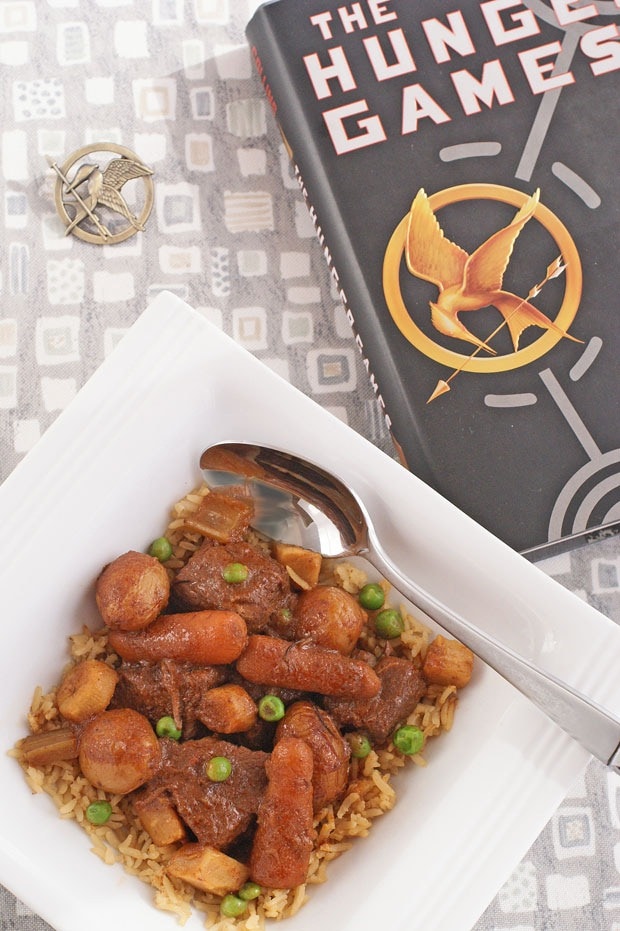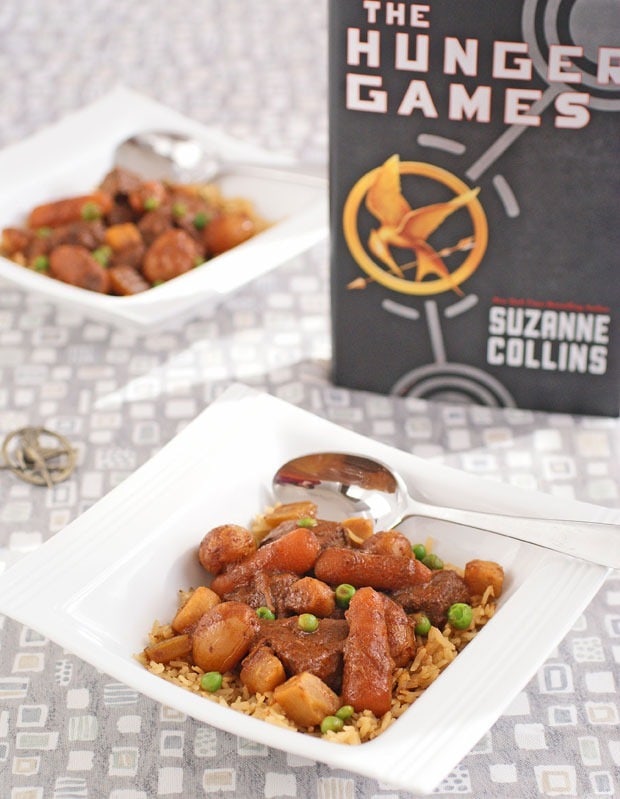 Slow Cooker Beef Stew with Brown Rice
Based on
Slow Cooker Classic Beef Stew
by Jane Kirby in the March 2004 issue of Real Simple
. Note all nutritional information for stew only.
Ingredients
4 pounds

bottom round, trimmed and cut into 2-inch chunks

1 cup

gluten free flour

1/3 cup

olive oil

1

large onion, diced (2 cups)

1

6-ounce can tomato paste

1 1/2 cups

dry red wine

1 pound

baby potatoes, washed (not peeled)

1/2 pound

baby carrots

4

parsnips, roughly diced

2

stalks celery, roughly diced

2 cups

gluten free beef broth

1 tablespoon

kosher salt

1 teaspoon

dried thyme leaves

1

bay leaf

1

16 ounce package frozen peas

cooked brown rice (enough for 6 to 8 people)
Directions
Coat the beef in the flour. Heat 3 tablespoons of the oil in a large skillet over medium-high heat. Brown the meat, a few pieces at a time, adding more oil as necessary. Throw out any unused flour.
Transfer browned beef to a large capacity (4 to 6 quart) slow cooker.
Add the diced onions to the skillet. Cook over medium heat until tender, about 10 minutes. Stir in the tomato paste and coat the onions. Transfer the onion and tomato mixture to the slow cooker.
Pour the wine into the skillet and scrape up any browned bits. Pour the liquid into the slow cooker.
Stir in the potatoes, carrots, parsnips, celery, beef broth, salt, thyme, and bay leaf.
Cover and cook on low heat for 7 1/2 hours, or on high for 4 hours.
About 15 minutes before serving, add the peas and cook until heated through.
Serve on top of brown rice
Total Time:
4 Hours 35 Minutes
Serving size:

1 bowl

Calories:

520

Calories from Fat:

177

Total Fat:

20 g

Saturated fat:

5 g

Unsaturated fat:

15 g

Sodium:

1061 mg

Total Carbohydrates:

31 g

Fiber:

4 g

Protein:

48 mg

Cholesterol:

127 mg