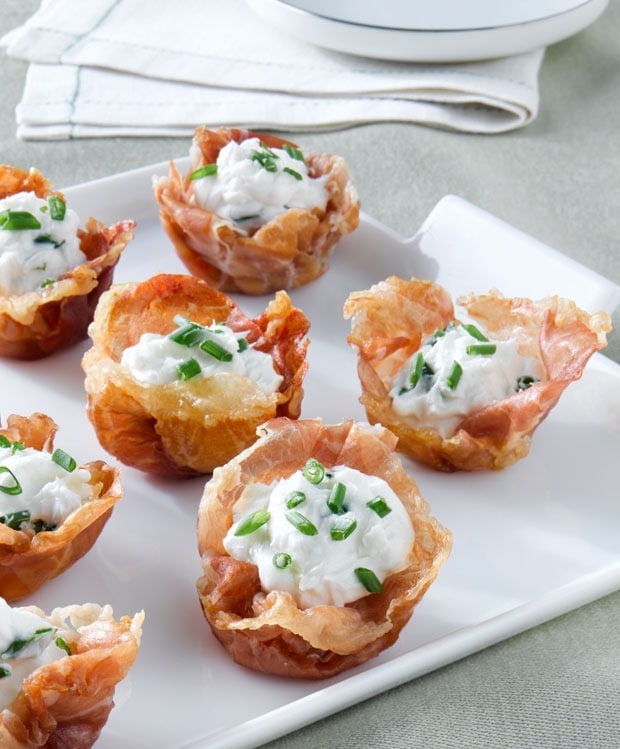 When I entertain during the holidays, I try to mix up healthy appetizers along with small but delicious indulgences. I also believe that if you're going to treat yourself, it's healthier to have a few small bites than a big plate of something that's not so good for you. That's why I'm sharing this fun party appetizer recipe from Prosciutto di Parma. Instead of using dough, this recipe uses the prosciutto to form the cups to serve the goat cheese mousse in – a really cool and unique idea!
You could cut a few fat calories by using a low fat goat cheese and no fat milk. You could also experiment with other herbs that would go well with prosciutto, like basil.
Crispy Prosciutto di Parma cups with Goat Cheese Mousse
Yield: 12 cups
Ingredients:
6 slices Prosciutto di Parma

3.5 oz. plain goat cheese at room temperature

1 tablespoon milk

1 tablespoon minced chives
Directions:
Preheat the oven to 400°F.

Cut Prosciutto di Parma slices in half crosswise. Press a half slice of prosciutto into each cup of a mini-muffin pan. Bake for 8-10 minutes.

In the meantime, in a small bowl, combine goat cheese with milk and chopped chives until creamy.

Remove Prosciutto di Parma cups from the oven and let cool.

Pipe* or spoon the goat cheese mousse into cooled Parma cups, filling each with about a tablespoon of mousse.
*You can make your own piping bag by filling a sandwich bag with the cheese mixture and making a small diagonal cut at one corner.
Recipe and photo supplied by Parma and used with permission.