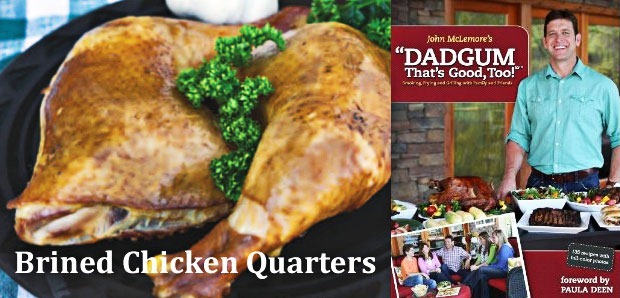 I love using my Masterbuilt Electric Smoker, which is why I'm always on the lookout for smoking and grilling cookbooks like John McLemore latest book, "DADGUM That's Good, Too!" John's mission is to make it fun to cook up traditional Southern recipes like brisket, baby back ribs, Boston butt and more using Masterbuilt smokers, grills and indoor fryers. But his cookbook isn't all about meat. He shares recipes for Southern classics like blackberry cobbler, shrimp and grits and gumbo, too.
John's recipes are simple, straightforward and perfect for those new to smoking, grilling and frying. With the holidays here before you know it, this would be a great cookbook to help walk you through making turkey. "DADGUM That's Good, Too!" contains recipes for Brined Whole Turkey, Dadgum Good Smoked Turkey, Garlic and Herb Deep-Fried Turkey, and Smokin' Fried Turkey. Whatever way you prepare it, the turkey will be dadgum good, I guarantee! However, if you're nervous about cooking a big turkey, practice on chicken first with this recipe for Brined Chicken Quarters.
This recipe benefits from two processes for the ultimate taste and texture. First, brining the chicken hydrates the meat and ensures a juicy result. Second, the smoking process infuses smoky flavor into the meat. Combining the seasonings and moisture from the brine with the low-and-slow smoking process makes for a perfect piece of chicken. Brushing the chicken quarters with olive oil helps the skin turn a nice golden brown, too.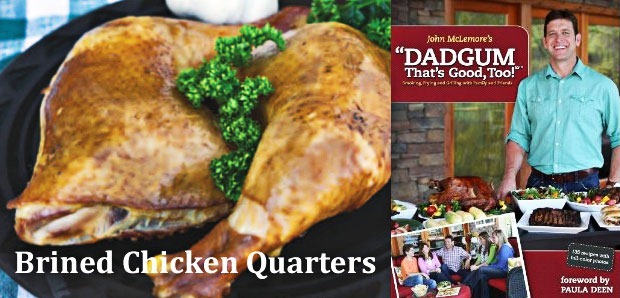 Brined Chicken Quarters
From "Dadgum, That's Good, Too!"
Ingredients
2 cups

water

2 cups

molasses

2 cups

kosher salt

1/4 cup

soy sauce (gluten free)

2 tablespoons

Worcestershire sauce

1/2 teaspoon

freshly grated peeled ginger root

1/4 teaspoon

garlic powder

2 gallons

ice water

4

chicken quarters

2 tablespoons

extra virgin olive oil

Suggested wood: Apple
Directions
In a large stockpot over medium heat, combine 2 cups water, molasses and salt. Bring to a boil until salt is dissolved. Remove from heat and stir in soy sauce, Worcestershire sauce, ginger and garlic powder. Set aside and let cool.
When mixture is cooled, stir in 2 gallons ice water, mixing well. Place each chicken quarter in a brining bag or oversized plastic bag. Pour brining mixture over each chicken quarter and place in a bowl. Refrigerate, turning once, for 6 to 8 hours. A plastic bucket that is deep enough to have the meat completely covered will also work.
Preheat smoker to 225°F.
Remove chicken from brine after at least 6 hours, and rinse thoroughly to remove any remaining salt. Pat dry and brush with olive oil. Place on middle rack of smoker and smoke for 3 to 3 1/2 hours or until internal temperature reaches 165°F. Remove meat from smoker and enjoy!
Serving size:

1/8 of recipe
Pictures and recipe courtesy of John McLemore and Masterbuilt.
_______________
Disclosure: Amazon links are affiliate links. A commission may be earned from a referred sale to their website. I received a complimentary review book to facilitate this review. All opinions are my own.