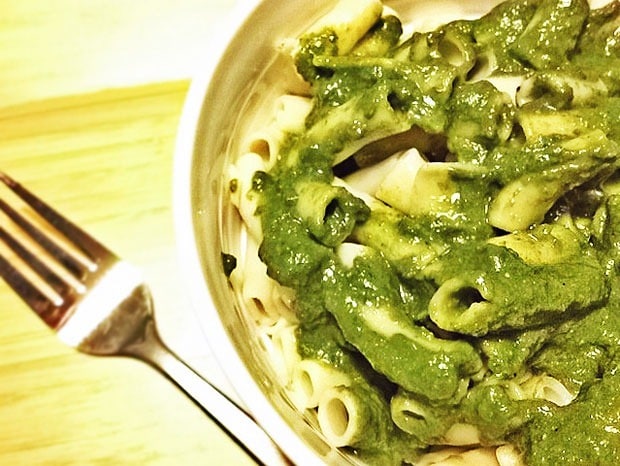 Just before we moved out of our home in Colorado, I burnt up my blender due to a stuck blade. I hadn't replaced it since I'd been given one of those cheapie single serve blenders from a client. It was OK to make smoothies in, but I needed something bigger and hardier for soups and purees.
So when the folks at Blendtec approached me to review their blender and do a giveaway (more on that below) I jumped at the chance to test drive it. I had heard about Blendtec blenders after watching Tom Dickson, the CEO and Founder of Blendtec, and his "Will it blend?" videos on YouTube. I'd also seen their commercial blenders used at my favorite juice and smoothie shops. However, I wondered if they were truly worth the cost ($440 and up).
Blendtec's Total Blender Classic with WildSide jar
I received a factory refurbished Total Blender Classic Series motor base with the WildSide jar. It came with a cookbook (which includes kid friendly and gluten free recipes), an owner's manual, and a how to DVD. You can use it to make smoothies, fresh juice, ice cream, shakes, margaritas, soups, sauces, bread dough, and more. So far I've only had time to make tofu sour cream and smoothies for the kids. I make smoothies with a huge amount of ice every morning, so I use the Ice Crush/Milkshake setting. It completely crushes all the ice and makes a perfect smoothie every time – no more pieces of uncrushed ice and no guessing when it was done.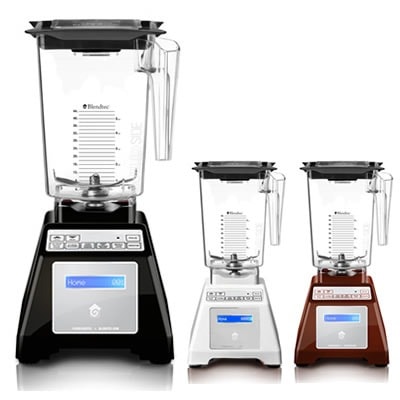 Also, the WildSide jar is HUGE (nearly 3 quarts) so you can make a big batch of smoothies, soup or what-have-you without having to break up your recipe in two batches. The Total Blender Classic blender base also has settings for ice cream/frozen yogurt, soups/syrups/fondues, sauces/dips/dressings/batters, whole juice, and (non-ice cube using) smoothies. I used the sauces/dips/dressings/batters setting for my tofu sour cream. The jar is BPA free (yay!) and washes up easily in the sink. I'm looking forward to trying out more recipes soon!
The Twister Jar
Blendtec also sent me their new Twister Jar set which comes with their terrific Blendtec spatula. The Twister Jar is designed for thick recipes like nut butters, baby foods, dressings and more without having to worry about a stuck blade - and burning out your motor. All I had to do was put in my ingredients according to the directions, then twist the lid counter-clockwise while the blend cycle was running. The twisting forces the ingredients from the sides of the jar back into the blade, which meant I didn't have to stop the blender and push everything down with a spatula.
I used it to make the pesto recipe below from the included Twister Jar Recipes cookbook. I've made homemade pesto from basil in our garden before, but this recipe is just about perfect.
Classic Pesto for the Blendtec Twister Jar
Ingredients:
1/2 cup olive oil
1 clove garlic, roughly chopped
2 cups fresh basil leaves, lightly packed
1/4 cup pine nuts
1/3 cup parmesan cheese
1/4 teaspoon salt
1/8 teaspoon ground black pepper
Directions:
Add olive oil, garlic and basil to the Twister Jar in the order listed.
Push basil leaves down into oil with the Blendtec spatula.
Then add remaining ingredients in order listed.
Place Twister Lid on Jar. Hold Twister Lid and with the other hand press "Pulse" intermittently until desired texture is reached. Turn the Twister Lid counter-clockwise during blending.
Win a Blendtec Blender set!
I'm giving away a Blendtec Blender Set, with an approximate retail value of $623.95.
Giveaway closed. Congrats to Mell M.!
ONE lucky winner will receive:
a factory refurbished Blendtec Total Blender Classic Series® base in your choice of black, white or red. (Factory refurbished bases have a three year warranty.)
a NEW WildSide jar
a Fresh Blends cookbook
an owner's manual
a how to DVD
a NEW Twister Jar set which includes a cookbook and the special Blendtec spatula
Here's how to enter:
Comment below on what you'd make in your new Blentec blender! (You can find Blendtec recipes here.)
Sign up for my enewsletter for ONE additional entry.
Follow @amnichols on Twitter for ONE additional entry.
Follow amnichols on Pinterest for ONE additional entry.
Follow @Blendtec on Twitter for ONE additional entry.
Follow Blendtec on Pinterest ONE additional entry.
Spread the word about this giveaway by submitting a link to this post on Twitter for ONE additional entry. You must leave a link to your tweet in your comment so I can check.
If you have done any of these additional activities you MUST come back here and leave a comment telling me what you did. I will be checking!
Maximum amount of entries is SIX.
You have until  midnight on Friday, September 21, 2012 to enter.
ONE winner will be chosen at random. You must be willing to send me your full name, mailing address and phone number so I pass your info on to Blendtec. I'll announce the winner on this blog. I won't share your mailing info with the public, just your name. If you have a blog, I'll link back to it when I announce the winner.
The giveaway is valued at $623.95 and is only open to legal residents of the United States, 18 years of age and older. No purchase required. Odds of winning based on number of entries. Up to SIX entries per person. ONE Blendtec Blender Set will be given away. Void where prohibited by law.
By submitting your name and email address, you agree to receive relevant promotional emails and contest follow up communications from This Mama Cooks! On a Diet in compliance with my privacy policy and giveaway rules.
_________________
Disclosure: I received a Blendtec Blender Set to facilitate this review and giveaway. All opinions and experiences are my own.