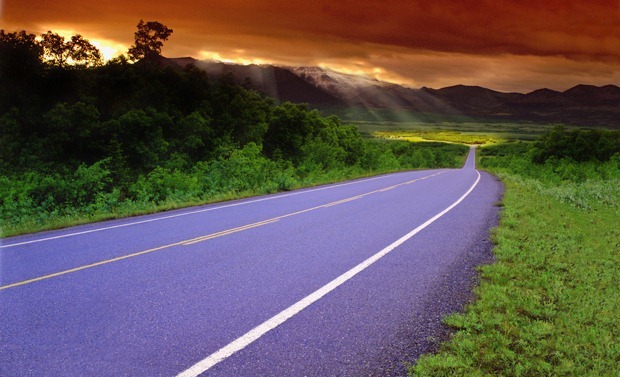 Do you find eating healthy on road trips to be challenging? So many of us do, whether we're wanting to eat fresh food or trying to work around food sensitivities and allergies. Here are some tips based on how my family and I eat healthy on road trips:
Bring a cooler. I know you've packed the family automobile with everything from toys to clothes, but you must make room to bring a cooler or two. You may want to have a larger cooler in the trunk or back of the minivan or truck along with a smaller insulated bag that will fit up front or underneath the kids' feet in the backseat. Ask around and see if a friend or relative has a cooler that plugs into the lighter, too.
Ice packs or ice? Bring both! If you're staying overnight at a hotel, many have mini-fridges to freeze your ice packs overnight. You can also ask for ice packs to be placed into the hotel kitchen's freezer by one of the staff members. If neither are available, you can always pick up some ice at truck stop or supermarket. Bring some zip lock bags to put the ice in so you can easily store the ice in several coolers. It also makes getting rid of the melted ice much easier.
Bring healthy snacks that don't require refrigeration. Nuts, dried fruit, jerky, fresh fruit like apples, snack bars, individual baggies of cereal, pretzels, etc. travel well without refrigeration. You can also store a box or two of fruit juice, water or shelf-stable milk boxes in the trunk – just fill the cooler with them when needed!
Bring the kitchen with you. If you're up to it, you can also bring a loaf of bread, mustard and deli meat and make sandwiches along the way. Don't forget to bring a roll of paper towels and a knife to spread the mustard and cut the sandwiches! Baggies and garbage bags will come in handy, too.
Buy healthy snacks along the way. The variety of healthy food at truck stops and gas stations is improving all the time. You can find fresh food such as small containers of low fat milk, cottage cheese, cheese sticks, hard boiled eggs, sandwiches on whole wheat bread, fruit juices, etc. Leave the kids in the car (with an adult, of course) so you're not tempted to buy them treats like candy and ice cream.
Get it fresh from the farm. If you're driving through a rural area, keep an eye out for fruit and vegetable stands. Also, before you leave, go online to find farmer's markets and pick your own fruit farms in the areas you're traveling through. Kids love to pick their own berries and visit farmer's markets. Plus, both are a great way to spend an hour or two outside of the car getting some physical activity in before hitting the road again.
Map it! A GPS or smart phone can help you find healthier restaurant choices. Stopping at a supermarket for some fresh sandwich fixings or healthy deli choices is an inexpensive, DIY option, too.
Ben and Justin's Freshpedition journey across America
So why am I sharing tips about bringing fresh food with you on road trips? Well, besides the fact that bringing fresh food with you on the road is easy, healthy and helps save you money, it's all part of introducing you to GE's Freshpedition video series. It's five very entertaining online episodes where Chef Ben Sargent and Engineer Justin Berger hook up a new GE French door refrigerator to a generator in the back of a truck and drive 2000 miles in 10 days to surprise Wildlife Biologist Ron Thompson with fresh food. (You can learn about the cast here.)
Take a look for yourself:
I hope the Freshpedition video series will inspire you to find your own fresh food from farms and dairies along the way! Now if I can only figure out how to bring one of those GE refrigerators with me on my next road trip!
Freshpedition Sweepstakes

GE is continuing this same passion for fresh food with the Freshpedition Sweepstakes. This sweepstakes uses Pinterest, which means you can actually pin for a chance to win all new GE kitchen appliances. 
But wait, there's even more to win!
You can also enter each day of the sweepstakes for a chance to win a $100 VISA® Prepaid Card. Entering for this prize is fun as you're asked to pin your favorite fresh foods or your own recipes. Also, these pins when hashtagged with your state (e.g. #GEfreshTX) become part of a "Best of Fresh" map featuring freshness from around the country. Explore the map here.
For official rules and to enter visit here.
Disclosure: Compensation was provided by GE via Glam Media. The opinions expressed herein are those of the author and are not indicative of the opinions or positions of GE.